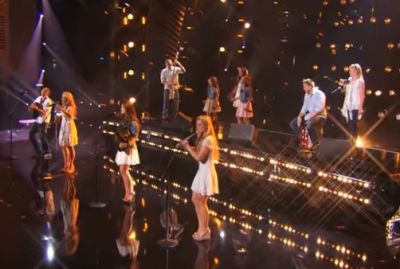 The Willis Clan is preparing to come back into the spotlight, over a year after their world was rocked by the arrest of family patriarch Toby Willis.
The oversized Christian family band—who once starred on TLC's The Willis Family and appeared on America's Got Talent — is ready to get back out on stage and perform again (without Toby of course). The family announced that it will perform two shows at the Schauer Arts & Activities Center in Hartford, Wisconsin, on May 23, 2018.
After news of Toby's arrest broke, the family stopped touring and deactivated its social media accounts, but it appears that the Willis Clan is ready to put the difficult past behind them and go back to making music together again.
As The Ashley previously reported, the music came to a screeching halt for the Willis Family when Toby was arrested in September 2016 on charges of rape of an underage family member. He was eventually sentenced to more than 40 years in prison. At the time of his arrest, Toby's wife Brenda, came out and said she was supporting the prosecution in the case.
"The Willis family would like to thank their family, friends and fans for the outpouring of love and support during this most difficult year. Additionally, the Willis family would like to thank the many members of law enforcement for their detailed and comprehensive investigation of this matter. Finally, the family would like to thank the District Attorney's office for their diligence and sensitivity in the handling of this case," Brenda said at the time.
Since then, the Willis family has remained relatively quiet. They only recently reactivated the family's Instagram account.
Eldest child Jessica unexpectedly left the singing group right before Toby's arrest. She quietly got married earlier this year.
It does not appear that Jessica will perform with her siblings at the upcoming concerts in May 2018.
Tickets to the shows can be purchased online here. Watch them perform on 'America's Got Talent' in 2014 in the clip below!
UPDATE: The May 2018 appears to be one of the first tour dates for The Willis Clan. The family band has apparently done very select performances since 2016.
(Photo: NBC)