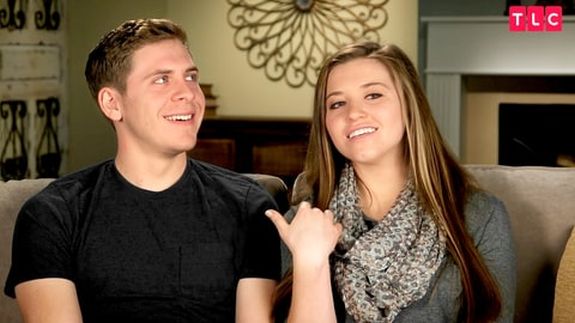 Twenty-year-old Joy-Anna Duggar is officially a mother.
The Counting On star and her husband, Austin Forsyth, welcomed their first child– a baby boy–on Friday, February 23. The couple had previously stated that they were waiting until the baby's birth to find out the gender.
People broke the news that Joy and Austin chose the name Gideon Martyn Forsyth for their son. (This, of course, means that Joy's nephew, Spurgeon, still holds the title for "Worst Name Bestowed On A Duggar Grandchild.")
Baby Gideon, like his most of his Duggar family cousins, was a huge baby, weighing in at a whopping 10 lbs., 3 oz. and measuring 22 inches long!
"We are blessed beyond measure with the arrival of our son, Gideon Martyn Forsyth," the couple told the magazine in a statement. "Looking at our child for the first time was such an incredible moment! God is so good, and we are so thankful."
They also confirmed that Baby Gideon and Joy are both doing "excellent" after the birth.
In their interview with People, Joy and Austin did not elaborate on the birth; however, based on a photo that was previously being run with the story online (but has since been taken down), the baby appeared to be in a hospital bassinet, indicating that Joy had given birth in a hospital, or the baby had been taken to the hospital at some point following his birth.
Like her older sisters and sisters-in-laws, Joy seemed to be planning for a home birth. In a video posted by TLC a few weeks ago, Joy stated that they had their birth pool set up and their house cleaned out for the birth. ('Counting On' fans will remember that Joy's older sisters Jessa Seewald and Jill Dillard have each had some brutal attempts at home births over the years.)
Joy's cousin, Amy Duggar, revealed via an Instagram post that Baby Gideon was, indeed, born in a hospital.
Joy and Austin got married in May of last year, in an extravagant, 1,000+ guest hay-filled affair. It appears that Joy got pregnant almost immediately after the wedding (although some fans suspected that her conception date may have been before the wedding).
Jill, who was Joy's "buddy team" leader growing up, posted a photo of Joy and the baby, along with a congratulatory note, to Instagram.
Congrats @austinandjoyforsyth on baby Gideon!! We are so happy for y'all. #anotherbuddyinourteam #favoritetia
Joy's parents, Jim Bob and Michelle Duggar posted a statement of congratulations on their family's website.
"We are so thrilled for Joy and Austin! Children are a blessing from the Lord and we know that will be such great parents. We can't wait for this little one to grow up around all of these other grandbabies. We are so blessed and our hearts are overflowing," Jim Bob and Michelle wrote.
Baby Gideon is the Duggars' 10th grandchild. Their oldest son, Josh Duggar and his wife Anna have five kids (three boys and two girls), while Jill and her husband Derick have two boys. Jessa and her husband Ben also have two boys.
Joy's older brother Joseph Duggar and his new wife Kendra are currently expecting a boy. Her older sister Jinger Vuolo and her husband Jeremy are also expecting, but they have not announced the gender of the baby publicly. Both babies are due this summer.
Anyway, this will likely be the first of many children for Joy and Austin, who previously stated that they plan to leave the amount of children they have "up to God."
"We want as many as the Lord thinks we can handle," Joy told the magazine earlier this year.
Watch Joy and Austin talk about the last part of Joy's pregnancy in this video:
(Photos: TLC, Instagram)