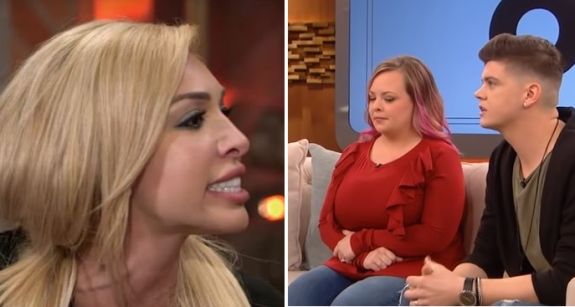 Farrah Abraham is not happy that her former Teen Mom OG co-stars (and frequent feud partners) Catelynn Lowell and Tyler Baltierra spoke about her 'Teen Mom' firing during their recent appearance on The Dr. Oz Show.
When the couple was asked if they agreed with Farrah's firing, they confirmed that they did. Catelynn gave a very diplomatic answer, stating that she supported MTV's decision. Tyler, however, let his claws come out out.
"I think it's great. I think it's awesome," Tyler said. "I just think the way she decided to live her lifestyle, it just didn't mesh well with the rest of the cast."
Ty also said Farrah "isn't a very nice person."
After Farrah found out what Cate and Ty said about her, she gave a statement to Too Fab to share her "Farrah Speak"-filled thoughts. Naturally, they came out as rambling third person diatribe about her former co-stars.
(For your convenience, The Ashley is providing a "Farrah Speak" translator for those of you who are not as well-versed in Farrah's signature language as The Ashley is.)
"The bullying and losing of Farrah's brand by MTV talent who continues to have jealousy attacks toward her are pathetic," Farrah said.
(Farrah Speak Translation: Catelynn and Tyler are dumb for still working for MTV and they are only saying things about Farrah because they are jealous of her.)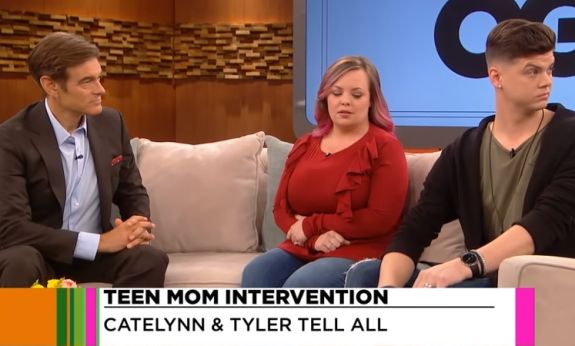 "Farrah is the one out of all the cast who is still and always be the star of the show, the show is over with all of the unsafe production around kids. Farrah has a global brand that stands up to improve the adult entertainment industry, so it's safer for women like Stormy Daniels."
(Farrah Speak Translation: Farrah will always be the star of the crappy show, even though she got the boot. Farrah's brands provide yogurt/plastic butts/blowup dolls/furniture that are available for purchase by p0rn stars and other people who are eager to be famous.)
Farrah then went on to praise herself for settling her $5 million lawsuit with Viacom over her firing.
"I commend Farrah for winning a lawsuit and settling with Viacom for their wrong doing toward a female. #TimesUp #MeToo."
(Farrah Speak Translation: Farrah congratulates Farrah for having Viacom agree to settle the lawsuit with her–which she views as a win– because it was wrong for her to be fired for doing web cam shows and treating production like crap…or something.)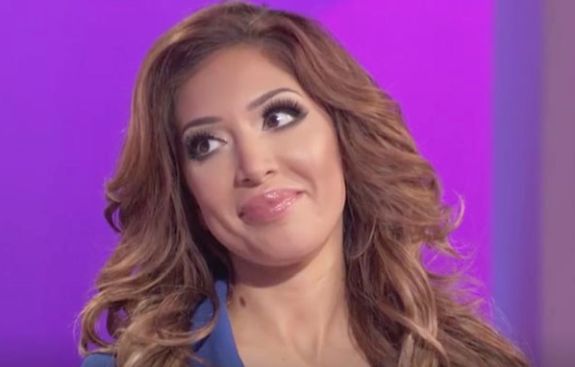 Farrah then said she was going to produce a 'Teen Mom'-esque show herself.
"Farrah wants nothing to do with a hateful losing culture that wants to hurt women and teen moms and 'Teen Mom' is on the verge of being cancelled without Farrah. Farrah's brand grew bigger than 'Teen Mom' and is working on her own scripted web series showing teen mom life as it should be, not how ugly MTV's Teen Mom is now."
(Farrah Speak Translation: Farrah is way too big of a star now to be on a 'Teen Mom' show so she is going to make a web series about how crappy the life of a teen mom can actually be without MTV money.)
You can watch Catelynn and Tyler talk about Farrah on 'The Dr. Oz Show' in the video below:
(Photos: WEtv, MTV, FOX)