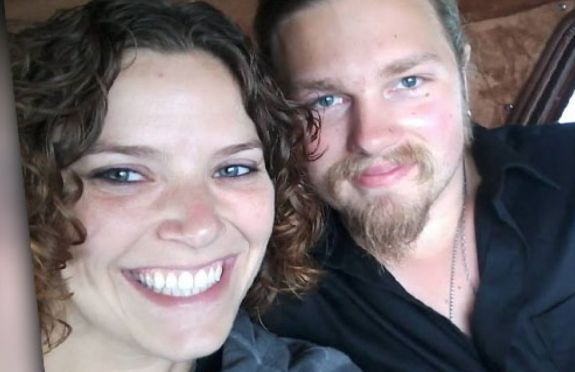 Alaskan Bush People star Noah Brown got hitched on Wednesday to his fiance Rhain Merrill. The wedding was no surprise, as the 'Bush People' offspring had been publicly counting down to his nuptials for a while; however the normalcy of the wedding came as a shock to some of the show's fans.
From the Brown men's tuxedos, to Rhain's white dress from David's Bridal, the small Idaho wedding seemed to have all the "standard" wedding staples. 
"We are so excited to start our new life together as husband and wife and we look forward to building new memories as our own family," the couple told People magazine. "God bless everyone for all of the love and support."
People reports that Noah and Rhain chose to get married on August 15 because it was the two-year anniversary of the day they met in Alaska.
Noah and Rhain said "I do" in front of about 25 guests, which included Noah's parents, Billy and Ami Brown, and his siblings. (Billy served as his best man.)
Noah Brown is a married man!

See all the photos from the Bush People wedding ?https://t.co/4zjYPvSaDS

— Alaskan Bush People (@AlaskanBushPPL) August 16, 2018
All of the Browns wore fancy frocks for the nuptials.
"I tried on a tux for the first time ever. That was weird," Noah's brother Gabe told People.
"It's been so hectic and crazy because we've had to go get these fancy clothes we haven't had time to think about it today," Noah's dad Billy said.
The traditionally non-traditional Browns even helped Rhain follow through with the "something blue" tradition. According to People, Ami gave Rhain a blue stone ring to carry in her bouquet.
In a June Instagram post, Noah expressed his excitement about getting married.
"I am getting married to the girl of my dreams, Rhain Merrill (soon to be Rhain Brown)," he wrote in the caption of a photo of him and Rhain. "We will soon be our own Family, and although there are trials and tribulations and a tone of stress I could not be happier with the way my adult life is turning out."
The happy occasion comes after the Brown family has overcome a series of struggles. Last year, Ami battled late-stage cancer, but was declared cancer-free by her doctors in December. Ami's cancer battle, as well as the family's move from Alaska to Washington, will be covered on the upcoming season of 'Alaskan Bush People,' which premieres on Sunday.
RELATED STORY: Get Your First Look At 'Alaskan Bush People' Season 8: The Browns Celebrate Moving to Washington With Cancer-Free Ami
(Photos: Facebook, Twitter, Instagram)