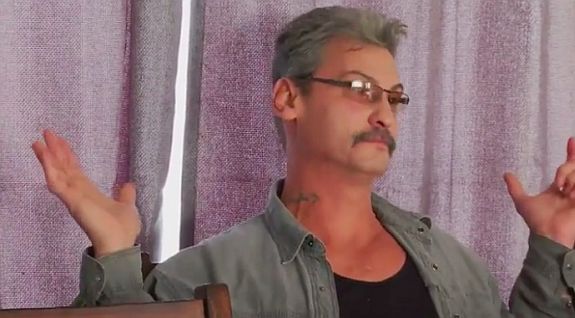 Butch Baltierra made an appearance at the Teen Mom OG Reunion over the weekend, defending himself on stage when his sobriety was questioned.
Over the past few episodes, Butch's son Tyler Baltierra and daughter-in-law have discussed Butch's relapse on drugs and alcohol, and in a video posted to Facebook on Sunday, Butch confessed to relapsing and states that he is now back on track with his sobriety. However, during his time on stage while filming the 'Teen Mom OG' Reunion on Saturday, Butch had many questioning whether or not he was sober.
"Thank you for all your support, I really do appreciate it," Butch said in the video, which was filmed in his New York City hotel room before he left to go film the Reunion on Sunday. "I'm an alcoholic addict that struggles, and every day life for us, well, for me, I have to use my own experience. Sometimes I get it, sometimes I don't but I'm back on track, trying to get back on there.
"I relapsed four or five months ago," Butch said. "But I'm back and I'm trying to get it right. I turned 57 last month and I'm getting old. I damn sure aint' going back to prison, I know that!"
In the video, Butch revealed that he had yet to meet his granddaughter Vaeda (by Tyler and Catelynn), and that he expected to meet the baby during the Reunion.
"I'm trying to rebond with my family. I get to meet by new granddaughter soon I hope. I still ain't met her yet," he said. "I know, I'm egotistic, self-centered and all that. I'm an idiot sometimes, most of the time. But I wanted to let you know what's happening."
The Ashley's behind-the-scenes sources tell her that Butch's discussion about his sobriety on-stage on Saturday worried "nearly everyone on set."
"Several people including Dr. Drew [Pinsky] questioned Butch on-stage and asked if he was sober," the source said. "Dr. Drew actually asked Butch repeatedly if he was currently sober and Butch said he was.
"He talked about how he is done 'working the program' [of Alcoholics Anonymous and Narcotics Anonymous] and said he's doing sobriety 'his' way," the source said. "Dr. Drew tried to explain to him that addicts are not usually successful in staying sober unless they work a program, but Butch didn't agree."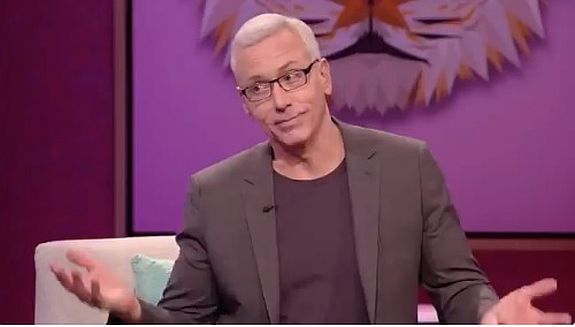 Butch has long-struggled with substance abuse issues, and has admitted to being a crack cocaine user. On the last season of 'Teen Mom OG,' he was shown going to rehab in Austin, Texas, and following it up with sober living. In November 2018, he celebrated one year of sobriety.
The Ashley's sources say that Butch told the crowd and Dr. Drew that he is currently about 90 days sober from crack cocaine.
"He also said he hadn't drank in at least three days and didn't smoke pot currently," the source added.
The segment, which was filmed right before the studio went dark due to a city-wide electrical blackout, also included Tyler's mom Kim and sister Amber Baltierra.
"Amber's boyfriend was sitting in the front row of the audience and he said he lives in the sober living [house] that Butch does, and claimed that Butch has had dirty drug tests," the source said.
"Amber got upset because she said Butch chose his [now ex] girlfriend Caroline over his family," the source added. "Butch said he didn't come to see his granddaughter [Vaeda's] birth because his girlfriend needed him at the time."
Brandon and Teresa— the adoptive parents of Cate and Ty's daughter Carly— also made an appearance during the segment.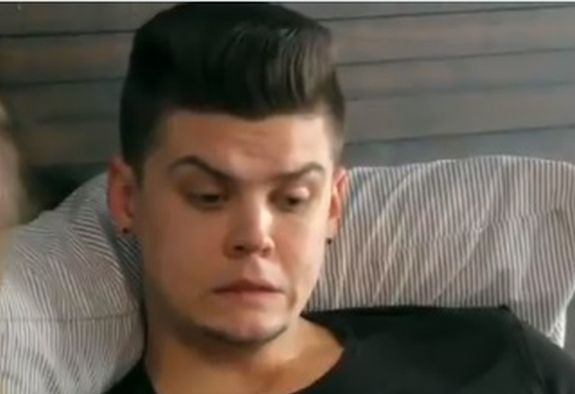 "Even though they seemed to be very anti-'Teen Mom' in the past, they appeared on stage and had a really nice chat with Catelynn and Tyler," the source said. "They did not say anything negative at all, which was surprising."
Butch did not get to see Carly, though, as she was not at the Reunion, The Ashley's sources tell her.
The Ashley will have more details about the 'Teen Mom OG' Reunion soon. Stay tuned!
RELATED STORY: 'Teen Mom OG' Star Tyler Baltierra Weighs in On His Dad Butch Baltierra's Latest Relapse