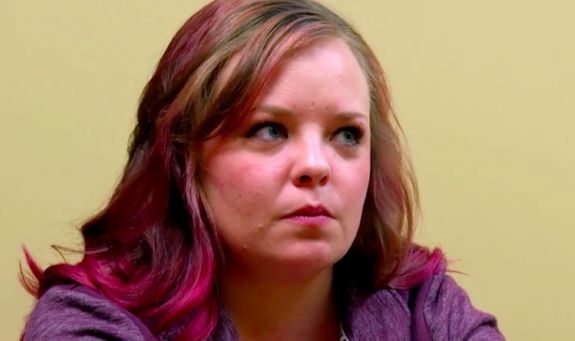 On last night's episode of Teen Mom OG, Catelynn Lowell gave viewers a deeper look into the struggles she and husband Tyler Baltierra faced around the time they found out they were expecting their youngest daughter Vaeda, whom the couple welcomed in February.
While preparing for a date night with Tyler, Catelynn revealed to show producer Kerthy Fix that she considered aborting Vaeda, due to the problems she was having in her marriage to Tyler.
"There are still some things where I'm like, man I feel really guilty," she said. "I feel really guilty even contemplating aborting Vaeda. Is she going to remember that? They say that when you're pregnant, the things you go through in life, things you say, that they feel and they hear."
(If Vaeda doesn't remember it, she will have this episode of 'Teen Mom OG' to watch over and over again for the rest of her life, so there's that…)
Catelynn's decision came at a time when she and Tyler were spending time and living apart from each other in hopes of ultimately improving their marriage. This time apart came after Cate experienced a miscarriage in 2017 and after she entered treatment on back-to-back occasions seeking help for her mental health issues.
"We were going through so much in our relationship I was like, 'Is it smart to bring a child into this world if me and [Tyler] aren't going to be together,' you know," she continued. "I remember talking to him about it, like crying and [saying], 'Maybe I should just abort this baby.'"
Later on in the episode during Cate and Tyler's date night, Cate asked Tyler if his decision to work on their marriage was influenced by the news of Cate being pregnant, to which Tyler admitted it was.
"Yes, for sure," he said. "I knew, I was like, 'Oh my God, I cannot consciously bring another kid into the world and not start working on these things.'"
The couple also spoke about Tyler being the one who was adamant that Cate not have an abortion.
"Remember what I said? 'Absolutely not,'" Tyler said. "Because you know what's crazy? I knew in my heart, I knew in my spirit, I knew in my soul, 'No, no.' Because I knew we were going to be together and have this baby."
Tyler went on to assure Cate that Vaeda would not be affected by the turbulent time during her pregnancy.
"Whatever happened in the womb, honey your love and life and giving it to her is going to outweigh anything that happened in the nine months she was brewing inside of you," he told Cate. "You went through a tumultuous f**king time. … You're really strong."
On social media, some viewers supported Cate for being honest, while others questioned if it would be hurtful for Vaeda to watch this episode when she's older. Catelynn stated that she plans to discuss it with her daughter at some point.
"I will explain it to her!" she told a fan on Twitter. "I will ALWAYS be open and honest with my children and let them know they are loved etc."
Check out the clip from last night's episode below.
"You guys had the roughest 18 months." 💔 It's date night for @CatelynnLowell and @TylerBaltierra on tonight's #TeenMomOG — but the past isn't just the past. pic.twitter.com/EYvovM2HYt

— #TeenMomOG (@TeenMom) July 22, 2019
RELATED STORY: 'Teen Mom OG' Star Catelynn Lowell Says She's Making Husband Tyler Baltierra Get a Vasectomy When He Turns 30
(Photos: MTV, Instagram, Twitter)