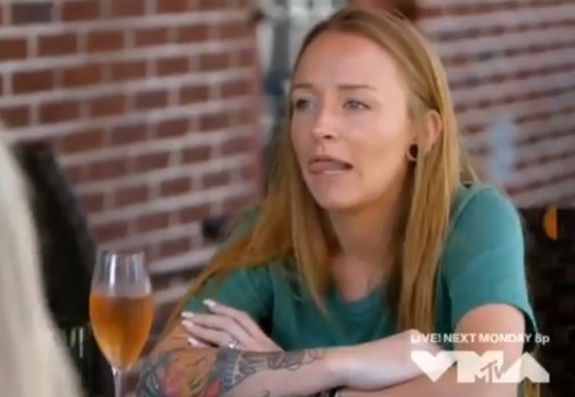 Hey kids! It seems that we've come to the end of yet another season of Teen Mom OG. This season has been positively jam packed with riveting moments: from Amber getting a blood test (ooooh!), to Catelynn talking about her bloody nipples (ahhh!). While we've suffered through plenty of episodes this season that were basically television Ambien, MTV actually saved up all the good stuff for the season finale: arrests and more oopsie babies and scrapbooks! (Oh my!)
The Ashley has been over here praying to the Baby Jesus God Leah that we'll finally get an episode that she doesn't have to paper clip her eyes open to make it through the whole thing, and finally the MTV Gods have delivered!
Anyway, we kick things off with Maci, who tells us that she is no longer forcing encouraging Taylor to get a vasectomy. (I mean, we already had to sit through Gary Shirley's on-camera snipping…haven't we suffered enough!?)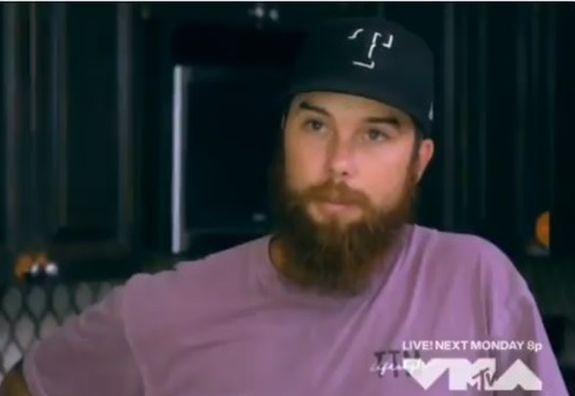 She doesn't really have time to think about Taylor's testes and whatnot because she realizes that Bentley's struggling in school. Of course, she blames Ryan's legal trouble for Bentley's bad grades. (Perhaps Ryan's wife, Mackenzie, could assist the boy in his writing and math courses? We all know Mack excels at writing letters and "doing the numbers." I'm sure Bentley's teacher would appreciate all his papers coming back with "It's been 143 days since I started this stupid class…" on them.)
Anyway, Maci goes to talk to Bentley about getting bad grades. (I guess it wouldn't be appropriate to just open his door and yell "Do your homework or you'll end up like your dad!")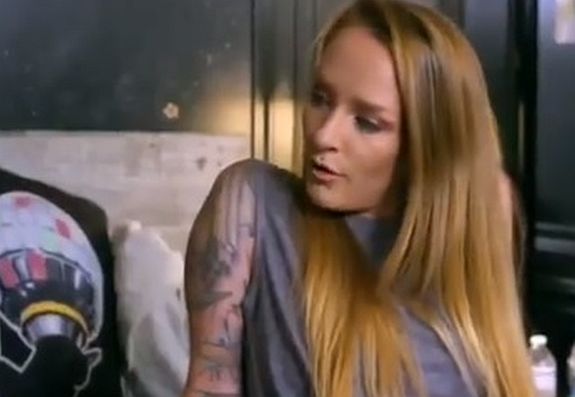 Bentley says he's "distracted," so Maci offers to send him to a counselor to help him get back on track. (We do not yet know how many therapy horses/pigs will be involved in Bentley's treatment, though.)
Later, Maci gets into her big Barney Purple Jeep and takes Bentley to his counseling appointment. A message flashes on the screen letting us know that, "to respect Bentley's privacy," the MTV cameramen refrained from sticking their cameras inches from the kid's face as he talked about his problems. How lovely.
Meanwhile in Oklahoma, Mackenzie McKee is stuffing her son Broncs' boat into his shoe and trying to wrangle her other kids. After the kids are sufficiently dressed (or, you know…not), Mack heads over to visit with her mom, Angie.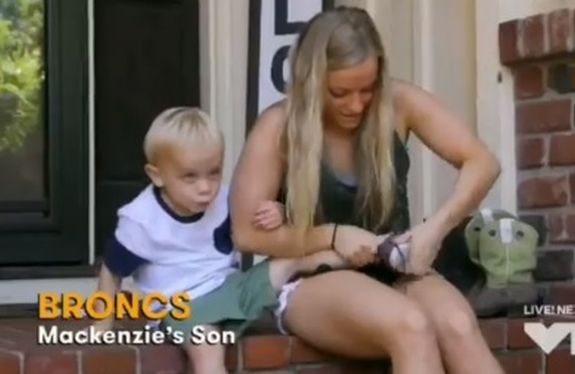 Angie does not have good news for Mackenzie in regard to her cancer battle. She reveals that the cancer has spread to new parts of her body, and that her doctors aren't sure she will survive another six months. Mackenzie is understandably emotional and is worried how her oldest son, Gannon, will take the news, being that he's so close to Angie.
Since there's nothing remotely funny about this situation, let's move right along…
We next head over to Indiana, where Amber is working with her psychiatrist to control her mood swings. Amber admits that sometimes she becomes a kimono-wearing, screaming into Instagram Live nightmare and she doesn't know why. (For some reason, her counseling sessions are taking place in her doctor's rec room/basement but I guess that's a thing?)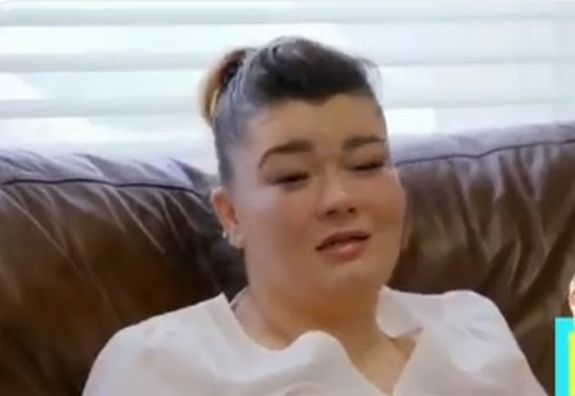 Amber leaves the session and tells Andrew that her borderline personality disorder, bipolar disorder and memories from her trashcan of a childhood are all working against her.
She tells Andrew that sometimes she can get really upset and cross the line.
"Yeah, I know those moments," he replies sadly.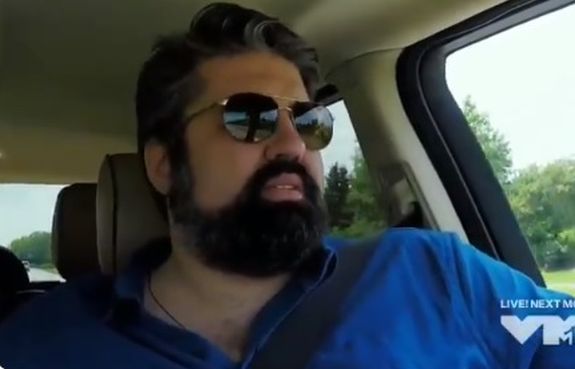 Meanwhile in Los Angeles, Cheyenne has returned from the Wine Country Trip 'o' Terror and realizes that she and her boyfriend Matt aren't ready to pop out any kids any time soon. With no man to pressure into marriage and reproduction at the moment, Cheyenne decides to third-wheel with Cory and Taylor—whilst wearing a shirt that says "mistress" on it. As you do.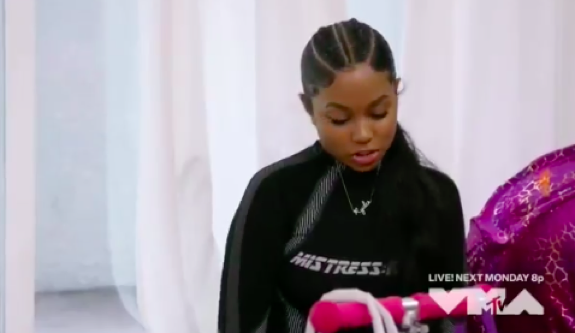 While hanging out on the floor of Cory's house, Cheyenne invites him and Taylor to join her and Ryder in volunteering at a homeless youth shelter. Taylor is put completely on the spot but reluctantly agrees so as not to look like an a**hole on national television.
Cory– who seems to be sporting the latest look in Muppet hairstyling– tells the girls that he wants them to become friends because it makes it easier for him.
Later on, Cheyenne's mom tells her she's not so sure Taylor will feel comfortable in this particular volunteer setting because she doesn't think Taylor has been around very many "people of color." Cheyenne then mentions some racists tweets that Taylor posted in the past.
"You can't ignore what's been said," Cheyenne's mom tells her. "So I think that's a conversation that may have to happen at some point with you and Taylor."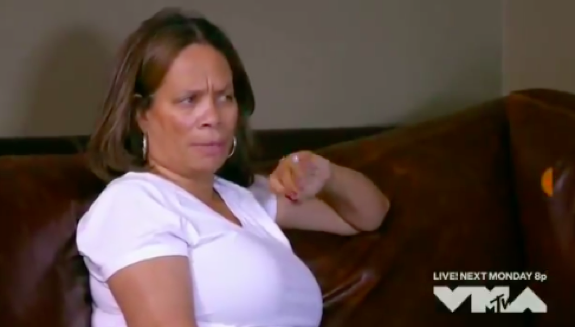 Cheyenne agrees that the issue needs to be addressed, though she's unsure how to bring it up. Lucky for her, she's surrounded producers who are happy to coach her off-camera.
Cheyenne calls Matt later to tout her own generosity in the community and also to talk about Taylor's tweets. Matt says he hopes Taylor is open-minded enough to "embrace the conversation."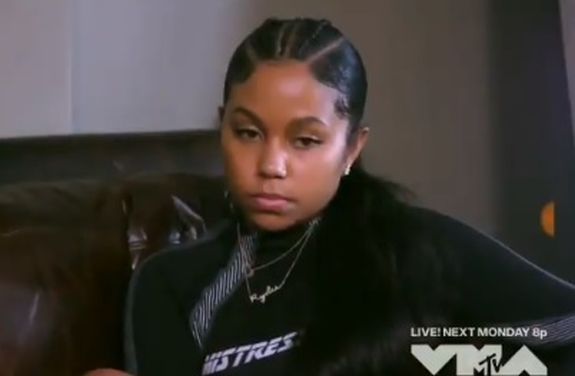 Finally, we head to Michigan to check in with Catelynn. It's a big week for her and Tyler because they're about to have their 10-year visit with their birth daughter Carly. It's been over two years since Tyler has wrapped his Ax-Body-Spray-drenched arm around Carly, and he's very much looking forward to it.
Carly's parents, BrandonNTeresa, are even coming to Michigan– but they are staying a safe two-plus hours away from Cate and Ty and their assortment of farm animals and trashbag family members. Catelynn is stressing out, though, because she still hasn't finished the scrapbook she's been working on to give to Carly in honor of the 10-year anniversary.
I mean, she's busy, guys! She probably would have had more time to craft if she didn't have to go to work.
Oh…wait…
Well, if she didn't have college classes to attend…
Oh…wait…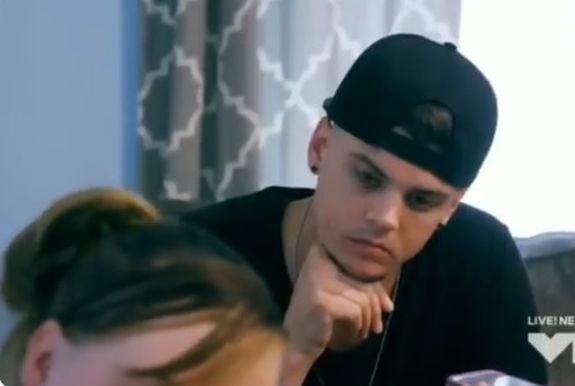 Catelynn reveals that they still need to get the photos for the scrapbook printed and "write letters, or whatever."
So…basically, you haven't started the damn scrapbook at all! I think it's time to scrap the scrapbook idea, guys. Buy the kid an ice cream cone and call it a day!
Later, the always cheerful (and always annoying) Adoption Counselor Dawn calls to check in to make sure Cate and Ty won't be showing up with a net and rope to capture Carly and take her back to their farm with them. She will, of course, be chaperoning the Carly visit.
Yay.
In Indiana, a very pregnant Cousin Krystle waddles over to visit with Amber. (Um…were we aware that this chick got knocked up yet again?! She really deserves a spot on this show after 10 years of unplanned pregnancies. Seriously.)
Amber boots Andrew and James from the room so she can gal-gab with Cousin Krystle. Amber explains that she's been feeling "pretty stressed out lately," and says she's not getting a lot of sleep. Krystle points out how lucky Amber is to have a guy like Andrew who will help her with the baby.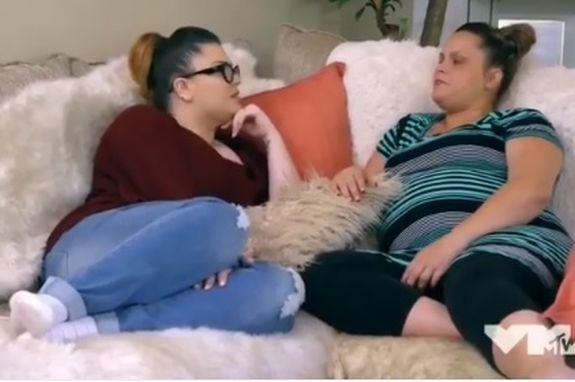 Amber disagrees that she's lucky to have Andrew. She says he doesn't understand her crazy mood swings and will often make jokes at inappropriate times. She says that, oftentimes, Andrew's "jokes" light her fuse. Amber adds that when he doesn't listen to what's bothering her, it bothers her.
"It's hard sometimes, you know…" Amber tells her cousin.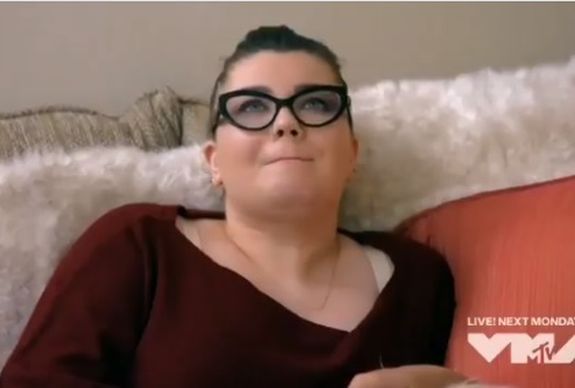 Krystle gives Amber a look. It seems that she's having a hard time feeling sympathy for her cousin, who makes more money in a month than Krystle will ever see in her lifetime, and has a sensitive man to care for her and her child. Meanwhile, Cousin Krystle's probably doing doubles up there at the Walmart while pregnant, trying to figure out when visiting hours are at the jail so she can go see her assorted baby daddies.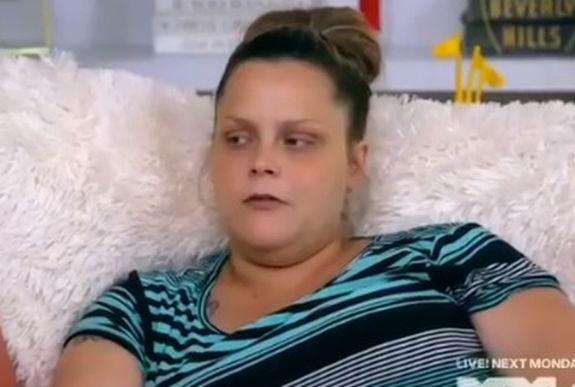 Over in Oklahoma, Mackenzie, Josh and the kids are gnawing at some pizza, so Mack uses the time to talk to Josh about her mom's dire condition. Josh grumbles that he's upset that Mackenzie doesn't rely on him as her husband.
"I want to but I can't!" Mack tells him.
Josh admits that he's not exactly the easiest person to talk/mumble to. He ever-so-sensitively tells Mackenzie that he shouldn't dismiss her feelings so easily.
"Sometimes you come to me with stupid, stupid stuff and I say 'get over it!'" he grunts. "Or I'm not really listenin'!"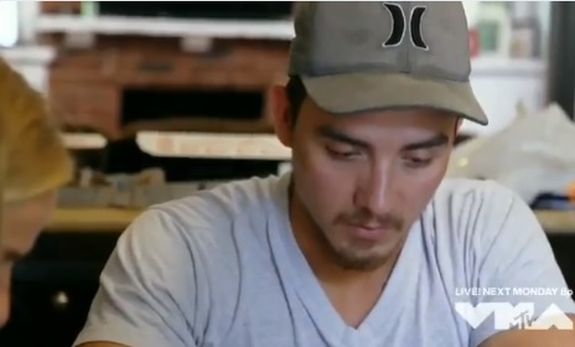 Josh promises Mackenzie that he will be there for her to help her through whatever happens with her mom.
Later, the kids are running amok in the yard, so Mackenzie decides it may be a good time to talk to them about their grandmother's cancer. Again, this scene is heartbreaking, so we'll just move right past this… (The Ashley would like to commend Josh and Mackenzie for how well they handled that incredibly hard conversation with their kids, though.)
Back in Michigan, Cate and Ty have loaded up their kids and are heading to Detroit to meet up with Carly and BrandonNTeresa. They have rented a house there because, for this visit, Cate and Ty have literally brought every family member they have (except for Ty's sister Amber and whatever leashed inmate she's dating, and Butch). They are about to unload an entire posse of relatives on The WhiteBreads.
Tyler's mom Kim is there, as is Cate's dad David. Even good ol' April made the journey and has gotten herself all gussied up (i.e. bought a new Scrunchie) for the visit with Carly. Everyone's excited and chatting about the visit. They realize that Carly will probably not have any clue who the hell any of them are.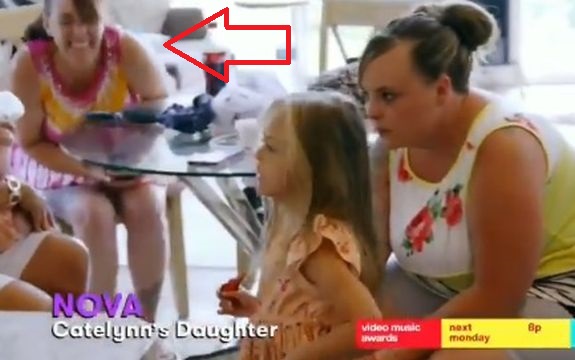 They load into their cars and head out. Adoption Counselor Dawn meets them in the parking lot (most likely because BrandonNTeresa probably requested that the family be patted down before going near their daughter). Soon, the entire motley crew heads out to see Carly.
Of course because those "meanies" BrandonNTeresa won't allow their kid's face to be splashed across a trashy MTV show, we don't get to see footage from the visit with Carly. However, Cate tells us that it went "great" and they even get to see her again the next day. Of course, that means she has just one more night to try to make this scrapbook thing happen. Instead of working on it at night, Cate and Ty go to bed and wake up to SCRAPBOOKING MADNESS!
They have to do all the scrapbooking because they know that handing Carly an empty photo album from Target will kind of make them look like jerks.
Cate– who, for some reason, is sporting the exact same outfit and slicked bang 'do she was yesterday– gets all hands on deck to help finish this stupid book. She calls in April to start cutting, while Nova is pasting random crap everywhere.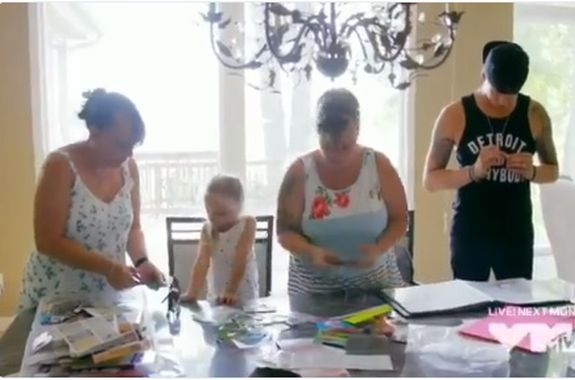 At 11:44, the phone rings and, of course, it's Adoption Counselor Dawn. In her typical sing-song voice, she tells Cate to give up the scrapbook dream and just give the kid whatever crap they've already completed because they're about to be late.
Cate refuses to give up, and Dawn seems worried that they'll end up missing their visit with Carly and piss off The Whitebreads. Catelynn lies and tells Dawn that they're close to being done with the book. Dawn reminds them that Carly will be disappointed if they miss part of their visit due to scrapbooking hijinks.
"Well, if she gets sad about it, tell her that we had to finish making a special gift for her," Cate tells her.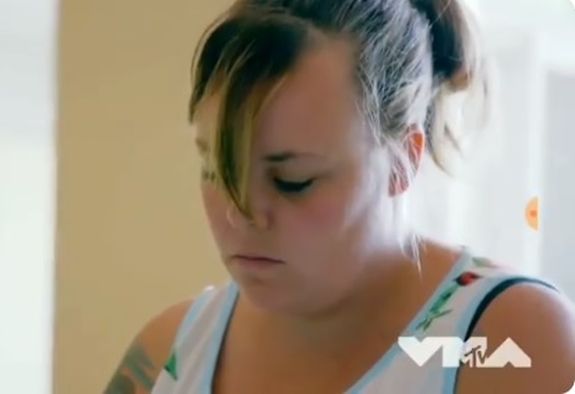 If only they had known about this visit for months, they could have finished it in plenty of time.
Oh…wait…
Also…why didn't they just pay April to do the scrapbook weeks ago? I'm sure for a few Burger King Whoppers (with cheese!) and a pack of ciggies, April would have been happy to discover the joys of scrapbooking and scurried down to the ol' Hobby Lobby to get her arts 'n' crafts on!
They assure Dawn that they will be at the zoo by noon to meet Carly, even though that's only 15 minutes away and they both look like they still need to hose the grease off their bodies and change their clothes.
It's now 12:08 (eight minutes after they were supposed to be zooing with Carly and The Whitebreads) and they are still cutting and pasting. (Dawn must be biting on her own arm by now in anticipation!)
By 12:18, Nova's crying that she wants to go to the zoo. (I like that the cameramen were making sure we had a minute-by-minute update on how late they were.)
By the time Cate finally finishes the book, Nova is lying on the floor like a corpse.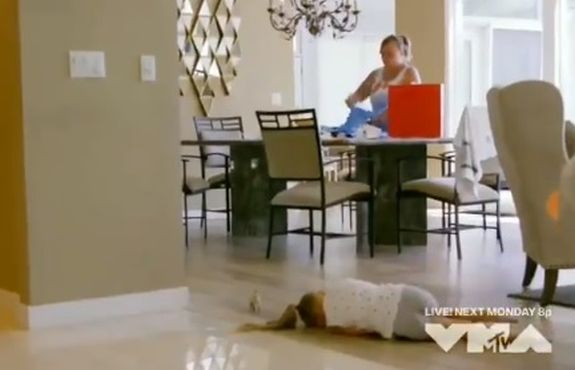 They're over 30 minutes late by the time they all pile into the cars. (Can you imagine how red Teresa's face must have been by this time?) They finally meet up with the gang at the zoo, and all goes well. Cate says Carly likes the scrapbook, which she feels justifies missing some of their visit with her.
Catelynn and Tyler eventually have to leave, and they are having a hard time saying goodbye. Everyone is emotional as they drive off.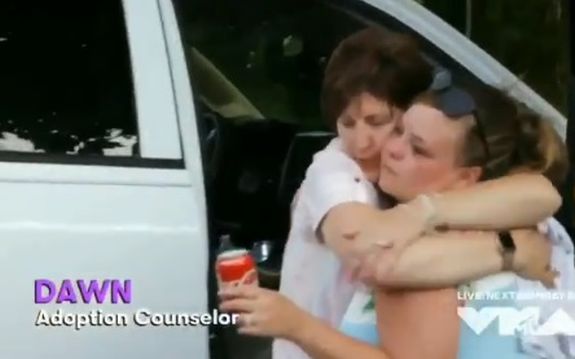 Meanwhile in LA, Cheyenne, Cory, Taylor, Ryder and Cheyenne's sister R. YouOnlyFilmingForTheFreeMeal (answer: yes) go out to eat, after dropping off food and clothes at the homeless shelter. At the restaurant, Taylor says she more comfortable hanging around Cheyenne now that's she's gotten past the idea that she and Cory once banged it out.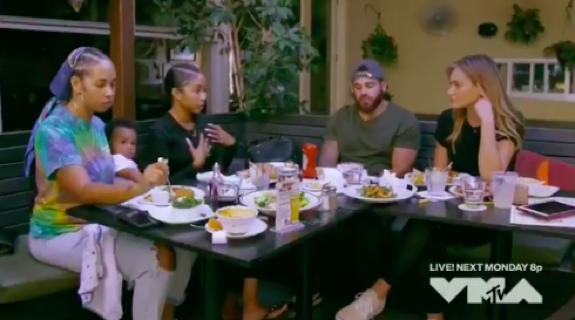 Cheyenne decides that's the perfect opening to bring up Taylor's tweets, which Taylor is quick to defend via pre-rehearsed statement.
"I don't think that at the time, because I was younger, that I was thinking that it was anything negative," she says. "I thought, 'Oh, this is funny,' or something like that, but it's not and I'm 25 now, this happened a long time ago."
Taylor assures Cheyenne she "had to grow up" and that she knew the conversation would be brought up at some point.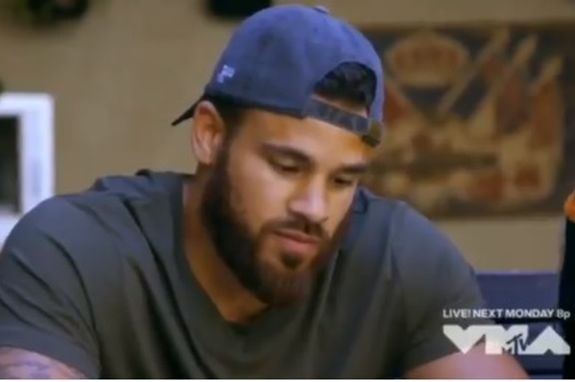 Over in Tennessee, Ryan and Mackenzie have just returned from the doctor, where Jagger got a shot. However, the baby's not the only one who got a shot: Mack apparently got a shot of Ryan's ever-fertile love juice squirted right into her hooter which means…
She's pregnant. Again. With Ryan's Child.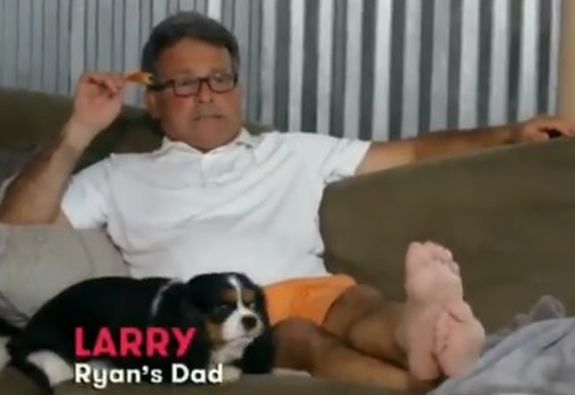 Ryan's parents, Jen and Larry are understandably shocked by the news. They're even more surprised to learn that Mackenzie's far enough along in her pregnancy that they can tell that she's having a girl.
Mack reveals that they weren't planning to have any more kids. (This is such a shame, of course, because Ryan is such a dedicated father.) In fact, she had been planning to go see about gettin' her tubes tied the next week…but Ryan (and his ever-present sperm) apparently had other plans.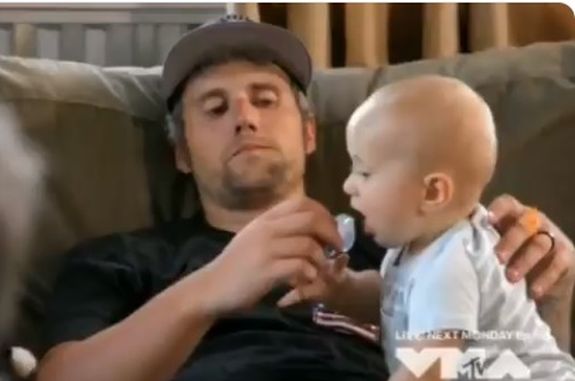 Over in Indiana, there is no happy news for anyone. In fact, MTV tells us that on July 4, Andrew sent a text to 911, asking for help. We are then treated to seeing Amber's latest mugshot, which floats onto our TV screens like the Ghost of Prison's Past.
We then see The Ashley's headline appear on screen (!!!) for her story that informed fans about what went down that night (allegedly) at Amber and Andrew's House 'o' Horrors. Andrew claimed that Amber hit him with a shoe (as you do) before pulling a machete out. (Sadly, MTV did not show The Ashley's site name with the photos, but you Roundupers probably recognized it!)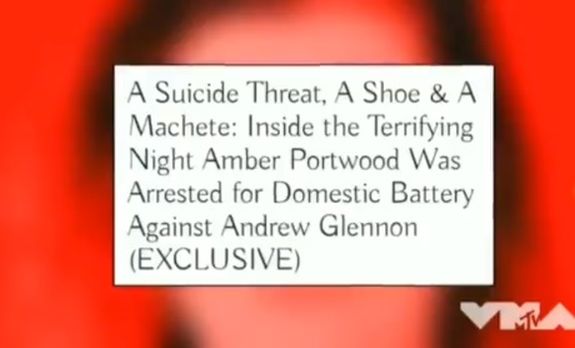 Since Amber and Andrew aren't available for comments after the macheting and whatnot, the producers go to trusty Gary and Kristina to get some on-camera conversations about Amber's arrest.
Gary informs us that his daughter Leah was not at Amber's house at the time of the incident, and Kristina seems to be in disbelief that this is all really happening.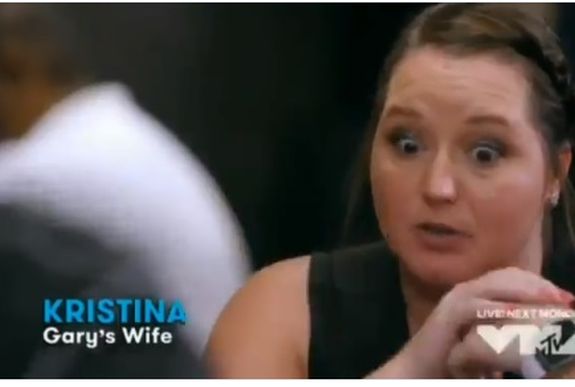 Gary says that, if Andrew's accusations are true, Amber may need to go back to "gel."
"A hit is a hit, whether you do it with a hand or a hammer!" he says.
(The Ashley is considering getting that made into a bumper sticker to sell outside of 'Teen Mom' Reunion tapings.)
Gary and Kristina say that Amber's arrest has created complete chaos for them and everyone associated with Amber.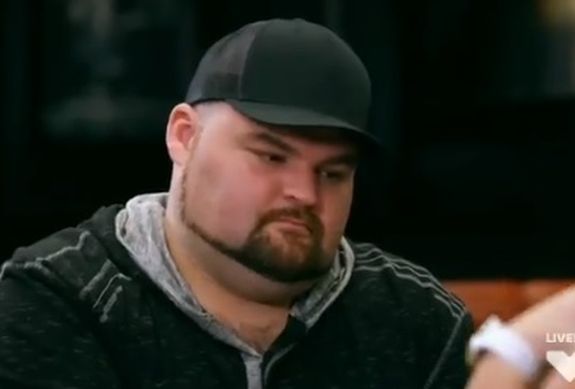 Gary reminds us that he's already had a "punchdrunk" love with Amber, and Leah's already been through this whole mess once before in her young life. Kristina reveals that Leah is worried what will happen to her little brother James should Amber have to go back to "gel." She is unsure if she will be able to still see him and Kristina says she doesn't know what to tell Leah.
It's a sad situation all around…
That's all for this episode of 'Teen Mom OG!'
To read The Ashley's previous 'Teen Mom OG' recap, click here!
(Photos: MTV)