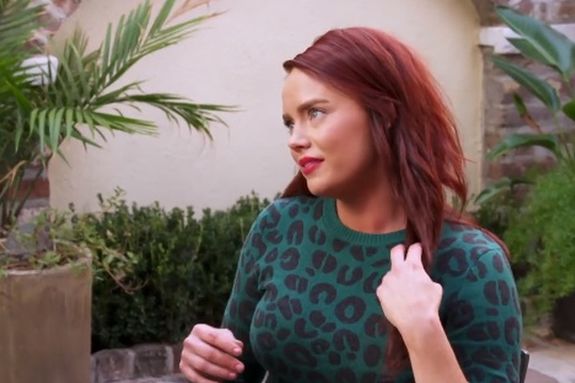 South Carolina's own Hell on Wheels, Kathryn Dennis, has done it again!
The Southern Charm star got into her second major car crash in less than a month. On Wednesday, Kathryn was driving a rental car— due to having wrecked her car in a crash on August 6— with her two kids Kensie and Saint in the backseat when she reportedly rear-ended a car on the highway that was stopped in traffic.
According to local WCIV ABC4 news, the rear-ending caused a chain reaction. The second vehicle then stuck a third vehicle , and the third vehicle struck a fourth. All of the other vehicles were reportedly stopped, but Kathryn's car was going 18 mph, according to Mount Pleasant, South Carolina police.
The force of the crash was enough to cause the air bags to be deployed in Kathryn's car, as well as in the car her vehicle hit. Luckily, the site reports, no one in Kathryn's car, or the other cars, was injured.
Although Kathryn's ex, Thomas Ravenel, has recently accused Kat of using drugs and alcohol on the regular, the police confirmed that alcohol and drugs were not a factor in the crash.
While Kathryn was determined to be alcohol- and drug-free at the time of the crash, she was deemed to be at fault for causing the crash. ABC4 reports that the 'Southern Charm' star was cited for following the car in front of her too closely.
Thomas has yet to respond to the news of Kathryn and his kids being involved in another crash. However, earlier this month he was reportedly furious when he found out about Kathryn's first crash from the news, rather than Kat herself. As The Ashley previously reported, during that first crash, Kat's car reportedly struck a guardrail and went on to hit three trees and two light poles before coming to a stop on the southbound side of the road. Again, no one was injured.
RELATED STORY: 'Southern Charm' Star Kathryn Dennis Crashes Car with Her Children in the Back Seat; Doesn't Tell Baby Daddy Thomas Ravenel
(Photos: Bravo, Instagram)