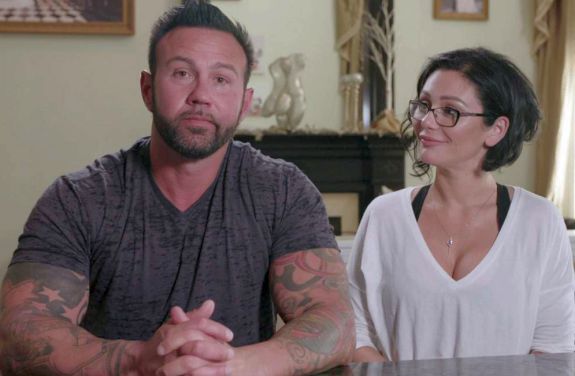 Jenni Farley and Roger Mathews are officially divorced!
The marriage of the Jersey Shore stars was "hereby dissolved" as of Thursday in an Ocean County, New Jersey courtroom. Despite nearly a year of back-and-forth drama, it appears the exes have been able to (finally) call it quits on decent terms.
"Jenni and Roger have reached an amicable conclusion and finalized their divorce," Jenni's rep told Us Weekly in a statement on Thursday.
"They remain devoted to co-parenting their children in a happy and healthy environment and they both wish each other the best."
Jenni celebrated the finalization of the bitter divorce by posting photos of actress Nicole Kidman that are featured in a popular meme that states, "Live every day like you're 2001 Nicole Kidman leaving her lawyer's office after divorcing Tom Cruise."
Roger also posted his reaction, although he did not specifically mention that the divorce was finalized.
"This was a weird week for me, ups, downs, good days, bad days," Roger said in a video posted to his Instagram account. "I think my message is on your good days…let that s**t shine! Let people know. Bring other people up. Today's a good day. I'm going to the gym…"
This caps months of turmoil for Jenni and Roger that included (but was not limited to) messages posted to social media by both parties that trashed the other, abuse claims, restraining orders, cops being called, a bitter battle for custody of their two children, and an attempt by Roger to have the couple's prenuptial agreement thrown out.
Radar Online reports that Roger and Jenni have agreed to follow a Marital Settlement Agreement that refers to the prenup they signed in September 2015. The site states that both parties Ok'd the Marital Settlement Agreement— which was created on June 4, 2019— "freely and voluntarily."
The Marital Settlement Agreement incorporates the couple's prenup, as well as a Consent Order Fixing Custody and Parenting Time, the site reports.
Jenni and Roger got married in October 2015 with all of Jenni's 'Jersey Shore' co-stars in attendance at the wedding. Jenni shocked fans when she filed for divorce in September 2018, citing "irreconcilable differences" as the reason for the split. Roger originally vowed to attempt to "win back" his wife's affections, but things soon turned ugly for the couple. During last week's episode of 'Jersey Shore Family Vacation'— which was filmed earlier this year— Jenni discussed her divorce for the first time on-camera.
Jenni is currently dating wrestler Zack Clayton Carpinello, who is nine years younger than her. The couple appeared together at the MTV VMAs last week.
RELATED STORY: Jenni Farley Discusses Her Divorce for First Time on 'Jersey Shore Family Vacation': Snooki Says Jenni's Drama with Roger Mathews "Is On Ron & Jen Level!"
(Photos: Awestruck, Instagram)