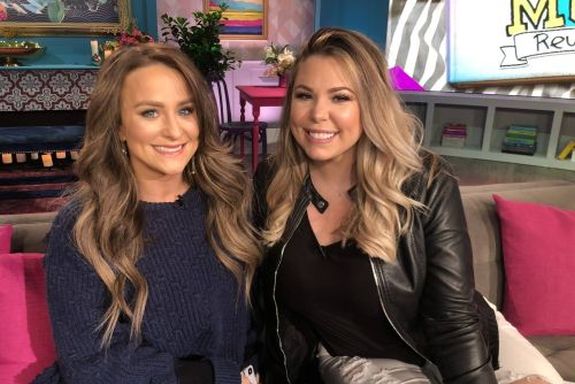 After weeks of teasing Teen Mom 2 fans that she's in a relationship with her co-star Leah Messer, Kail Lowry is finally coming clean and admitting it's a hoax.
Duh.
During the most-recent episode of her Coffee Convos podcast, Kail discussed why she would never actually date (or marry!) Leah, despite the fact that the pair pretended (for clickbait articles, naturally) to be in a relationship.
"I would never! She's like one of my best friends. We have become so close, I would never want to ruin that," Kail said.
Kail and Leah recently attended the MTV VMAs together, posing on the red carpet and looking very "close." Several clickbait articles resulted from the poses, and Kail even proclaim on Twitter, "We're officially a couple!" in the caption of a photo of her and Leah. While most 'Teen Mom' fans saw through the hoax, many believed that the 'Teen Mom 2' co-stars were actually dating.
We're officially a couple! https://t.co/Oc8Kykbgck pic.twitter.com/vRrP5aFRGD

— Kailyn Lowry (@KailLowry) August 27, 2019
Kail— whose Coffee Convos podcast co-host Lindsie Chrisley was taking the week off due to her,um, recent personal issues— talked to her friend Becky Hayter, who was guest-hosting, about what would happen if she was boinking her co-star.
"I think MTV would lose their s**t if Leah and me actually dated," Kail said. "I texted [Leah] yesterday…and I was like, 'We might as well just get married.' And she was like, 'Yeah, doesn't everyone want to marry their best friend?'"
"Can you imagine? I think the 'Teen Mom' World would s**t themselves," Kail added.
Kail's friend Becky did not hold back, telling Kail that a relationship with Leah would "end so badly."
"You destroy anything you get!" she told Kail.
While Kail has been open about her sexually and has dated both men and women in the past, she said she was unsure if Leah had ever dated a girl.
Listen to the entire Coffee Convos episode below!
RELATED STORY: Dream Houses, Drunk Dads & A New Mom: Get Your First Look at 'Teen Mom 2' Season 9B
(Photos: Instagram, Twitter)