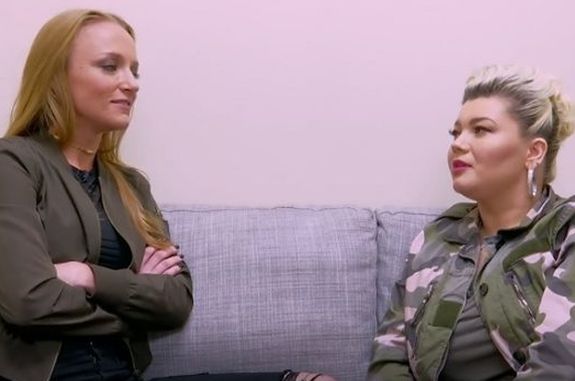 It's taken Maci Bookout a few days, but she's finally joined the ranks of the Teen Mom OG stars who have commented on the disturbing audio clips that were recently released featuring Amber Portwood.
Maci, who up until Tuesday had remained completely silent on the recordings, posted a statement to her Twitter, giving her feelings on the audio clips, which feature Amber verbally abusing her baby daddy Andrew Glennon and repeatedly threatening to kill him and stab him.
In her statement, Maci encouraged Amber— who has been her friend since their 16 and Pregnant days— to get help.
"My heart breaks for everyone involved and affected by this terrible situation," Maci wrote. "I do not condone or support abuse or violence of any type. Amber has been a close, genuine friend of mine for many years, I will support her in getting the help she needs.
"I truly hope and pray that everyone involved receives the help necessary to recover from what has happened, and the guidance to prevent future incidents. -Maci"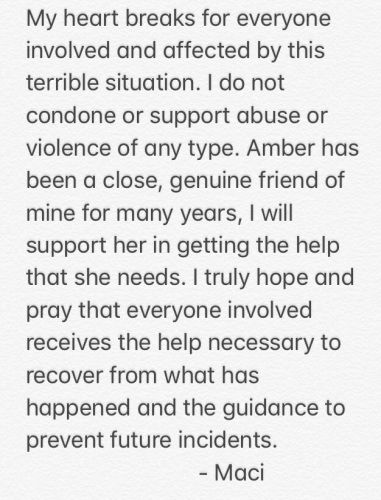 Maci is one of the last of the 'Teen Mom OG' cast members to comment on the audio recordings, which were released last week. Since that time, Catelynn Lowell, Tyler Baltierra and Cheyenne Floyd have all posted their statements about what happened. Tyler stated on Twitter that he had reached out privately to Andrew, which Andrew confirmed on Monday was true.
In a comment posted to The Ashley's Reality Roundup Instagram page, Andrew thanked Tyler and Catelynn for contacting him.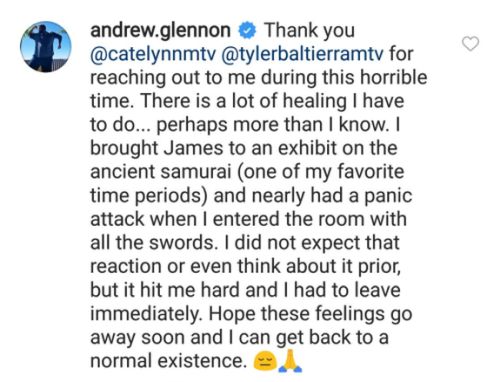 "Thank you @CatelynnMTV @TylerbaltierraMTV for reaching out to me during this horrible time," Andrew wrote. "There is a lot of healing I have to do…perhaps more than I know. I brought James to an exhibit on the ancient samurai (one of my favorite time periods) and nearly had a panic attack when I entered the room with all the swords. I did not expect that reaction or even think about it prior, but it hit me hard and I had to leave immediately. Hope these feelings go away soon and I can get back to a normal existence."
(As The Ashley previously reported, Amber kept a sword in the bedroom she shared with Andrew, as well as a variety of other weapons.)
To read what current and former 'Teen Mom OG' stars, including Farrah Abraham and Debra Danielsen, had to say about the audio recordings, click here.
(Photo: MTV, Instagram, Twitter)