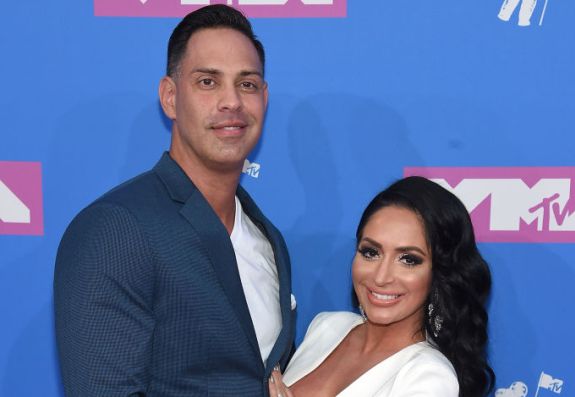 Angelina Pivarnick has spoken out for the first time since her Jersey Shore co-stars delivered a brutal bridesmaids' toast-roast that reportedly left Angelina temporarily leaving her wedding reception in tears last week.
On Sunday, Angelina thanked her new husband, Chris Larangeria, on Instagram for being so strong during what she called "such difficult times."
"I wouldn't be okay right now if you weren't next to me," she wrote in a long caption posted with one of her wedding photos.
As The Ashley previously reported, Jenni Farley, Deena Cortese and Nicole Polizzi served as bridesmaids for Angelina during her wedding last Wednesday. Instead of giving traditional bridesmaids' speeches at the reception, the Jersey Shore Family Vacation stars used their time with the microphone to deliver a brutal roast of Angelina, calling her, "the fly to our s**t," "the dump to our island" and the "trash to our bag," among other things. (You can listen to the full audio of the speech by clicking the video at the end of this post!)
In her post on Sunday, Angelina gave Chris a big shout-out for being there for her.
"Happiness is the key in any marriage and partnership," she wrote. "Thank you [Chris] for loving me for me and never letting things affect you…you are sooo strong. I thank you for being my rock in such difficult times. I wouldn't be okay right now if you weren't next to me. I love you [Chris]…"
In the comment section of the post, Angelina responded to a few of her fans' comments.
"If [the 'Jersey Shore'] cast don't accept you by now, they never will," one person wrote. "Lower your expectations on them. Be happy, strong. Beautiful bride, groom."
"Facts," Angelina responded.
When another person left a comment stating that no one should be roasted (even if it's in "a joking way") on their wedding day, and that if it happened to Jenni, Nicole or Deena on their wedding days they'd be mortified, Angelina agreed.
"Exactly to all this!" Angelina responded.
On Monday, Angelina shared an inspiration meme to her Instagram Stories.
"Be strong because things will get better. It may be stormy now but it never rains forever."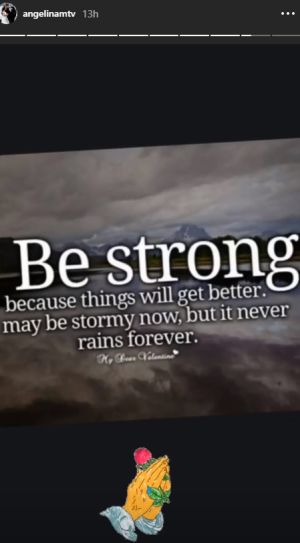 Nicole, Jenni and Deena have caught a lot of flak since the audio of the speech has leaked; however, Nicole and Jenni have yet to speak out about it. Deena posted a message about it to her Instagram account but has since removed it. (You can read her whole "apology" here!)
The wedding (and the roast) were all filmed for the upcoming season of 'Jersey Shore Family Vacation,' so there's a good chance fans will see the brutal toast/roast play out on TV. Angelina is reportedly no longer speaking to her the girls from the cast.
Listen to the audio of Snooki, Deena and Jwoww roasting Angelina on her wedding day in the video below:
RELATED STORY: Angelina Pivarnick Reportedly Not Speaking to Her Female 'Jersey Shore' Co-Stars After They Roasted Her During Their Bridesmaid Speeches
(Photos: Jamie McCarthy/Getty Images; Instagram)