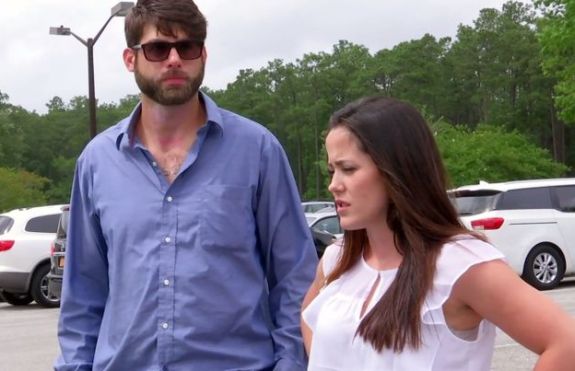 Well Juh-nelle…we see ya wif David!
Former Teen Mom 2 star Jenelle Evans took another step in repairing her relationship with her estranged husband David Eason on Tuesday. Just one day after she dropped the restraining order that forbid David from coming near her or her kids, Jenelle and David were photographed with their daughter Ensley walking together in Printer's Alley— an area in Nashville that's full of bars and nightclubs.
In the photo– which was shot by a 'Teen Mom 2' fan who sold it to TMZ –Jenelle is holding Ensley's hand while David walks next to Jenelle with his arm around her.
Jenelle Evans Hanging Out David Eason Again for Daughter's Sake https://t.co/SLOqFL2ekT

— TMZ (@TMZ) January 15, 2020
TMZ's source reported in the accompanying order that there's "no romance" between Jenelle and David and that "the reason for her change in tune is because she wants Ensley to be able to see her dad. We're told she's also very tired of going to court."
However, the girl who took the photo that ended up on TMZ tells The Ashley that things between Jenelle and David looked cozy both before and after the photo was snapped!
"David had his hand on Jenelle's lower back pretty much the entire time," she told The Ashley on Wednesday. "All seemed happy and relaxed.
"They were playing with [Ensley] in the parking garage where she was jumping and climbing around," she said. "It seemed like they all came together in one car…I thought I saw [David and Jenelle] holding hands briefly, too, but her demeanor did change slightly when she realized we had seen them."
The girl says Jenelle and David seemed happy to be around each other.
"They looked relaxed and affectionate towards each other," she added. "[They] were playing with their daughter and smiling and laughing."
The Ashley's source tells her that Tuesday was not the first day that David was in Nashville, where Jenelle now lives with her kids.
"David has been there for a few days," the source said. "He was at her house."
David seemed to confirm this in a comment made on his Instagram photo. In the comment section of a photo he posted of Ensley with her face covered in makeup, David told a fan that he was the one who took the photo. (Jenelle recently posted a video to her YouTube channel of Ensley playing with makeup at her Nashville home.)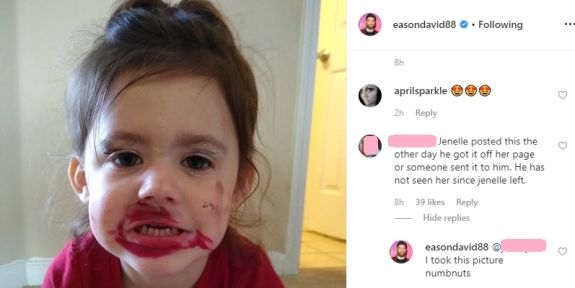 As you may remember, earlier this month, Jenelle HIGH!HIGH!-tailed it the East Coast to meet up with Herbie Wilkinson, whom she had been talking to since her split with David. The Ashley hears that Jenelle and Herbie's fling ended shortly after the news of their relationship went public.
"He dumped her because he felt that being with her put his sobriety at risk," The Ashley's source tells her. "She was actually pretty upset about it. She has only been dumped a few times by guys."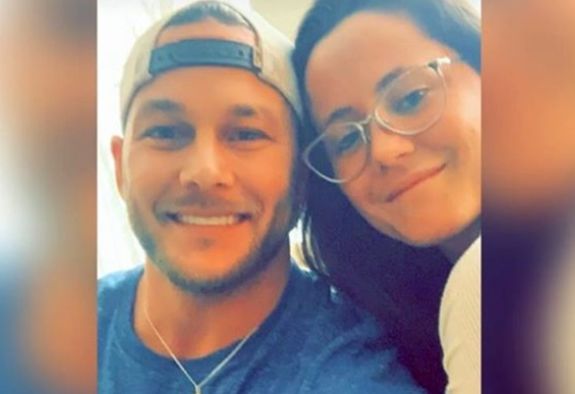 The Ashley will continue to update on this story. Stay tuned…
RELATED STORY: Former 'Teen Mom 2' Star Jenelle Evans Drops Restraining Order Against Estranged Husband David Eason
(Photos: MTV; Instagram; Twitter)