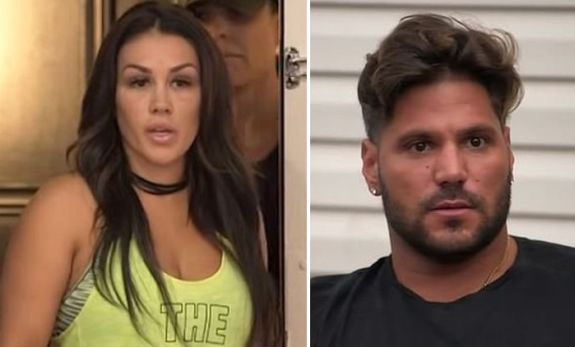 The most recent throwdown between Ronnie Ortiz-Magro and Jen Harley may not have come as huge surprise to anyone that's tried to keep up with the pair's tumultuous past, but according to Ronnie, it certainly caught him off guard.
TMZ reports that the Jersey Shore Family Vacation star doesn't know why his baby mama was in his Las Vegas home before she attacked him with an eyeliner. (No…that is not a typo. Ronnie claims that Jen's weapon of choice in the alleged attack was eyeliner. No word yet if she sprung for the waterproof version.)
Anyway, Ronnie confirmed to police that he is not dating Jen and that he did not invite her over to his house. On top of that, Jen currently has a restraining order against him.
As The Ashley told you last week, Ronnie called the cops claiming that Jen, the mother of his daughter Ariana, struck him in the face. Ronnie claimed that the attack occurred after he arrived home from a photoshoot to take a nap and was awoken by Jen, who accused him of cheating after finding another woman's makeup in the trash. Things allegedly turned physical from there, with Jen trying to poke Ronnie in the eye and striking him in the face multiple times.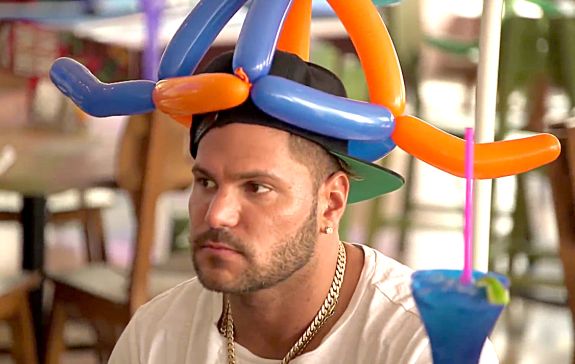 As a result of the incident, Ronnie's attorneys told TMZ that a judge granted Ronnie an emergency order for protection against domestic violence, in effect through February 25.
On Monday, Jen's attorney Lisa Bloom told the site that the contact Ronnie had with Jen "was in violation of the restraining order in effect against him" and that Jen had yet to be served an order against her. (As you may recall, Jen was granted a temporary protective order against Ronnie stemming from the October incident the two were involved in, in which Ronnie allegedly chased Jen with a knife while holding Ariana. The judge granted the order on behalf of both Jen and Ariana.)
According to TMZ, Ronnie is unsure how Jen managed to gain access into his home, as there were no signs of forced entry. It is suspected that Jen still had a key to Ronnie's house and used it to get inside.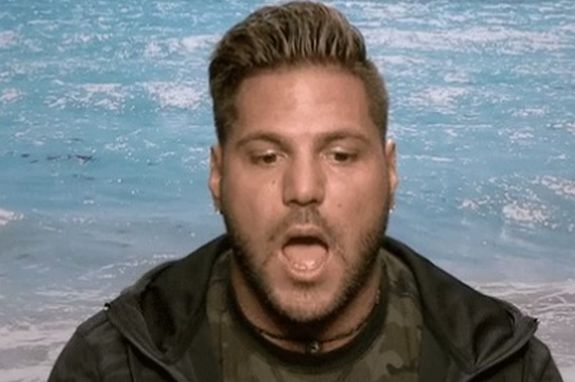 On Monday, Jen's attorney refused to answer any questions related to why Jen was at Ronnie's house that night.
"You ask a good question and there is a good answer, but we will be presenting her position in court, not in the media," Lisa said. " … she has not been served with a restraining order and any contact the two had in recent weeks would be a clear violation of the restraining order against Ronnie."
While Ronnie and Jen seem to be staying quiet (for now) on the issue, based on Ronnie's recent Instagram Story, which featured the message "every morning is a blessing," he appears to be digging deep to find some positivity in spite of this ongoing baby mama drama.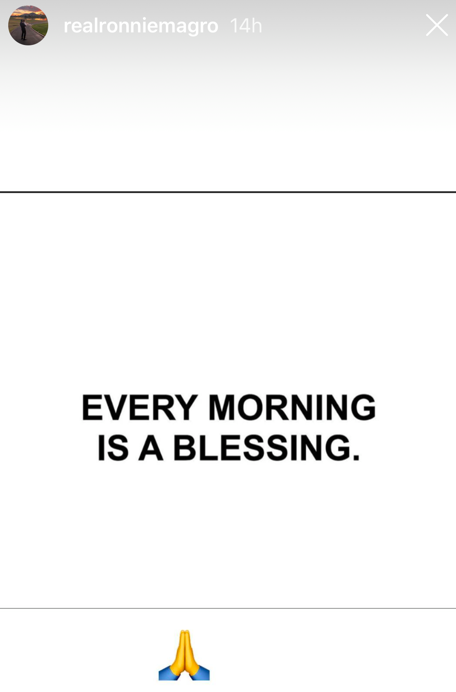 He also posted a photo about missing his daughter, Ariana, who he has not been able to see due to all the turmoil with Jen.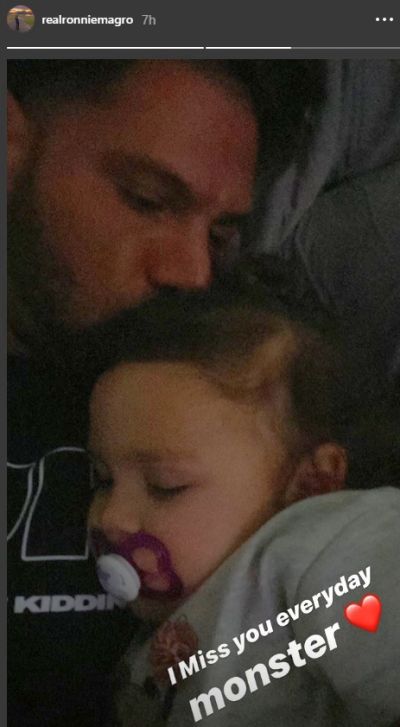 RELATED STORY: Ronnie Ortiz-Magro Files for Restraining Order After Jen Harley Allegedly Attacks Him in His Home
(Photos: MTV; Instagram)