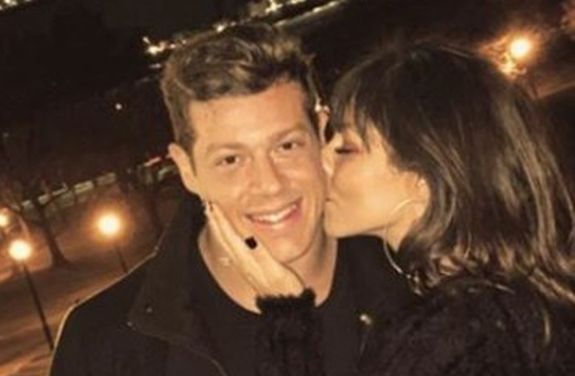 Wedding bells are ringing (again!) for former Married At First Sight star Jason Carrion. Instead of marrying a stranger, though, this time he married fellow reality TV star Roxanne Pallett!
The couple tied the knot on Sunday in New York City, according to The Sun. The ceremony was held at Lutheran Evangelical Church and was attended by only 10 of Jason and Roxanne's closest friends and family.
The Sun reports that the couple— who announced their engagement in December— exchanged personally written vows, and Roxanne's mother read a poem that was written by Jason's late mother. The bride wore a strapless ivory gown and wedding veil, while Jason donned his NYC firefighter's uniform. (You can check out more photos of the nuptials here.)
EXCLUSIVE: Roxanne Pallett has married Jason Carrion ❤ https://t.co/DPbFEsF7ci

— The Sun (@TheSun) January 29, 2020
"To walk down the aisle in such a perfect fairy-tale setting towards my dream man, was the happiest moment of my life. I'm still floating on a cloud," Roxanne told the UK paper.
Jason and Roxanne have both experienced their share of hardships recently. Jason's first marriage to Cortney Hendrix— whom he met and married on the very first season of 'MAFS' back in 2014— ended in divorce last year.
Roxanne– an actress who is best known in the reality TV world for causing a huge ruckus on Celebrity Big Brother in 2018 after she falsely accused her male costar Ryan Thomas of punching her while they were filming the show. Due to the backlash, Roxanne told The Sun at the time that she "lost everything" and had to go into hiding. Her then-fiance Lee Walton reportedly dumped her about six months later.
Seven months after her engagement ended, Roxanne began dating Jason.
Jason told The Sun that he and Roxanne feel that they've finally got it right this time.
"I couldn't have asked for a more memorable and incredible wedding day," he said. "Watching her walk down the aisle as I took her hand in marriage was one of the most significant moments in my life. I have finally found my person, the one who I want to spend the rest of my life with."
RELATED STORY: 'Married At First Sight' Season 1 Star Jason Carrion Engaged to Roxanne Pallett Following Divorce From Cortney Hendrix
(Photos: Instagram; Twitter)