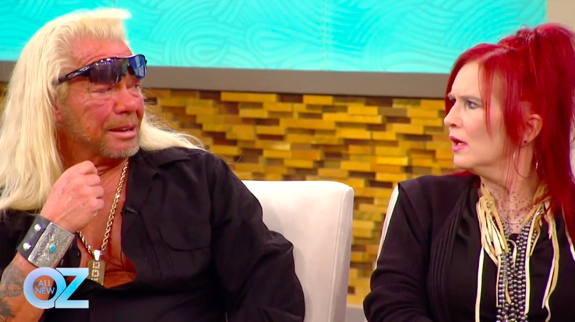 Duane Chapman, aka Dog the Bounty Hunter, tragically lost his wife Beth Chapman to cancer just seven months ago and now it's being reported that a loss of a different kind may be on horizon for the famed bounty hunter.
According to The Sun, an insider said WGN America will not be giving Dog's most recent show, Dog's Most Wanted, a second season. The series, which premiered in September, marked Dog's return to the small screen after a six-year hiatus. Beth was also part of the cast, as the show was filmed prior to her June 2019 passing.
Those close to Dog are reportedly concerned for his health and worried about how he will cope financially without the revenue from the show.
"WGN called Dog last week to tell him the show was cancelled," the insider said. "He would absolutely have loved to make a second season of the show so [he] is obviously disappointed."
Another person who is reportedly disappointed by the show's cancelling is Dog's rumored new girlfriend, Moon Angell, who allegedly "really wants him to get back to work and start earning some money."
Interestingly enough, Dog and Moon appeared on The Dr. Oz Show last week, during which Dog randomly proposed to Moon at one point. For those who didn't see the odd moment go down, Moon went on to turn down Dog's proposal, telling him, "we're friends, Duane."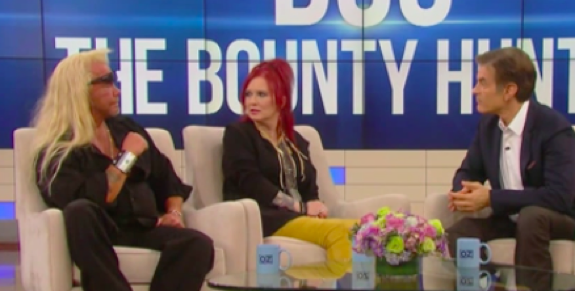 " … right at this very moment, I don't see you as that," she continued. "I love you and Beth as my friend."
"I know, but I wanted everyone else to know," Dog responded, hinting that he possibly "proposed" to prove a point.
The relationship between Dog and Angell has been openly criticized by members of Dog's family for quite a while now — most notably by Dog's daughter Lyssa. In December, Lyssa called Moon (whose real name appears to be Mary) out on Twitter for "moving in on" Dog weeks after Beth's death, despite claiming to be Beth's friend.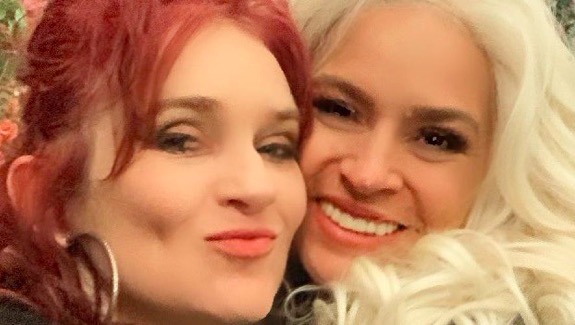 "You're a disgusting woman," she said. "Any person who moves in on a man weeks after losing his wife, who you were supposed to be a 'friend' to, is the lowest scum on the planet-Which for you wasn't that far of a step down from where you were before. God will get you MARY!!!"
Mary Moon fired back at Lyssa, in a now-deleted tweet, calling her "Lil Miss TMZ Rat" and accusing her of riding her father's coattails after she "showed up as a drug addict from Alaska," PopCulture.com reported.
In response to the rumors going around, Dog's rep told Fox News last month that the pair were not dating.
"They are friends and have been for many, many years. Beth knew her well also for 25 years," the rep said. "They are not dating. She has been helping out as Duane is really missing Beth and needs someone around."
Despite his rep denying the rumors, last month, Dog posted a photo of himself and Moon on Instagram, captioned, "Thank you MOON!!!!" which at the time, only refueled Lyssa's anger as she returned to Twitter for another rant.
"Happiness is granted to all, and all I wish is happiness for my family," Lyssa stated in a now-deleted tweet. "When a person who has ill intentions, that my mother specifically warned me about before her passing tries to enter, the war is on. The devil ALWAYS goes for the weakest link. Not today Satan."
Her rant about her father's possible new girlfriend didn't stop there. She went on to accuse Moon of having a shady past involving money, men and mistreating animals.
"My [arsenal] is stacked with info, ex's restraining orders, trust funds thefts. 5 men in 3 years, [breeding] dogs for cash then dumping the parents off at the pound. I got the proof. I got the big guns. Make me use em'," she continued.
https://www.instagram.com/p/B5n-2H2ALbF/?utm_source=ig_web_copy_link
Lyssa then alleged that Moon met the Chapman family through dating her brother and that following Beth's death, Moon tried to date Dog and has since moved all of her belongings into Beth's closet. While she recognized at the end of the day her father is allowed to make his own decisions, Lyssa said she doesn't support his relationship with Moon.
"My dad is a GROWN A** MAN," she said. "His money. His dynasty. But you can guarantee that my name is not going down in history as a person who supported this."
(Last week, Lyssa landed behind bars after being arrested in Hawaii for harassment.)
Whether Lyssa supports her father dating Moon (or anyone else for that matter), Dog told RadarOnline last month he has to find a way to move on.
"I'm very lonely," he told the site. "Beth [and I] talked about death and I'd say, 'You know Beth, I'll never get married and I'll never have a girlfriend again.' She's like, 'Shut up. You will too. You need a woman beside you.'"
Dog admitted he's the "kind of guy that has to have a woman" around him, but "there will never be another Mrs. Dog."
WGN America– the channel that airs 'Dog's Most Wanted' has not yet released an official statement regarding the future of the show.
RELATED STORY: 'Dog's Most Wanted' to Premiere in September; Watch A Sneak Peek of the New Series
(Photos: The Dr. Oz Show; Instagram; Twitter)