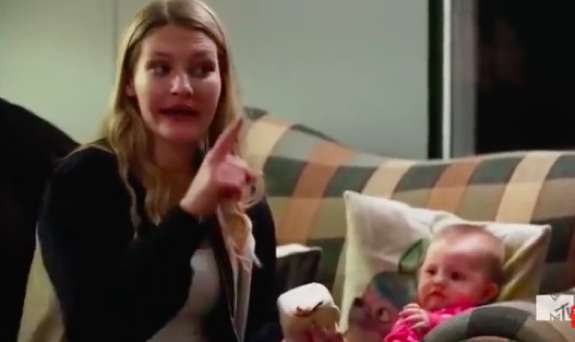 Malorie Beaver, older sister of Teen Mom: Young and Pregnant star Rachel Beaver, found herself behind bars this weekend, reportedly following a feud with someone other than her sister or her mother.
Malorie was arrested Saturday night in Madisonville, Tennessee, and charged with "Assault, Domestic Related." (The news of the arrest was first reported by the Teen Mom Shade Room Instagram account.)
As of Monday, Malorie — whose legal name appears to be spelled "Mallorie" — had bonded out and is once again a free Beaver.
Despite Malorie's recent social media feud with Rachel, as well as her often turbulent relationship with her mother, Stephanie, Saturday's alleged assault actually her Nana, according to Malorie and Rachel.
The Beaver sisters broke down the events of Saturday night (in a very on-brand, NSFW fashion) on social media, in which they blamed the ordeal on their Nana's tendency to overact "over everything" and the fact that "Nana was intoxicated."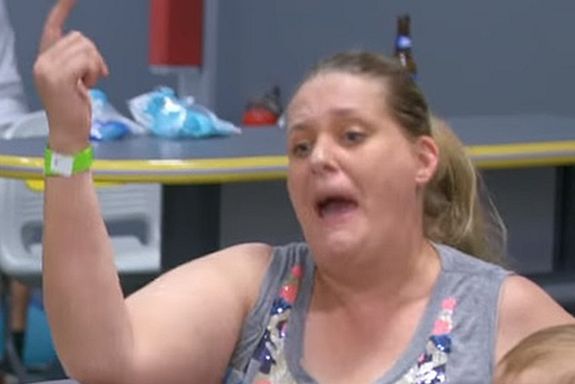 In the Instagram Live video, captured and reposted on Twitter by @TMMamaDrama, Rachel is the one speaking to the camera, while Malorie provides details in the background. According to Rachel, when Malorie went to get her daughter Emerson from Nana, the (allegedly) three-sheets-to-the-wind Nana refused to hand over the kid. She also told Malorie "this is my child, this isn't your child," causing Malorie to grab Nana's wrist in an effort to get the kid. Nana then allegedly threatened to call the cops and ultimately did just that.
So Nana and Mallorie were intoxicated per Rachel. pic.twitter.com/g8LVfUJxRw

— *Cause I Find You* (@TMMamaDrama) February 3, 2020
At this point, Malorie jumps into the camera shot to show where the cops "f**king cut" her on her wrist. Shortly after, Malorie is heard in the background saying "all the charges are being dropped … Nana said she dropped them all," which Rachel confirms, noting that her Nana said she wished she hadn't called the cops and claiming that the whole thing had been a big misunderstanding.
On Instagram, Malorie stuck to her story, telling one of her followers that she "would never hit" her Nana and that "people just like to make s**t up."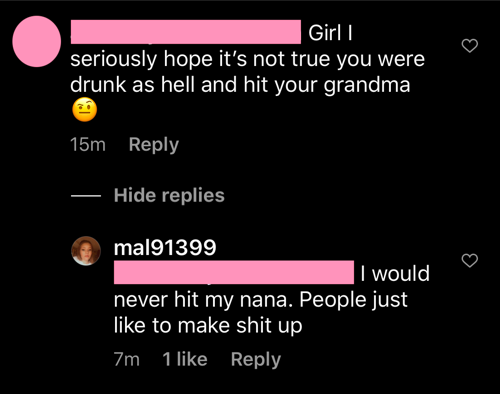 Malorie later popped on Instagram Live again to tell her side of things.
"I did not hit my Nana," she said. "The bitch that was goin' around saying I hit my Nana was some snaky ass bitch motherf**king bitch who is friends with Mom but likes to talk s**t and has been talkin' s**t since Day 1."
Malorie went on to say that she will be redeemed in court.
"That is not correct, and everyone will know it's not correct when the f**king court date happens," she oh-so-eloquently explained. "Because all my charges are getting dropped. Literally all I did was grab my Nana's wrist, move her hand so I could get Emerson. The only reason they arrested me for domestic assault is because they didn't want to arrest me for a PI [public intoxication] because I was at home and you can't really arrest me for that. They just wanted me out of the house, basically."
She insisted the cops couldn't arrest her for domestic assault (even though they actually did) because "there was no evidence and because no one saw anything."
Malorie claims that she's knowledgeable in this field, thanks to her turbulent relationship with her baby daddy Lane.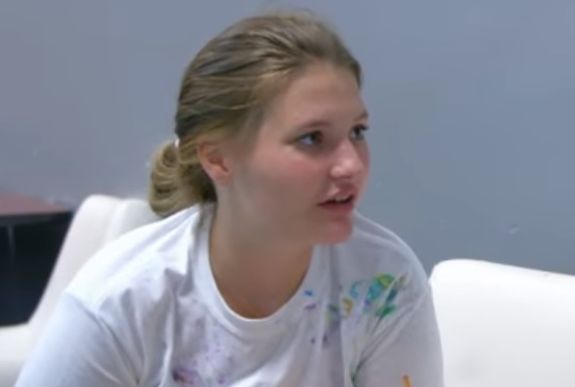 "Every time I tried to get Lane arrested for domestic assault, I couldn't because there were no marks, and, two, there was no witnesses. But last time there were witnesses so he got arrested for it."
LOVELY.
"Really, they couldn't arrest me for domestic assault…but they did anyway," Malorie concluded.
As fans (or haters) of 'Teen Mom: Young & Pregnant' may recall, this isn't the first time Malorie has had to defend herself or her actions online. In October, viewers of the show criticized her parenting after she was seen dropping off Emerson with her mom for an extended stay in order for her to partake in some child-free fun.
After the episode aired, Malorie said she "partied and so forth" as a way to escape and later revealed that she was struggling with a drinking problem during the filming of the show.
"Just so everyone knows, last year I had a bad drinking problem," she said. "My depression from before pregnancy and the [post-partum depression] led to drinking and partying. One party and one drink led to a lot of parties and not being able to stop drinking."
It appears that Malorie's drinking problem is still a problem, since Malorie herself claimed to have been intoxicated during the alleged assault. In fact, it appears that also received a "Public Intoxication" charge to boot, according to online court records!
RELATED STORY: What Did Nessa Say to Make Kail Lowry Walk Off Stage at the 'Teen Mom 2' Reunion? Plus Kail Reveals Her Thoughts on MTV's Role in the 'Young & Pregnant' Drama
(Photos: MTV; Instagram; Twitter)