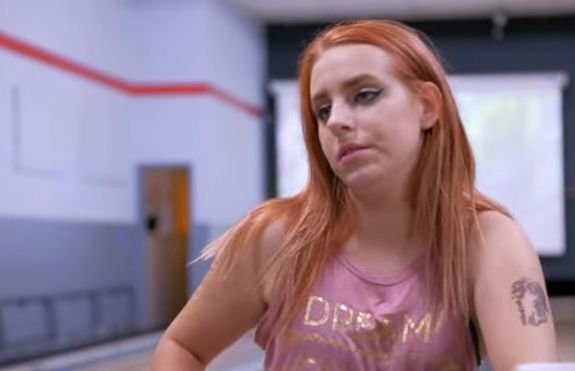 The Ashley once vowed never to recap Teen Mom: Young & Pregnant…however…she just discovered the recap goldmine that is Rachel Beaver and her family.
Because The Ashley hates to miss out on recapping fun, she has decided to only recap Rachel's parts of 'Teen Mom: Young & Pregnant!'
We start things off in the double-wide, where Rachel is realizing that the Jacob or Drew —men in her life— aren't so cool with the lil' Maury Povich-esque "Who's the Daddy?" stunt she pulled. Both of the guys have stopped calling Rachel, and neither has asked about Rachel's daughter, Hazard (?), in a while.
Rachel says that, luckily, her sister Malorie and her mother— the gift that is Stephanie— have been supportive. Malorie informs her sister and mom that she and her baby daddy Lane are trying to work things out. (So….basically their goal is to not end up on Cops this month… #FingersCrossed).
Malorie proudly shows off the new car seat that Lane somehow acquired for their daughter. (She didn't say it directly but we can assume the car seat either "fell off a truck" or was found 'round back of the Food City in a pile of trash.)
Stephanie, who, as we know, is always an advocate for keeping the peace in domestic situations, makes it clear that "there ain't to be no fightin' in front of that baby!"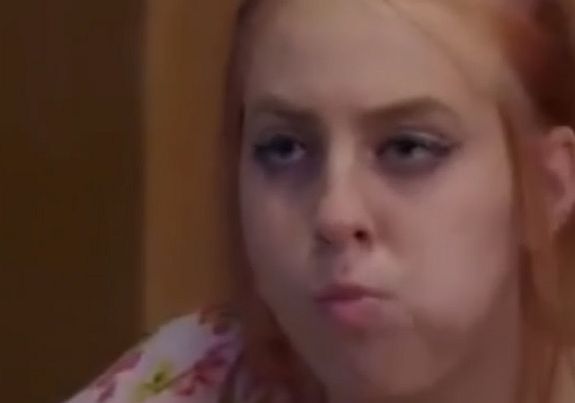 Rachel and Stephanie wait until Malorie is out back strapping her new youngin' seat into her car before they talk crap on her decision to get back with Lane.
Later, down at the ol' Mexi-Wing restaurant (I don't even wanna know…), Stephanie is trying to persuade Malorie to stay away from Lane, since he was abusive to her in the past. Rachel thinks Lane is trash too, but, because he's Emerson's father, Rachel agrees he should be in the kid's life. Rachel doesn't want Emerson to grow up without a deadbeat daddy like she and Malorie did.
I think that's nice…
After Lane has been sufficiently bashed, Stephanie announces she's planning to journey down to Atlanta. Apparently there are more Beavers down 'round those parts, so Stephanie invites Rachel and Malorie to tag along. (Hey— someone's gotta help her pay for that gas money!)
Stephanie promises they'll be able to see "Jake 'n' Jennifer 'n' stuff…"
With an exciting offer like that, who could refuse!? Not only Jake and Jennifer but "STUFF" too?! Hot dog!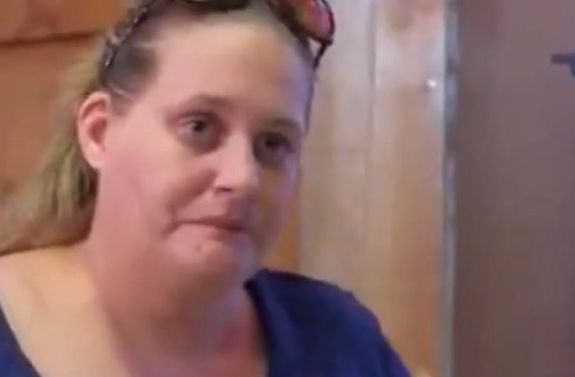 The girls agree to go…but Malorie says that Lane has to be invited too, since the trip will fall on Emerson's first birthday. Stephanie grumbles but agrees (but is probably planning to make him ride on a lawn chair she's strapped, Beverly Hillbillies Granny-style, to the top of the family's Astrovan.)
Stephanie says she's trying to be nice about Lane; however she reminds her daughter that "a beater has always been a beater."
Can someone please make The Ashley a shirt and/or bumper sticker with that phrase on it? Please and thank you.
Malorie denies that Lane will continue to be a beater because… he's channnnnnged! She insists he's not the same beater he was back when he was beatin'…and stuff.
Rachel decides to throw it out there that, since they'll be down in the Georgia holler anyway, they may as track down their dad in whatever homeless encampment he's currently calling home. She says that she'd like for him to meet his grandkids.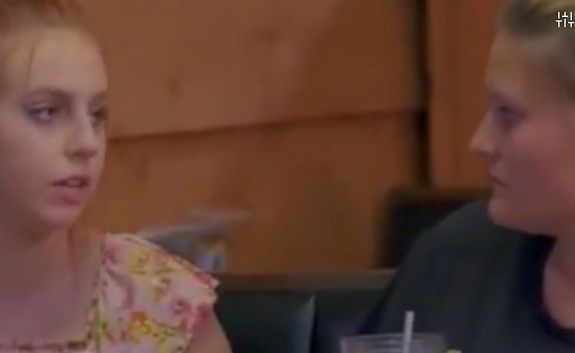 Stephanie is not happy. She looks like she wants to throw slap the Wet 'n' Wild eyeliner right off Rachel's face. Rachel tells her mom that she can't come with them to visit Daddy if she's going to cause a ruckus.
Stephanie not cause a ruckus? The chances of that happening are about as good as Rachel not getting the runs after completing her "Mexi-Wing" meal. (Re: NOT.GOOD.)
Later, Rachel and Stephanie (who are probably putting that double-wide's toilet to good use following their Mexi-Wing lunch), discuss Rachel's desire to see her father and have him meet her daughter Hazmat. Rachel has somehow convinced Malorie to go visit Daddy Dearest with her, and Stephanie is madder than a wet hen!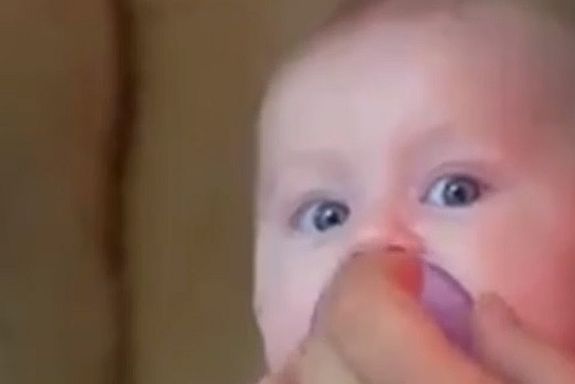 Stephanie reminds Rachel that her father has never taken care of her, or paid any child support for her and therefore doesn't deserve to see them. Rachel insists that she's going to meet her dad– whether her mom likes it or not!
Rachel admits she's surprised that Malorie agreed to see their dad, considering he's basically been a trashbag their whole life and has never lifted a black-nailed finger to help them. She says she hasn't seen Daddy Dearest in over three years, but she really wants Hazelnut to know him.
She calls up her father and tells them that she and Malorie and their assorted spawn want to meet up while they're in Atlanta. Daddy says he'd love to meet up and they agree to plan an outing together.
A few days later, the whole rootin' tootin' Beaver Bunch is down in Atlanta! Rachel gets to see her long-lost cousins (and all of their assorted illegitimate children), and everyone has splattered on their finest green and blue eyeshadows for the occasion. There are a ton of people crammed into the little house. (But still the teeth-to-person ratio remains low.)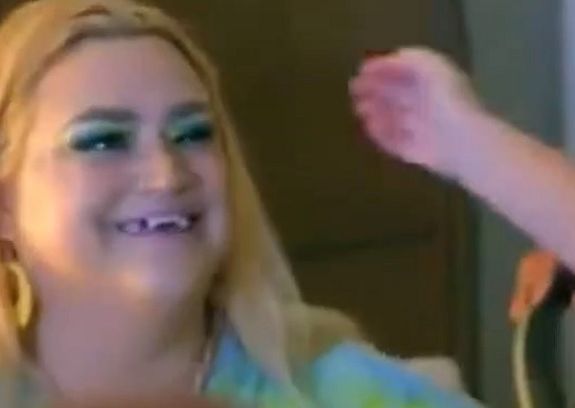 Later, the whole gang heads on down to the bowling center (which also seems to double as some sort of cellphone store?) They've collected a plethora of characters to celebrate Emerson's first birthday. Malorie and the always-beater Lane have even made themselves T-shirts to identify themselves as "Mommy" and "Daddy" to the party guests. (Who needs Maury Povich to announce who the father is when you can make your own tie-dyed shirts to do it!)
Naturally, Emerson is shirtless and running around in a full diaper.
Malorie confides in Lane that she is having second thoughts about seeing her father. She decides that she doesn't want to go, but is worried Rachel will be mad at her for ditching out.
Malorie goes over to have a "homey talk" with Rachel. She explains that she doesn't want to go, and Rachel seems disappointed but assures her sister she isn't mad.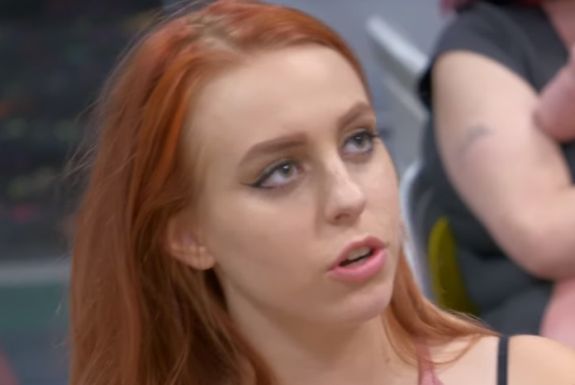 When Stephanie hears that Malorie is no longer going along, she blows up and insists that Rachel be accompanied on the visit by someone "responsible." (Good luck finding that in this motley crew, Steph!) Rachel reminds her mom that she's not a kid anymore. (After all, she's already squatted out a kid of her own!)
"I can do whatever I want! I'll sneak behind your back because I don't give a f**k!" Rachel screams. "You can't do anything about it!"
As you can imagine, Stephanie is not having any of Rachel's sass-mouth.
"Don't get it twisted!" she yells. "The reason I can't is because I choose not to! I choose not to because I'm a good motherf**kin' MOM!"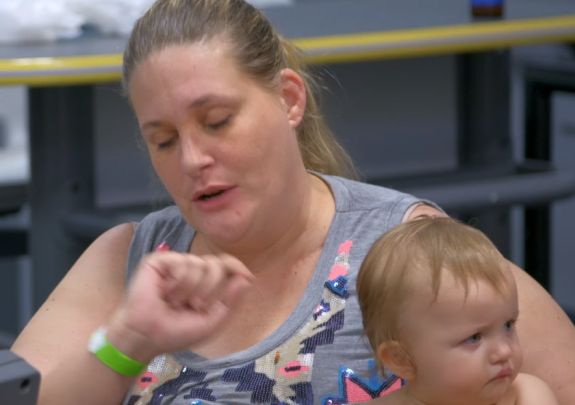 Rachel threatens to run away to another state where Stephanie won't find her. She then tells her mom that all she's good for is threats and that she never actually does anything.
Someone please light a candle for Rachel….
Stephanie's so mad she's sweatin' through her "sporting" clothes. She tells Rachel that, just because she hasn't whopped her in the past doesn't mean she isn't fixin' to whop her this time!
"Do it! Do it!" Rachel chants.
Stephanie is ALL fired up.
"You wanna see what's ABOUT IT?" she screams. (I think?) "That's what you wanna see?! BACK THAT S**T UP!"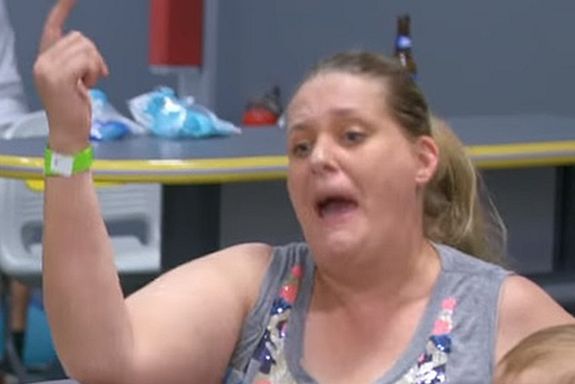 Rachel screams at her mom, reminding her that, much like her father, Stephanie was on drugs for a lot of her childhood, too.
"You are just as guilty as he is!" Rachel screams, which kind of shuts Steph up for a second.
Malorie starts to notice that her mother is about ready to pull Rachel's Kool-aid-colored hair out of its socket and is upset that their screaming is ruining the merriment of the baby's first birthday. (Don't ya hate that?)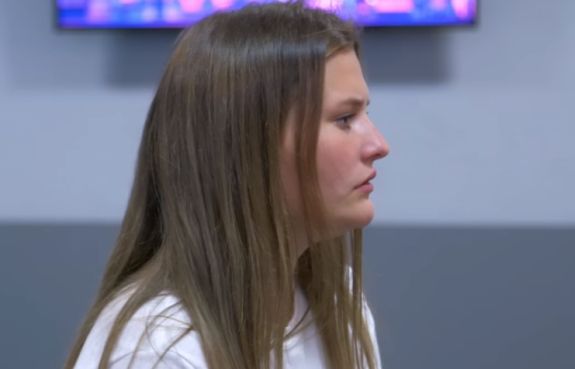 She tells her mom that she is "dead ass" that it wasn't right for Stephanie to snap on Rachel, but Stephanie protests that Rachel was "bein' a bitch!"
Stephanie declares that the party is over, and everyone starts trickling out. (Some of the relatives stay behind to shovel up the leftover pizza, naturally….)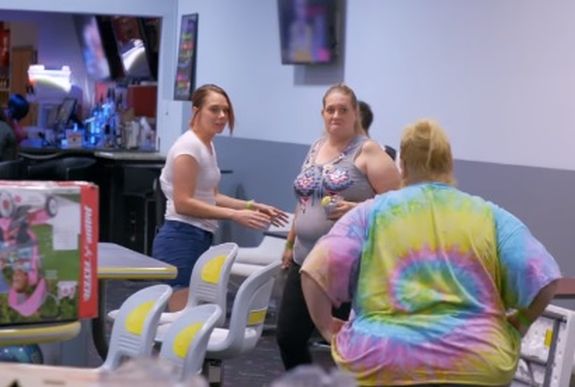 That night, Stephanie apologizes to Rachel for going off on her at the bowling alley. She explains that she doesn't feel safe letting Rachel go see her father alone. They agree that Jake will go along on the journey and protect Rachel. (I have no clue who Jake is to Rachel and her family; however he seems way too well-spoken and well-groomed to be part of the Beaver Bunch.)
Rachel's dad calls up just then and Stephanie explains the situation to him. She tells him that Jake will now be going, and Daddy is not happy to hear it.
He accuses her of throwing "a monkey wrench" in their father/daughter meet-up plan. Stephanie looks like she wants to hit her ex with said monkey wrench. Instead, she uses some choice words to explain the new plan.
"Someone's gotta drive her mother f**kin' there and Jake's not gonna sit in the motherf**kin' car!" she bellows. "Point blank, period THE END!"
Daddy hangs up on Stephanie but then calls up Rachel next and protests having to have Jake there as he and Rachel and Hazard catch up over some Long John Silver's fishsticks.
Rachel explains that, because she's not 18 yet, she doesn't have any say and it has to be her mom's way. He protests that she should feel safe around her dad.
Stephanie, who, until this time had been pretending to be out of the room, can hold it in no longer. She screams that Rachel hasn't "seen or been around" her dad in years. She says that Jake goes or no one goes!
Dad screams that no one is going then. He tells Rachel "sorry" but he's won't be forced into dining with Jake. (All this time poor Jake looks like he wants to disappear into the poorly painted wall.) With that, Daddy hangs up.
Rachel is fired up! She tells them that if her dad really wanted to see her as bad as he said he did, he would suck it up and dine with Jake. She says she doesn't care if she ever sees her dad after this. To her credit, Stephanie refrains from letting that big ol' grin spread across her face and telling Rachel "I told ya so."
That's all for this installment of "The Beaver Bunch!' Until next time…
To read The Ashley's other recaps, click here!
(Photos: MTV)