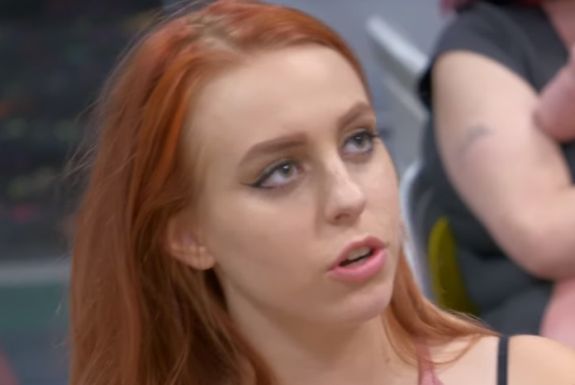 It's time to check in with everyone's favorite degenerates— The Beaver Bunch!
Rachel and her family— aka the only people on Teen Mom: Young & Pregnant who interest The Ashley enough for her to recap— are back…with more problems than ever!
We kick things off in the family's trailer, where Rachel has just gone into the john to take a pregnancy test. Her mom, Stephanie, has sunk herself into the stained couch, fretting that her daughter has, once again, become….wait for it…Young and Pregnant!
Rachel's daughter, Hazard Light, is only 22 weeks old, and Stephanie is worried that they won't be able to support all of these kids. Hell, just buying the value pack 'o' pregnancy tests down at The Wal-Mart was a blow to the Beaver Family Budget!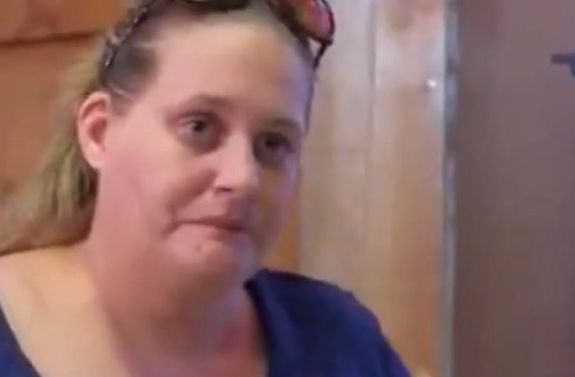 "That's two lines for pregnant, Rachel and one for not!" Stephanie bellows as Rachel marches out of the bathroom, pee dropper in hand.
Steph— who I'd imagine is an old-hat at this pregnancy testin' stuff– instructs her daughter to "fill up that whole lil circle with pee, OK?"
It's like biology class for the contraceptionally challenged, y'all!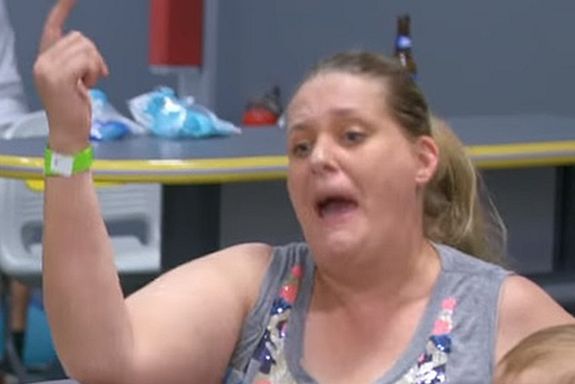 Rachel starts screaming as the next test reveals that she is knocked up. (For some reason, her scantily dressed friend starts yelling, "YAY!" Maybe she's pregnant too and is happy she'll have someone to stand in line with at the welfare office?)
Stephanie is left crying into her lighter, as Rachel and the half-dressed pal go sit on the porch-like area to discuss this oopsie baby. Rachel calls up Koty, her "boyfriend," to inform him that she is once again with child. Koty is surprised but a true pro-life humanitarian– and wordsmith.
"I don't want you to f**kin' kill it, obviously," Koty tells her.
After they hang up, Stephanie storms outside to show Rachel the test, which, has since darkened to prove, without a doubt, that Rachel is pregnant.
Although you'd think Steph would be used to having her teenage daughters being fertilized by the local street youths, she's not. In fact, she's ding-dang MAD! She tells her daughter that she "done TOLD HER" to get on birth control, because she knew that Rachel and Koty weren't being safe while they were doing the nasty. (We can assume said "nasty" was done 'round back of the trailer, or in assorted parking lots across the county…)
"Like, I literally feel like the dumbest bitch on this Earth!" Rachel says as Stephanie shakes her head vigorously in agreement.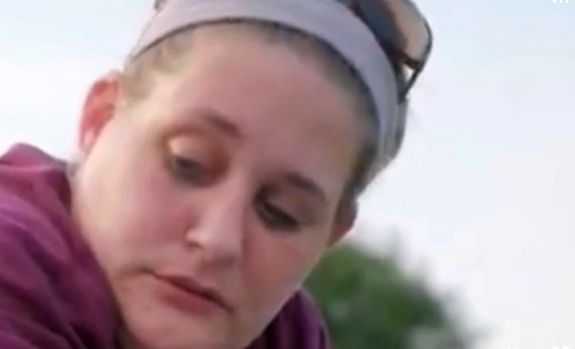 Stephanie has come to terms with the fact that she is about to be a grandma to three illegitimate kids by her two teen daughters. Rachel, however, reminds her mom that there are "options." (She means "the abortion," by the way…)
"You wouldn't want to get rid of another little Hazlee!" Steph says. "You'd regret it for the rest of your life!"
Rachel has no idea what to do with the oopsie baby in her womb. If only there were a way to prevent teenage girls from getting knocked up over and over again!
Oh…wait…
Later, Rachel tells us that this round of Knocked Up is way worse than when she found out she was pregnant with Haphazard because she already has one Oopsie Baby to take care of and keep alive. Rachel's sister Malorie comes home to fetch her Oopsie Baby from the trailer, and Rachel tells her that she is once again sperminated.
At first, Malorie doesn't believe Rachel. Once she realizes her sister is serious, Malorie starts racking her brain to try to figure out which of Rachel's current Prince Charmings had the honor of knocking her up this time.
"Like…with who?" Malorie asks.
Rachel informs her sister that it was Koty who shot that faithful dose of baby juice into her loins.
"I told you you were gonna get pregnant!" Malorie tells her.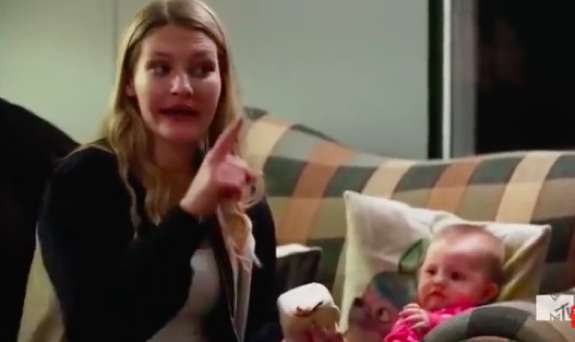 "How are you gonna get, like, a job, and a GED 'n' stuff like that?" she asks.
Rachel is unsure how she's gonna get a job "raisin' two kids," and knows that she'll never be able to go back to high school, now that she's got one baby on her and one in her.
Malorie reminds Rachel that abortion is still on the table, but Rachel doesn't think she can do that to "her own kid."
Rachel is mad that having Hazelwood already robbed her of the drinkin' and carousin' she should be doing as a typical teenager. Now, with two kids, she will have no life at all!
THE HORROR!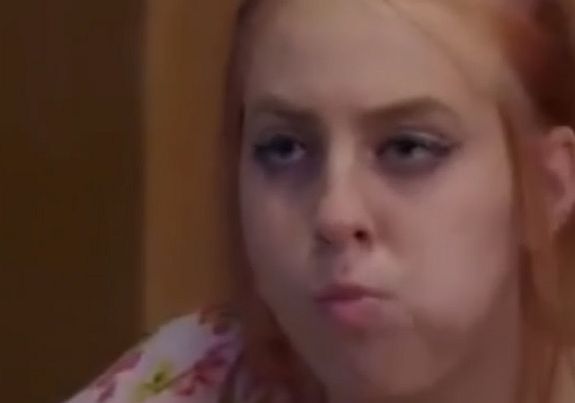 Much like Koty did on the fateful night he impregnated her, Rachel says that "this is all just pilin' on me!"
In the next scene, Rachel tells us that although things didn't work out with all of her other beaus, she's certain that she and Cody Kody Koty will make it. I mean, sure, they've only been together (and by "together" I mean "banging," obviously) for a few weeks, but she is sure they will stay together.
And, because she's so sure Koty will make a great Baby Daddy #2, she's decided to keep this baby.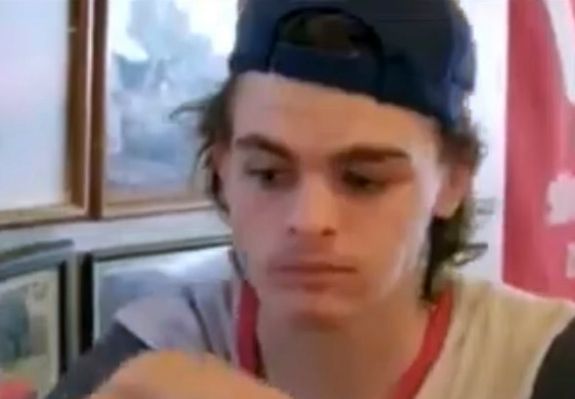 Rachel says that she and Koty both want to be together and parent this baby. Besides, says Rachel, Koty is a real winner. He treats her "real good" and if he sticks around, that will mean she won't be alone for this pregnancy.
"He's gonna be there for his baby and Hazlee," she tells us.
(Not joke, if this kid even makes it through this meal at the Waffle House with Rachel without bolting, I'll be shocked.)
Koty admits he's scared and anxious to have a kid, but doesn't seem particularly worried about the whole thing.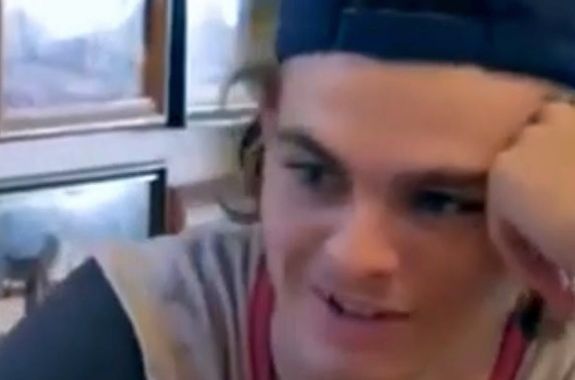 Rachel further terrifies Koty by telling him that, you know, she won't force Hazardlights to call him "daddy," but, you know, if she does it on her own that's OK.
When she says this, the kid looks like he's about to choke on whatever fried vegetable product he's scarfing down. To his credit, though, he tells Rachel that, if they're together, he will consider both his baby and Hazelnut to both be his kids.
If she weren't already pregnant by Koty, hearing that statement would have made Rachel drop trou right there inside the Waffle House and let him impregnate her again!
They then start bashing Drew, who is HazMat's biological father. Koty smiles…even though we viewers all know that, by the time Rachel's cut-off shorts start feeling tight around her baby bump, Koty will be long gone, with nothing but an Oopsie Baby (and possibly the overpowering smell of chewin' tobaccy and generic Ax Body Spray) left in his wake!
That's all for this episode of The Beaver Bunch…or 'Teen Mom: Young Pregnant Chicks'…or whatever MTV is calling this stupid show.
To read The Ashley's previous 'Young + Pregnant' Rachel recap, click here!
(Photos: MTV)