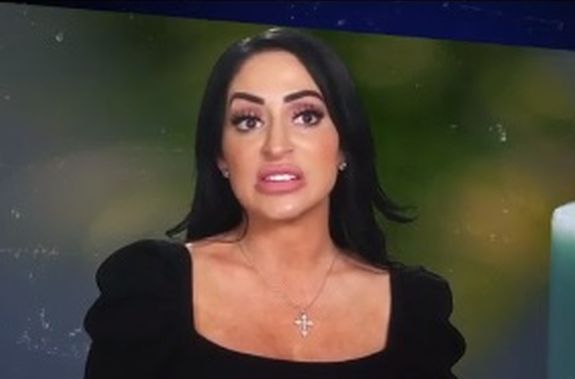 Three months after her Jersey Shore co-stars brutally roasted her on her wedding day, Angelina Pivarnick has announced she's forgiven them.
On Friday, the Jersey Shore Family Vacation star took to Instagram to let her followers know that she is no longer angry at her co-stars Nicole "Snooki' Polizzi, Jenni "Jwoww" Farley and Deena Cortese for calling her— among other things– the "trash to their bag" and "the fly to their s**t" during their bridesmaids' speech/roast at Angelina's November 2019 wedding. (You can listen to the audio of the speech here!)
"Hey everyone. I know there has been a lot of talk about my wedding over the last couple of months," Angelina began her Instagram message, which was posted one day after the Season 3B premiere.
"I married the love of my life surrounded by family and friends with moments that we will both cherish forever," she wrote. "As for anything with my jersey shore family just know like every other family, we have our arguments and misunderstandings."
Just last month, Nicole said that Angelina was still not speaking to them, even though she said they apologized and explained to Angelina, "we weren't being malicious about it. It was just, you know, we were trying to be funny for the show and like, in general." At the time, Angelina didn't find the speech funny, but apparently she has since had a change of heart.
"As for my girls, we have been through worse and will not let a couple of jokes ruin what we have rebuilt over the last couple of years," she wrote on Instagram. "If you watch our show, you know we all roast each other. That's what family does. Please let us work this out and enjoy the rest of the season. Thank you everyone."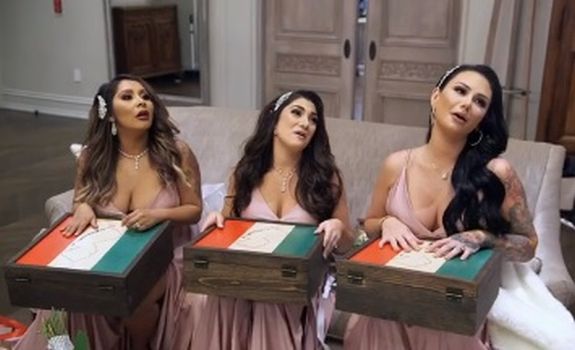 A clip showing scenes from next week's episode focused partially on Angelina's wedding day, and the fallout that came from the girls' bridesmaid roast. Angelina is seen crying and yelling "That was so f**ked up. I told security to get rid of them."
Jenni, Deena and Nicole are then told that both Angelina and her husband Chris Larangeira were outside the venue crying over what they said.
"I would never intentionally try to ruin someone's wedding," Nicole says. "It was supposed to be funny. No one got it."
Deena later declares that she will never film with someone again (although we don't know who she's talking about), and Nicole says, "I'm done with this f**king show! I'm done!" (As we know, Nicole did announce she is leaving 'Jersey Shore Family Vacation' a month later.)
Watch the preview for next week's episode of 'Jersey Shore Family Vacation' below!
RELATED STORY: Mike Sorrentino Says He Tried to Convince Nicole "Snooki" Polizzi to Stay on 'Jersey Shore Family Vacation'; Mike & Vinny Guadagnino Say Nicole is "Doing a Good Job" of Handling Haters
(Photos: MTV; Instagram)