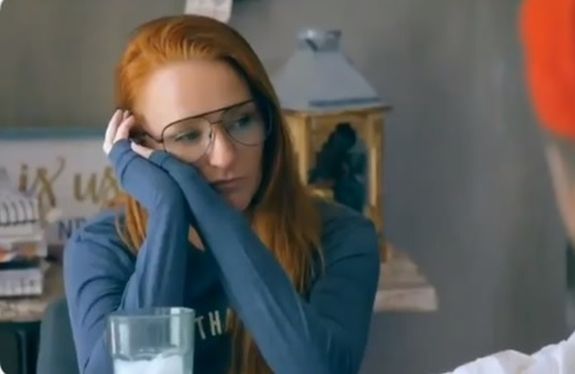 From making shady posts to (potentially) making babies, the stars of the Teen Mom franchise (both past and present) have been keeping themselves busy lately!
In an effort to get you up-to-date on the latest Teen Mom OG and Teen Mom 2 news, The Ashley brings you the Teen Mom News Pile. Here are some of the major (and minor but interesting) 'Teen Mom'-related things that have happened over the last few days…
Maci Bookout's Not Sure If She Wants to Re-open Her Baby Chute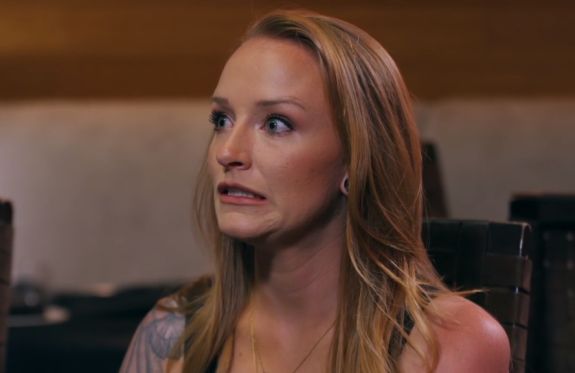 Maci has already birthed three "Oopsie Babies," but the 'Teen Mom OG' star recently revealed on Us Weekly's Watch With Us podcast that she and husband Taylor McKinney disagree about whether or not they will add another "Oopsie Baby" to their litter.
Maci— who encouraged Taylor to get a vasectomy during an episode last season— told the podcast that she wants to be done shooting out spawn from her hoo-ha, but Taylor still wants more children. However, they seem to have agreed to disagree on the subject for now.
"We're on the same page as far as it being OK, that we're on different pages…we're both also very respectful of how the other one feels about it."
"We talk about it a lot," Maci said of having more kids. "And I mean, nothing's really changed as far as our opinions go, but that's OK. As time goes on, we'll come to some sort of actual resolution or agreement."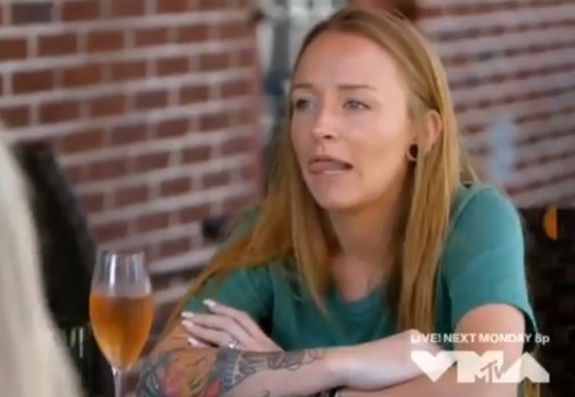 Maci and Taylor have also discussed adoption on the show, but it seems that neither are ready to make the move to adopt at this point.
"I think just as long as we keep talking about it — even when we're not on the same page — it's best," Maci said on the podcast.
Until then, however, Maci and Taylor seem content to post endless clickbait stories that make it seem like they're announcing a pregnancy, even though Maci is not pregnant and doesn't even know if she will ever be pregnant again.
So excited to finally share our news! ❤️ https://t.co/FxmhMGq54v pic.twitter.com/nMqePWU9Sx

— Maci McKinney (@MaciBookout) April 2, 2020
AS.YOU.DO.
Farrah Abraham Shades the Tax Woes of Tyler Baltierra & Catelynn Lowell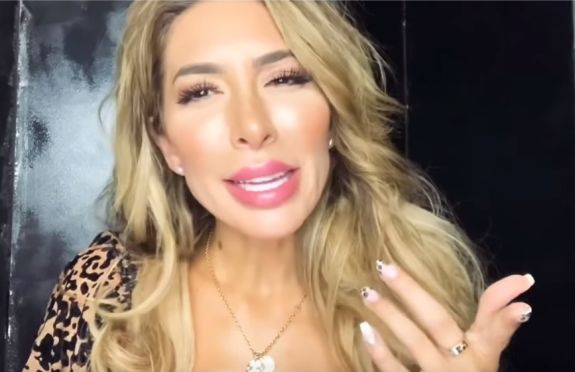 There's nothing Farrah seems to love more (other than getting bad cosmetic procedures and/or stroking her own enormous ego) than throwing shade at her former 'Teen Mom OG' cast mates. Even though it's been literally years since Farrah was fired from the MTV show (and Farrah has spent those years proclaiming how much she doesn't care about 'Teen Mom'), she continues to keep the show and her former co-stars in her mentions.
This week, Farrah decided to poke fun of the recent story about Catelynn and Tyler owing over $800,000 in federal taxes. Farrah, never missing a chance to make herself (and/or her spawn Sophia) look smarter-than-average, posted a video to Instagram Stories showing Sophia on the computer. She just happened to be learning about taxes (how convenient!) and Farrah decided to use it as an opportunity to throw shade at Cate and Ty's situation.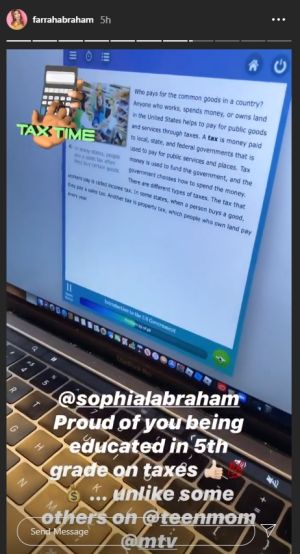 The video, which was posted the same day the story about Catelynn and Tyler's taxes was, was captioned with, "@SophiaAbraham Proud of you being educated in 5th grade on taxes…unlike some others on @TeenMom @MTV."
David Eason is Now Hawking Videos on Cameo
Want to send your friends and family a straight-from-the-swamp personal greeting from David Eason?
Yeah, me neither….but now you have that option….
Jenelle Evans' current soulmate, David, announced this week that he's now on Cameo, a website that allows people to buy custom video messages from actors and reality TV stars (and David).
"I'm excited to do some shout-outs for you guys if you want to hit me up," David says in his video announcement.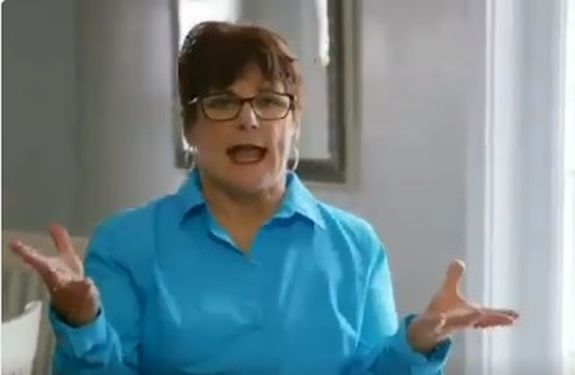 "I'll give a shout-out to your boyfriend, your husband, your grandpa," David says.
If, for some bizarre reason, you want David to make your boooooyfriend a video, it will cost you $49! In his bio, David hilariously describes himself as a "reality TV influencer" (UM?) and "married to Jenelle Evans."
That's a pass for me thanks 😂🤮 pic.twitter.com/oNFFL5RZvG

— Hatter Banter 🎩🗣 (@HatterBanter) April 14, 2020
Speaking of Jenelle, she is also on Cameo, but charges a whopping 75 smackers for a video. She describes herself as a "reality TV influencer" and plugs her failed cosmetics brand, JE Cosmetics, and 'Teen Mom 2,' even though she hasn't been on the show for over a year.
So far it appears that only one person has purchased David's video-making services, and they gave him a five-star rating. Jenelle has had three customers so far and has also been rated five stars.
Finally…The Ashley has found the perfect three words to describe this crappy year…
"Sum up 2020 in three words or less…"
Me: pic.twitter.com/vqvgzzpyvv

— The Ashley (@TheAshleysRR) April 16, 2020
(For more randomness and funnies, you can follow The Ashley on Twitter here!)
To catch up on more 'Teen Mom' news, click here!
(Photos: MTV, Instagram)