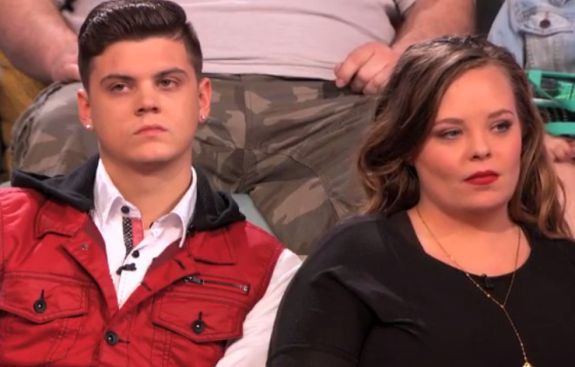 Despite earning some hefty paychecks from MTV over the years, Catelynn Lowell and Tyler Baltierra have reportedly amassed more than $800,000 in tax debt.
According to The Sun, Cate and Tyler were slapped with the first of two federal tax liens in November 2019 (for the tax years of 2016 and 2017) in the amount of $535,010.97. The pair received the second federal tax lien the following month (for the tax year of 2018) in the amount of $321,789.06.
(For those of you who come from schools that "are not well," that brings their their total to $856,800!)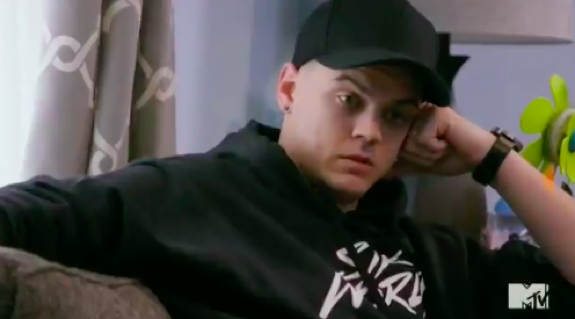 (Cate reportedly received yet another tax lien in the amount of $36,422 in July 2019; however, a clerk confirmed to The Sun that particular debt has been paid off.)
What is a federal tax lien?
According to the IRS website, "a federal tax lien is the government's legal claim against your property when you neglect or fail to pay a tax debt. The lien protects the government's interest in all your property, including real estate, personal property and financial assets."
Before getting to the point of having a federal tax lien placed against them, Cate and Ty would have received a bill from the IRS showing what they owed, but failed to or refused to pay it.
The next step is the IRS filing a Notice of Federal Tax Lien which alerts creditors "that the government has a legal right to your property."
The lien basically allows the government to attach to all of their property, assets and business properties. (Hold on to those Tierra Reign leggings, guys!) To date, it does not appear that the Baltierras have a levy against them, which would allow the government to seize their property to help settle their tax debt.
"If you don't pay or make arrangements to settle your tax debt, the IRS can levy, seize and sell any type of real or personal property that you own or have an interest in," the website reads.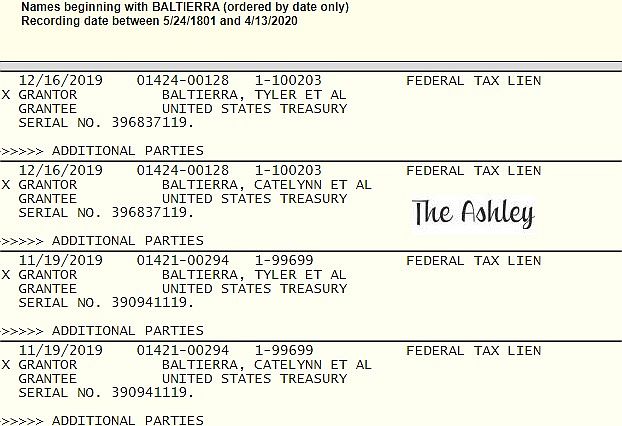 Currently, Tyler and Catelynn live in a 15-acre farmhouse that they purchased in 2017. The property's estimated worth is around $258,000….much less than what the couple owes the IRS at this point. (From what The Ashley can tell from scouring public records, Cate and Ty are up-to-date on their property taxes, as of 2018, so there's that…)
As The Ashley previously told you, the Teen Mom OG girls make way over $300,000 a season at this point, and Tyler— being one of the few dads who have appeared on the show from its start— makes the same amount as Catelynn. (The dads who have come to the show in later years make less money.)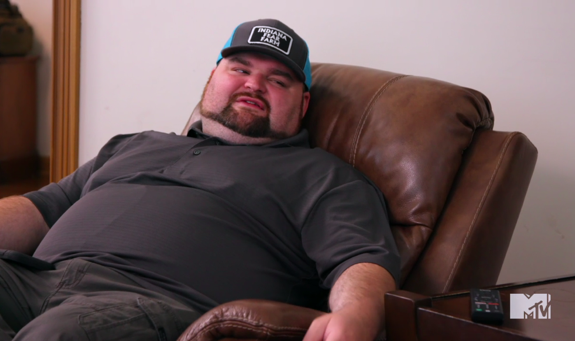 "The girls [and the original guys, like Tyler] are each paid per episode," one behind-the-scenes source tells The Ashley. "If they appear in an episode, they receive their episodic pay. No taxes are taken out of that pay, though. They get the full earned sum."
As The Ashley has explained, because the 'Teen Mom' cast members are considered "independent contractors" of Viacom and not employees, they are responsible for paying their taxes quarterly, just like all independent contractors and self-employed people.
Of course, a large chunk of the 'Teen Mom' franchise cast hasn't quite grasped that concept, and many have failed to pay their income and/or property taxes for years and ran into trouble with the IRS because of it.
Let's take a look back, shall we?
In 2016, Amber Portwood was hit with a federal tax lien for the $134,919.21 she owed to the IRS.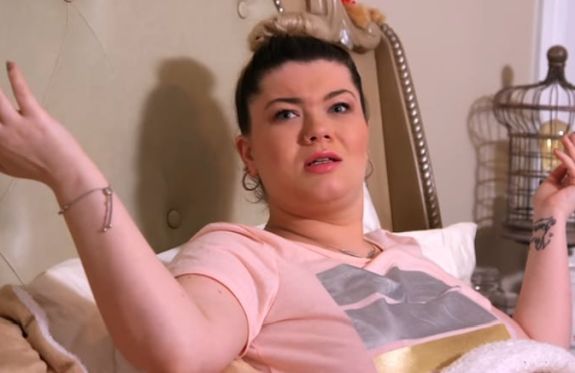 In 2013, Kail Lowry found herself in a similar situation. She was forced to postpone her wedding to now-ex-husband Javi Marrioquin in order to pay back the thousands she owed in back taxes. (Kail has since stated that she has since hired a financial adviser and an accountant in order to avoid future tax troubles.)
Maci Bookout has also been chased down by the IRS multiple times since she started on 'Teen Mom.' In 2013, she was hit with a lien of $78,308, only to receive another lien in 2015 for $5,249 and a third in 2017 for $12,569.
In 2018, Maci's ex Ryan Edwards followed her lead, reportedly owing $119,416 to the IRS.
Earlier this month, Tyler opened up about the money his daughters have made from appearing on the show. Tyler stated that he and Catelynn have trusts for each of their children, and these trusts hold the kids' 'Teen Mom' earnings.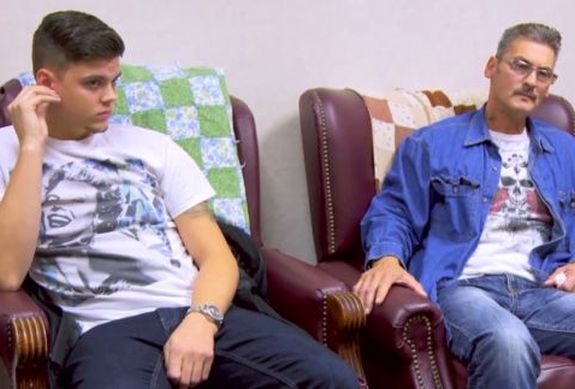 "As far as [the kids] getting compensated for the show, my kids are totally set, they're totally set up for life," Tyler said during an interview with the Awesome Dad show. "They're great. College is paid for. That was mine and Catelynn's main thing; that each of our children have trust funds that their [MTV] money goes into and they can't touch."
As The Ashley has previously told you, the 'Teen Mom' kids are paid independently from their parents, and their money is handled in different ways, based on the laws of the state each cast member lives in. Despite what many fans may think, the Coogan Act/Laws, which protect the earnings of child entertainers, is not applicable here. (The Ashley explained this in more detail in this 2015 story; scroll to the middle of the story to read about the kids' accounts and laws.)
Like their parents, though, the kids on the shows are considered independent contractors and are responsible for paying quarterly taxes on their earned income as well.
Anyway, Catelynn and Tyler have yet to comment publicly on their newly exposed tax troubles.
RELATED STORY: Tyler Baltierra Talks About the Money His Kids Have Made From Appearing on 'Teen Mom OG' & Letting Them Choose to Film for the Show
(Photos: MTV; Instagram)