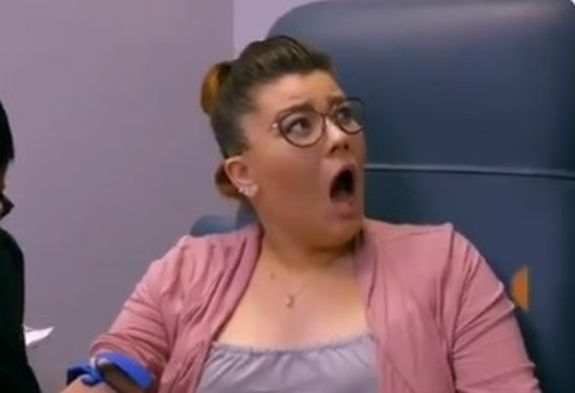 Howdy Teen Mom OG fans! These 'Teen Mom' gals have been keeping The Ashley busier than a 911 call center close to The Land, but she's still going to bust out a recap of the most-recent episode before tonight's new episode.
We start things off in LA. Cheyenne decides to plan a trip to Baltimore to visit her boyfriend, Matt's family. Cheyenne's sister, R. Kylie Lip Kit, is joining her in Baltimore, and both girls are bringing their kids.
Before they leave for their trip, Cheyenne joins her family for brunch. Cheyenne's mom– who has slung her lavender "brunching" sweater over shoulder because she's a classy brunching broad– grills her on how serious her new relationship is. Cheyenne tells her Matt already has her Pinterest board of what kind of wedding ring she wants, so I guess that's her way of saying things are serious.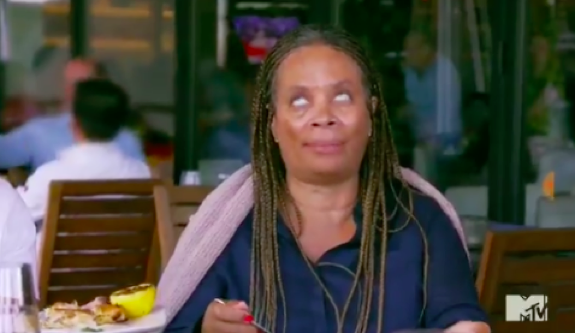 Cheyenne says that she likes Matt because he's OK with the weird "baby daddy dynamic" she has with Cory. The family says that they know Cheyenne's about ready to get Baby No. 2 placed in her man-grabber, but her mom is nervous that Chey may be rushing things with Matt a bit with all this wedding and baby talk.
"We talk about marriage way more than we talk about having kids," Cheyenne says.
Um…she does know this is 'Teen Mom' right? If you get married before you get knocked up (again), can you even stay on this show?
Next, we head to Indiana, where we will be going to the doctor. (No, Gary isn't getting another vasectomy, Thank the Jesus God Leah!) Amber is getting ready to have a blood test done because she says her liver has been swollen when she wakes up in the morning. (She's wearing her dark "Velma from Scoobie Doo" glasses that she usually prefers when she's filming a 'serious' scene on the bed.)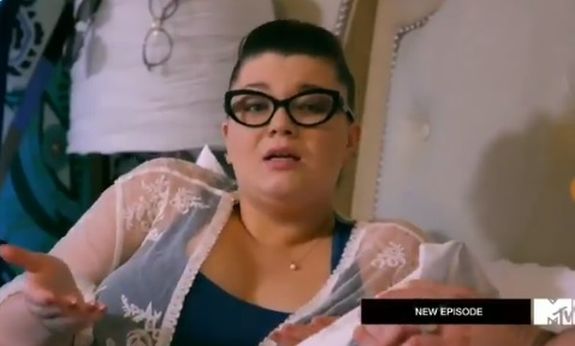 Amber tells Andrew that she believes her big ol' swollen liver could be related to the medication she's prescribed, specifically her mood stabilizer. Amber is nervous about having the test done due in large part to her dad having died from cirrhosis of the liver.
Andrew, who is wearing a Phantom Fireworks shirt (isn't it ironic…dontcha think?), convinces Amber that she needs to get the test taken.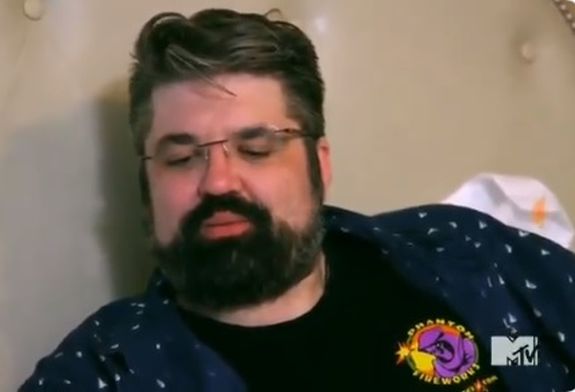 Later, Amber (and her swollen liver) and Andrew hop into an Uber (for some reason), and MTV gives the Uber driver Measho his own name introduction thingy. (I'm sure he's the laughing stock of all Uber and Lift drivers nationwide for ending up on this crappy show.)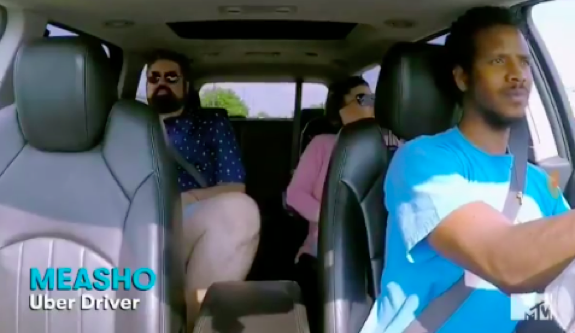 They arrive at the trusty ol' "Any Lab Test Now!" clinic. (As you may recall, this is the same oddly named place that Gary went to back in Season 7 when he was trying to cheek-swab his way into finding out who his dad was.)
Eager to earn that five-star rating, Measho drops Amber and Andrew off steps from the clinic's front door. Amber and Andrew are acting like Amber's there to get her legs amputated or something. They walk sullenly into the clinic. Amber takes deep breaths, and is acting like she just saw the doctor pick up the hack saw and head toward her leg.
"It'll be over before you know it!" Andrew assures her.
Once Amber is taken back to the testing room, she makes sure everyone within the confines of the building knows she's afraid of needles. They starting playing sad, creepy music as they show the tech putting on gloves and prepping for the test.
Amber then forces one of the camera men to make awkward eye contact with her in an effort to keep herself distracted.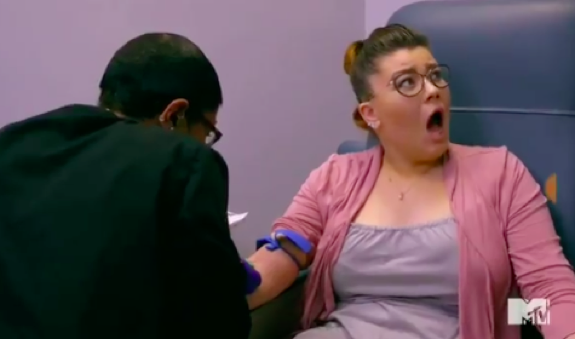 They leave Any Lab Test Now!– with Amber having all limbs intact– and get back into Measho's van, which is waiting to whisk Amber, her swollen liver and Andrew back to the safety of their own bed.
We continue the medical theme as we head to Tennessee. Maci has found that the cramps from her PCOS is even more painful than co-parenting with Ryan, so she's considering getting off birth control altogether in hopes that will relieve some of the PCOS symptoms. However, because of her and Taylor's tendency to pop out Oopsie Babies like it's their job (oh, wait…it kinda is, isn't it?), Maci wants Taylor to consider getting a vasectomy.
"He can be fixed…sniped like a dog!" she says gleefully.
I think that's nice…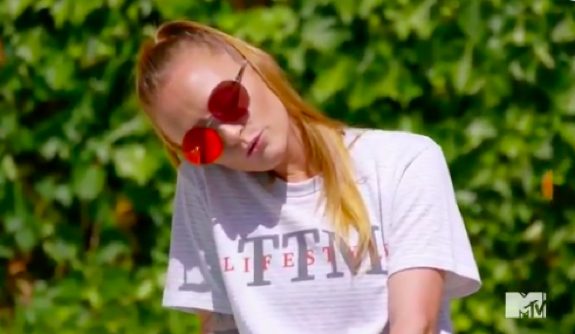 Maci says she's done popped out all the Oopsie Babies she's gonna pop out, and does not want any more biological kids, even though Taylor may. She says she's very serious about adopting more kids someday.
Until then, though, she's going to have to try to figure out a way to keep from getting pregnant that doesn't include putting hormones in her body. Maci tells her friend that she's not sure Taylor will agree to get "sniped like a dog," and, if not, she's not sure what she'll do.
If only there was something Taylor could wear right before they did the boneyard jig that could prevent pregnancy.
Oh, wait…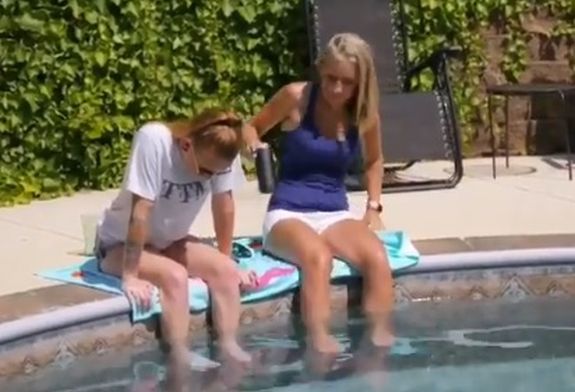 Finally we head over to Michigan. After having spent time living apart, Cate and Tyler say it's important for their relationship to "give each other freedom." As part of this mutual understanding, Tyler plans a solo trip to Arizona to visit some friends. While Cate is fine with Tyler's upcoming bro-trip, her friend Alexa doesn't seem to be.
"You're about to go to Arizona, aren't you," she asks Tyler. "How's Cate going to do with you going to Arizona for five days? How does that work out? With her going to Florida, you going to Arizona, doing separate trips and stuff? I see people on social media talking all kinds of crap."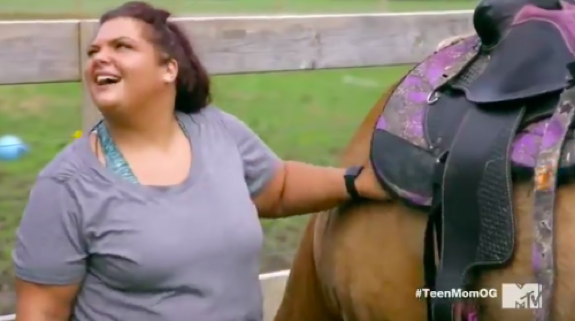 Um…that's because these people take more "breaks" from their newborn baby and kid than anyone I've ever seen!
Later, Cate shares with Tyler that breastfeeding Vaeda has become about as much fun as hanging out with Alexa. Therefore, she's decided to stop doing it. Between the physical pain it has caused her from having a kid chomping down on her nips, to struggling to find the time in her schedule (no comment on that one), Cate says she feels like she's doing it all and switching Vaeda to formula will alleviate some of that stress.
Tyler fully supports Cate's decision, especially if it means she'll stop talking about bloody nipples.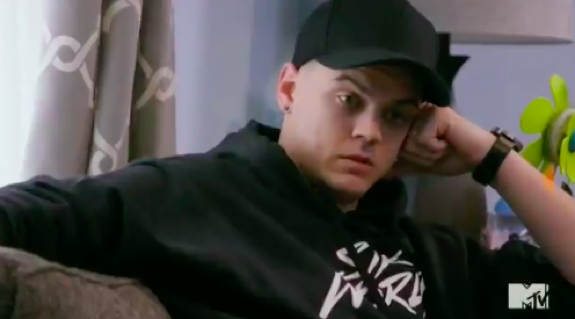 Between Amber's swollen liver, Catelynn's bloody nipples, Maci's crampy pelvis and Taylor's (possibly) snipped testicles, I feel like I'm watching an episode of ER or something!
We check back in with Cheyenne, who is the only person on this show who doesn't have a medical ailment to bitch about this episode. After landing in Baltimore, Matt picks up Cheyenne, her sister and the kids and they head to their rental house. During the drive, Cheyenne tells Matt how big of a deal it is for her to have Ryder (not to mention the MTV film crew) with her on this trip.
Matt then makes Cheyenne admit aloud that he's special, as R. KellyKapowski makes fun of her for being embarrassed and blushing.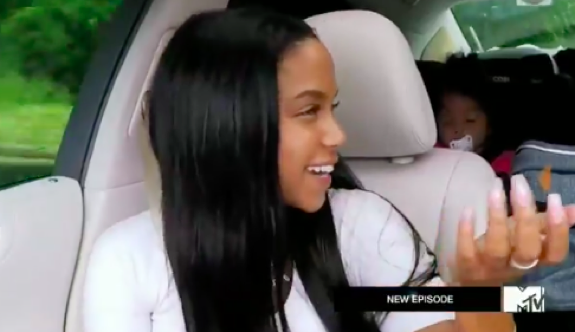 Later on at the rental house, Matt's parents stop by to meet Cheyenne (who's wearing her finest crop top for the occasion, naturally). Matt's mom tells Cheyenne she wishes someone would've told her about the film crew in advance so she could've come camera-ready. (Perhaps she had a special crop top she wanted to wear too?) Matt takes the blame for not letting her know.
Next we see the group gather around and take a celebratory shot—- something Cheyenne will probably incorporate into her Pinterest wedding one day.
The next night, Cheyenne plans a dinner for Matt and his family. During the meal, R.YouSmarterThanA5thGrader asks Matt's dad what it's like to see his son with a child, to which Matt's dad says it fills him with a lot of joy. Matt's mom adds that Cheyenne reminds her a lot of herself and she thinks Cheyenne is a good fit for Matt. This news causes Cheyenne to celebrate… juuuust a little bit.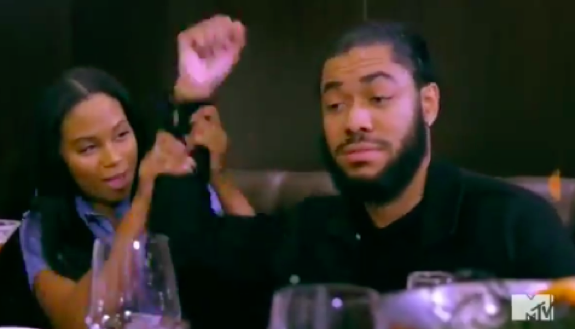 Cheyenne's excitement is put on hold, however, when she learns that Matt doesn't plan to immediately move in with her once he moves to Los Angeles and instead is planning to do "a roommate situation" for the first two years. Cheyenne decides to talk to Matt about his plans the next day.
Matt tells Cheyenne that they're good and "moving at a reasonable pace," though he picks up on the fact that this pace isn't quite fast enough for Cheyenne. Cheyenne agrees and ever-so-subtly tells him she's "ready when you are."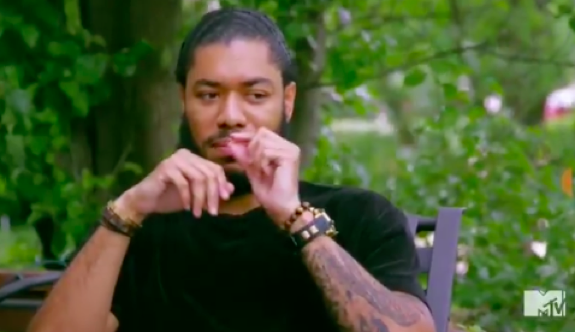 Over in Indiana, Amber (now wearing her Mrs. Doubtfire glasses) talks with Producer David on the couch (where else?) about her test, which she says she's known she's needed to take for about a year. She also talks about her dad's health issues, including his cancer, which she said stemmed from him having cirrhosis of the liver. Amber says her dad's issues were due to his alcoholism; however, she fears the same thing will happen to her because of the medicine she has to take.
Amber also talks about her kids possibly inheriting the same health issues she has and she becomes emotional talking about Leah's recent anxiety attacks.
A couple of days later (although according to Amber's outfit, it's literally the same day) Amber receives the results of her liver test and she finds out everything is fine.
"Well, like, what's causing…your liver to, like…swell and stuff?" Andrew asks.
She says that her doctor thinks it might just be her liver working hard to handle all of her medications. On the bright side, at least something in that house is working hard.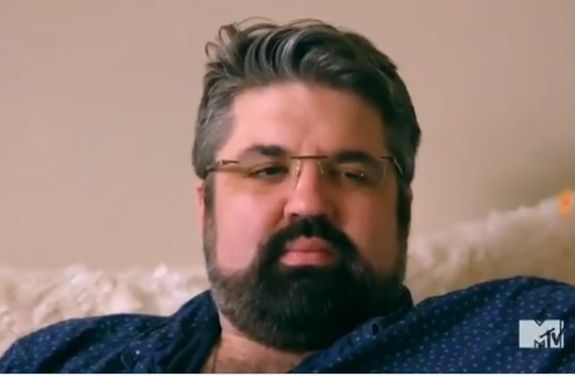 Over in Tennessee, Maci is taken her crampy cooter to her gynecologist to talk about her Oopsie Baby prevention options. Her doctor tells her that her PCOS could possibly be managed without birth control if she makes certain lifestyle changes, though they agree that the possibility of pregnancy needs to be addressed. Maci asks her doctor if male birth control has hit the shelves yet, but unfortunately her doctor tells her it's still being developed.
He also tells her a lot of men tend to think of birth control as "the woman's responsibility," and she tells him that's the very reason she ended up making millions being a teen mom.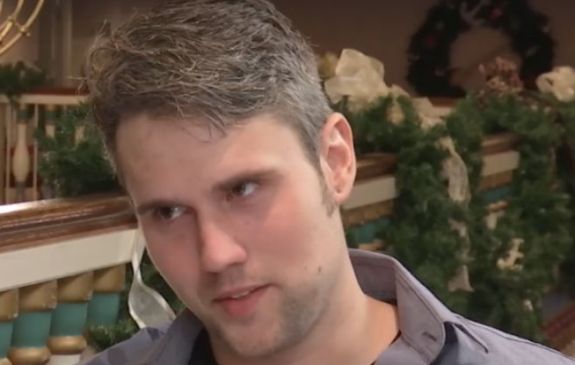 After meeting with her doctor, Maci decides to talk to Taylor about the whole vasectomy thing over an activity involving the two of them hitting balls.
How fitting.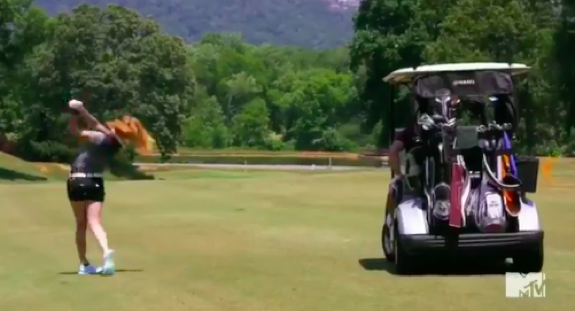 Maci tells Taylor that in order for her to handle her PCOS naturally without birth control, he would have to go under the knife. Taylor says the idea of a vasectomy scares him because it's permanent… kind of like all those kids they have running around their house.
Maci tells Taylor he could always reverse his vasectomy later on. While Maci says she's positive she doesn't want to have any more biological children, Taylor on the other hand, remains open to the idea of breeding more models for their TTM children's line. Maci suggests they consider freezing Taylor's sperm in case they change their minds later down the road.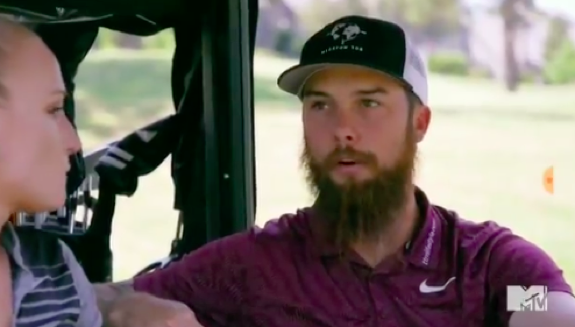 Finally, we go back to Michigan to check back in with Cate and Ty. While Tyler was away in Arizona, rumors began circulating that he and Cate were having marital issues, but the two of them are determined to ignore the critics.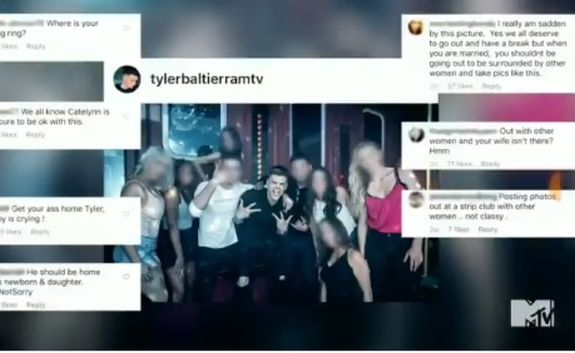 Tyler even suggests that Cate have a night out with her friends now that he is back in town.
Catelynn says that she was home with the kids for SIX WHOLE DAYS (six!!!) and she's in need of a night out to get loose.
Tyler's only rule for Cate's night is to "get out there and dance a lot."
As he's grilling taco meat, Tyler gives Cate some advice for enjoying herself once she's in "da club."
"Just get out there on the dance floor, hot and sweaty, find the best looking dude out there, grind up on him, show him what's up," Tyler says, in what may be the oddest statement one spouse could say to the other.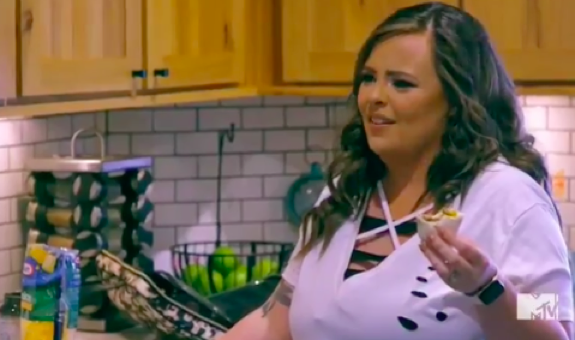 Cate tells Tyler "that's gross" and that she doesn't dance with the opposite sex unless they're gay, to which he says, "me neither."
That night, Cate (who's wearing a T-shirt that looks like it's got a couple of April's cigarette holes burned into it) and two of her friends kick off their girls night out by having a white limo pick them up at a trailer park… because that's evidently something people do? She says she's determined to party herself into oblivion in an effort to show the haters what's up.
Because that's evidently something people do?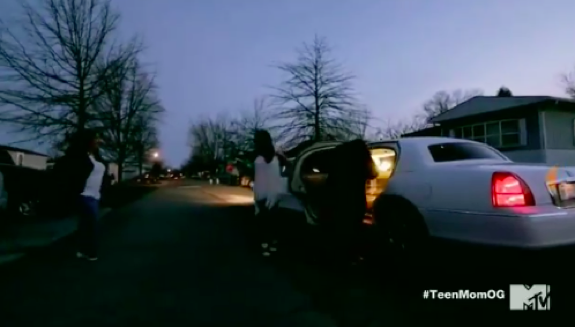 In the limo, Cate tells her friends the big news that she's decided to no longer breast feed and of course, Alexa hits her with a judgmental "why." Alexa (who, mind you, is slugging vodka right out of the plastic bottle at this point) then asks if this girls night out of Cate's is "payback" to Tyler for his trip to Arizona. Cate tells Alexa to get out of the limo and walk back to the trailer park it's not and that she's glad she and Tyler trust each other.
Once the girls arrive at the club (which looks like Uncle Jesse's "Smash Club" on Full House, complete with spinning disco ball), they scoot by all 27 patrons and make their way to the unnecessarily reserved table where they throw back watered down shots, dance and take embarrassing photos.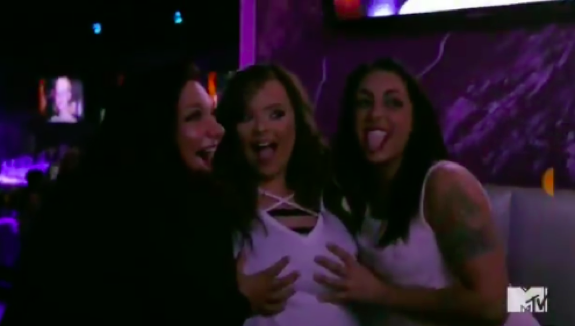 Later on, Cate and her friends hang out and smoke cigarettes outside the club next to a fire pit that resembles a trashcan, while Alexa dances like nobody is watching, because literally nobody is.
(This scene is bound to haunt our nightmares for weeks to come…)
That's it for this episode of 'Teen Mom OG!'
Read The Ashley's previous 'Teen Mom OG' recap here!
(Photos: MTV)