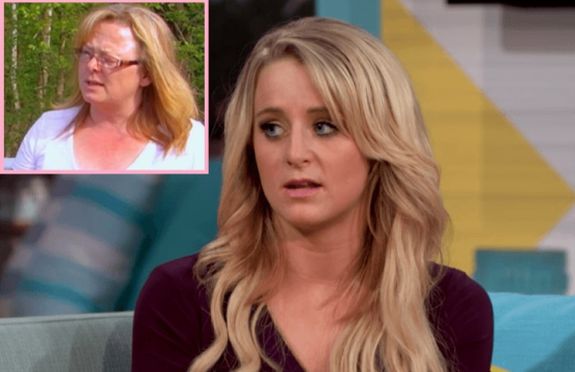 Leah Messer's new book, Hope, Grace & Faith is full of bombshell revelations about her life, and in one part of the book— coming in May— the Teen Mom 2 star describes a night from her teen years in which her mother, Dawn Spears, pressured her into having sex with someone Leah barely knew.
In an advanced copy of the book obtained by The Ashley, Leah states that Mama Dawn would often hang out with Leah and Leah's teenage pals on nights that Dawn's husband, Lee, would go out of town. On one of these nights, Leah writes about her mother suggesting a game of Spin the Bottle, which eventually led to Dawn shutting Leah in a room with a random teen and pressuring them into having sex.
Leah— who reveals in the book that she lost her virginity at age 13 before this incident occurred—wrote that she was often embarrassed by how Dawn acted around her friends.
"She would let us have friends over and she'd hang out with all of us," Leah writes of her high school years. "I think because she never went to high school, or even got to be a normal teenager, there was a part of her that felt like she had missed out on something. She wasn't even allowed to talk to boys before she met my dad and got pregnant with me, so she liked hanging out with our friends and being around that energy."
Leah said Dawn's marriage to Lee was not going well during this period.
View this post on Instagram
"Around that time, she and Lee were going through a rough patch," Leah states in her book. "She had started seeing a therapist who diagnosed her as bipolar (with depression and anxiety), but she wouldn't take her meds so she was totally unpredictable. One second she'd be flying high and the next she'd spiral into a dark place. I think she also just didn't know how to handle having teenage daughters, so she'd either be so strict it was embarrassing or she'd want to hang out and act like she was the young cool mom— which was& also embarrassing. There was no middle ground; it was always one extreme or the other."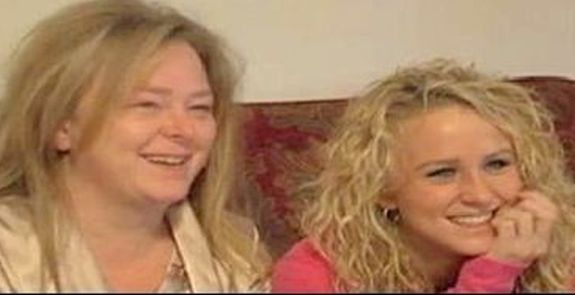 On the night the incident occurred, Dawn allowed Leah and her cousins and friends to invite some boys over so Leah invited a teen named Mike, whom she casually knew, to come over with his younger brother.
"We were all sitting around the living room, talking and hanging out, when my mom came into the room with an empty wine bottle and said we should play Spin the Bottle. At first, it was funny; we were all just laughing and not really taking the game seriously," Leah writes. "Mike spun, and I was relieved when the bottle didn't land on me. When I spun, it landed on his brother, so I gave him a peck on the cheek and we all laughed. When it was Mike's turn to go again, the bottle landed in the empty space next to me. There was an awkward pause and he went to spin it again."
It was then that Leah's mom intervened and took control of the situation.
"Before he could, my mom leaned over and pushed the bottle so that it was pointing right at me. I shook my head and said, 'No way,' but she started wrestling with me and telling me I had to do it," Leah wrote. "I was laughing, because I thought she was just teasing me, but then she started pushing both of us towards the bedroom I shared with [my sister] Victoria.
"The next thing I knew I was in the room with Mike and my mom was holding the door shut from the other side so I couldn't get out. I remember feeling cornered, like a trapped animal," Leah wrote.
"I didn't want to kiss Mike, much less have sex with him, but that's exactly what happened."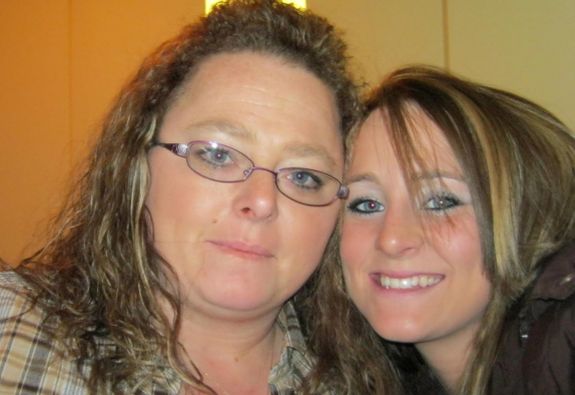 Leah said that, while the sex was consensual, both she and Mike felt pressured by Dawn to do the deed.
"He didn't force himself on me," Leah wrote. "I think he was actually as nervous and uncomfortable as I was. At one point he even asked me, 'Are you sure, Leah? Because this is weird.' I wasn't sure (and it was definitely weird), but I still hadn't learned how to say no. So I just shrugged and said, 'I guess.' It was easier to just let it happen than to think about why my mom had pushed me into that room in the first place.
"We were in there for maybe 10 minutes and it was the grossest sex I've ever had. He was all sweaty and grunting… When it was over, I felt totally ashamed of myself, but I knew there was no way I could take back what I had just done. Coming out of that room was the most humiliating walk of shame."
Leah says Dawn thought the whole incident was hysterical.
"I remember my mom laughing as we walked out. Then I think she just lost interest because she went to bed shortly after."
View this post on Instagram
During a 2019 episode of Leah's now-defunct Life Reboot podcast, Dawn discussed how she felt about Leah writing a book, as well as some of the reasons she behaved the way she did at that time.
"You learn that behavior, that cycle, and then you find yourself doing that with your own children. And I still have a hard time," Dawn said, later adding that she has since apologized to Leah and her siblings, as well as Lee, for the things she did to them back then.
"I had to apologize, this year, to each one of my children and my husband because I was wrong to them and my husband," Dawn said. "I was acting out my cycle, and all the hurt I had been through…I have no objections against [Leah] writing the book. Everyone is going to have something to learn from it, and if it takes our lives for other people's eyes to be open with their families then I'm all for it."
Leah's book, Hope, Grace & Faith, is set to be released by Post Hill Press on May 5. You can pre-order it using The Ashley's Amazon affiliate link below.
UPDATE! After this story was published, Leah posted an Instagram photo of herself and her daughters with Dawn in Hawaii last year, along with the caption, "Mom. I love you, we love you and can not wait to go back!"
One of Leah's followers wrote in the comment section of the post that she was, "surprised you still have a good relationship with your mom after the articles I've read with what you wrote in your book."
"We have an even better relationship than I ever thought was possible," Leah responded. "I am beyond grateful for my family!"
RELATED STORY: Jeremy Calvert Responds After 'Teen Mom 2' Star Leah Messer Admits to Aborting His Baby & Lying About Having a Miscarriage (Exclusive Details!)
(Photos: MTV, Facebook, Instagram, Post Hill Press)