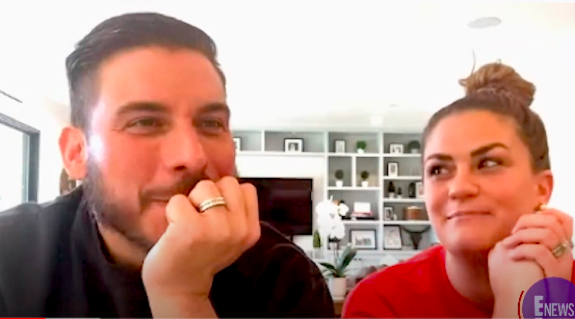 As pandemic precautions continue to have people sheltering in place, Vanderpump Rules stars Jax Taylor and Brittany Cartwright say they're making the most of their time in lockdown by attempting to expand their family.
So, basically, they're humping like rabbits….
The couple, who tied the knot last summer in Kentucky, were asked during an interview with E!'s digital series Just the Sip about their plans to start a family and both confirmed they were "going strong" with those plans immediately.
"We're hoping we can get a quarantine baby out of this," Brittany said. "We're ready to go."
Last month, Brittany told E! News that days in the Cauchi Taylor household were spent mostly playing board games and binge-watching TV shows, though she did offer a few suggestions to keep things romantic, which we can only assume she's putting to good use now.
"I think cooking together can be fun," she said. "Taking a bath together. If you're fully stocked, get some whipped cream out."
Jax said that, despite his initial fear to pursue parenthood in the middle of a global pandemic, he has since gotten on-board with the idea.
"I wasn't sure at the beginning," he said. "I was like I'm not sure this is a good idea. I don't know how long this is going to go on. I watched The Walking Dead. I saw what happened when they got pregnant. I was scared. I was like, 'What if we won't be able to get to the doctor?' But I put all of that past me."
Jax — who, as 'Vanderpump Rules' fans may recall, sadly lost his father in December 2017 to cancer — went on to explain why fatherhood is so important to him.
"My parents worked really hard to give my sister and I everything," he said. "Now I look back and my dad worked his ass off literally to give me everything I ever wanted. I want to be that person. I want to be that dad. I never want to say no. My parents were just such good parents.
"My father was an amazing man and I just hope I can do it justice," he added.
Jax and Brittany have yet to make any official "quarantine baby" announcements.
Watch Brittany and Jax's full 'Just the Sip' interview below.
RELATED STORY: Randall Emmett Confirms His Wedding to 'Vanderpump Rules' Star Lala Kent Has Been Postponed Due to Pandemic: How They're Dealing
(Photos: E!; Instagram; YouTube)