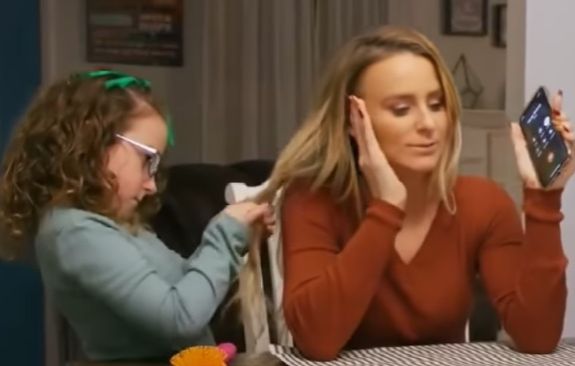 While becoming a teen mom and ultimately staring on a show of the same name undoubtedly opened up a lot of opportunities for Leah Messer, she doesn't want her three daughters to follow in her footsteps when it comes to early motherhood.
In a recent interview with E! News, the Teen Mom 2 star said she's confident she can keep her three daughters— 10 year-old twins Ali and Aleeah and seven-year-old Addie—from getting knocked up in their teen years, and she has already started efforts to keep that from happening.
"I feel like if I'm on it from the beginning, I can prevent it," she said. "So if I am educating them on puberty, educating them on growing up into little ladies, then I will hopefully be able to prevent that. I think if education was expressed to me a lot younger, I would have made completely different decisions."
As 'Teen Mom 2' fans may know, Leah comes from a long line of teen moms. Her mother, Dawn Spears, gave birth to Leah when she was 16. (Dawn had three children by the time she turned 21.) Dawn's mother was also a teen mother.
Leah's siblings have all had children at an young age. Leah gave birth to her twins at age 17, and Leah's younger brother Isaac Messer became a teen dad in December 2014. Leah's younger sister Victoria Messer waited until age 20 to became a mother, but is now 25 years old with three children and two divorces.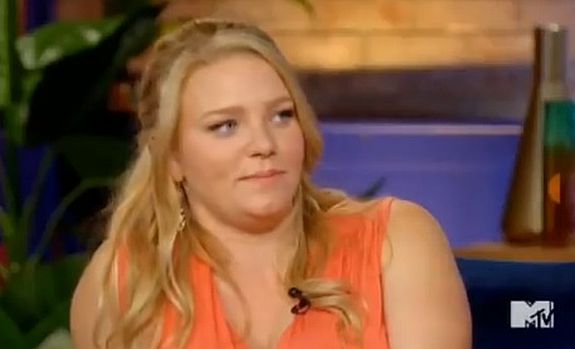 Leah told E! News that she has been using the downtime the family has had while quarantining due to the pandemic to talk about puberty and other grown-up topics.
"The conversation about puberty is already happening in our home because it's totally about to happen and I'm freaking out," she said. "And it's all happening when we're in quarantine. I'm just going to be open with them. Anytime I hear conversations that they may be having, I want to be the source for them. I'm breaking that cycle."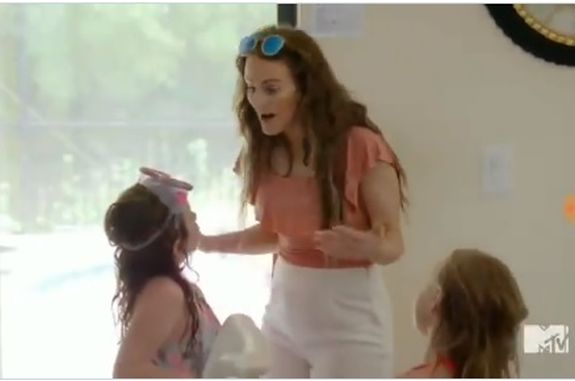 Recently, the parenting of Leah's own mother, Dawn Spears, was called into question when The Ashley posted an exclusive excerpt of Leah's upcoming book, Hope, Grace & Faith, in which Leah detailed a time from her teenage years in which she felt Dawn pressured her to have sex with a boy after an odd game of spin-the-bottle.
Leah has since defended her mom's actions and revealed that their relationship is better and stronger than ever.
"What they don't know is this behavior is passed down," Leah said. "My mom lived in domestic violence shelter[s] a few times growing up. My mom did her best with what she was taught. I love my mom and always will! People are easy to throw the first stone, but little do they know…. I'll continue to take a stand for my family and be that support for others overcoming adversity."
Dawn recently expressed her interest in breaking the cycles that their family has been going through for generations, one of which we can assume is teen pregnancy. A recent Instagram post from Dawn stated that she hopes that Leah sharing their family's stories will "help and inspire those that have generational cycles that need broken."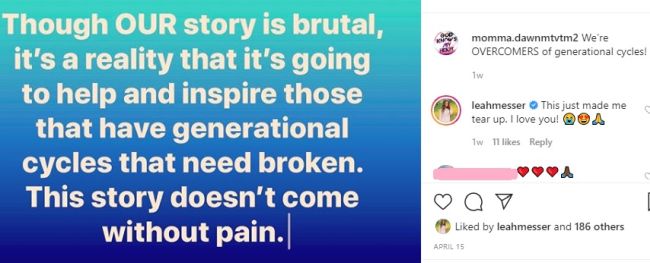 Leah's older daughters will turn 11 in December, making them only five years younger than Leah was when she became pregnant with them. (She turned 17 during her pregnancy.) She began filming for 16 and Pregnant when she was 17.
RELATED STORY: Leah Messer Defends Her Mother Dawn After Stories From Leah's Upcoming Book are Released; Dawn Speaks Out & Admits "Our Story is Brutal"
(Photos: MTV; Instagram)