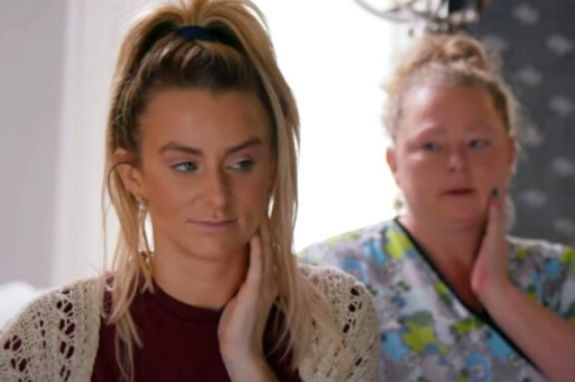 Leah Messer's upcoming book, Hope, Grace & Faith
, is full of bombshell stories, some of which paint her mother, Dawn Spears, in a less-than-favorable light. After The Ashley posted an exclusive excerpt from the book that detailed an incident from Leah's teen years in which Leah felt Dawn pressured her have sex with a boy, Leah posted a photo of herself with Dawn to prove she has no hard feelings toward her mother.
Dawn also recently spoke out, admitting that her and her daughters' stories are "brutal," but proclaiming that they are working on breaking the bad cycles they grew up to accept.
In the comment section of Leah's Instagram post, some of Leah's followers stated that Dawn should be charged as a predator what she did. Others stated that they felt Leah was wrong to include her mom in her and her kids' lives, given their past.
In a comment written in response to the negative comments about Mama Dawn, Leah stated that she has forgiven her mother because Dawn was raised to think her actions were right.
"What they don't know is this behavior is passed down. My mom lived in domestic violence shelter[s] a few times growing up," Leah wrote. "My mom did her best with what she was taught. I love my mom and always will!! People are easy to throw the first stone, but little do they know…. I'll continue to take a stand for my family and be that support for others overcoming adversity."
She later added that she has no had ill feelings toward Dawn.
"We have an even better relationship than I ever thought was possible," Leah wrote. "I am beyond grateful for my family!"
Since the release of the stories, Dawn has remained relatively quiet. However, last week, she shared on her Instagram account that she is proud she and her daughters are "overcomers of generational cycles!" (This is a topic frequently mentioned by Leah in her book.)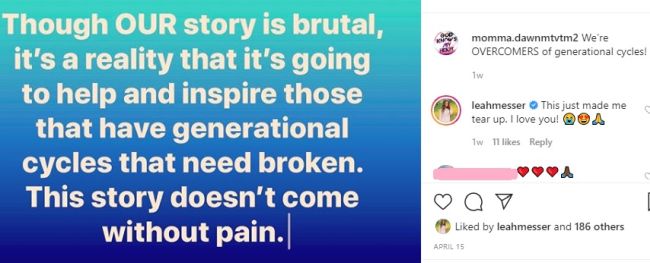 "Though our story is brutal it's a reality that it's going to help and inspire those that have generational cycles that need broken," Dawn wrote. "This story doesn't come without pain."
"This just made me tear up!" Leah responded. "I love you!"
Back in July 2019, Dawn made a guest appearance on Leah's now-defunct Life Reboot podcast to talk about how far they've come as a family, as well as how she felt about Leah writing her book. Dawn stated that, while she had no problem with Leah writing about their past, she did struggle to accept that she could learn from Leah and her other children, Victoria and Isaac.
"It was just really hard, especially when you're the adult and she's the child, to accept something like that from your child," Dawn said at the time. "It's not that I couldn't receive it, but it was hard to take correction from your child. I still struggle, I will tell you, I still struggle… I had toxicity from my childhood and a marriage. I brought all that, even into my marriage.
"I was acting out my cycle, and all the hurt I had been through," Dawn added. "I felt like I was protecting them, but I was hurting them in some ways. Like I told them, I wasn't a great example of a wife, to teach my daughters how to treat their mate."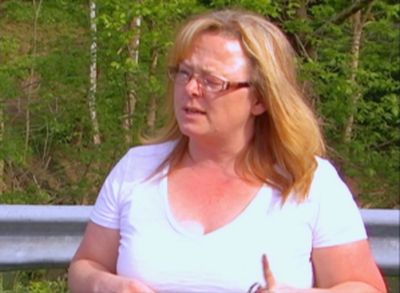 On that same 2019 podcast episode, Leah talked about how she has forgiven Dawn.
"I don't hold you accountable for anything you didn't know. I forgive what has happened because it hurt me in my way, but I don't ever blame you for something you had unintentionally done," Leah said. "So many people live life not accepting their traumas, or their generational toxicity. You don't realize that you're caught up in that pattern. It was definitely a cycle that I had in my life, and my mom had it in her life, with neglect, abuse, sexual abuse, different things like that, and it was hard for all this stuff to transpire."
"I forgive you and I know the other two [kids] forgive you," she added.
RELATED STORY: EXCLUSIVE! 'Teen Mom 2' Star Leah Messer Reveals in Her New Book That She Was Part of a Fight Club & Was Once Charged with Juvenile Assault
(Photos: Instagram, MTV)