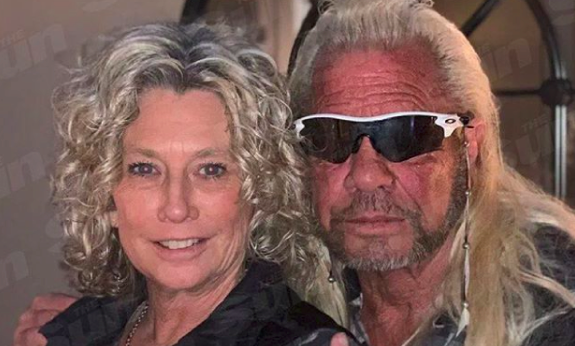 Less than three months after Duane "Dog" Chapman and his rumored girlfriend Moon Angell announced they were no longer living together, Dog has revealed that he is engaged to his girlfriend, Francie Frane, a rancher from Colorado.
According to The Sun, Dog's proposal was a total surprise to Francie, who said she "wasn't expecting it at all."
The proposal came about 10 months after the death of Dog's wife, Beth Chapman, from cancer.
Francie talked to The Sun about the sweet things Dog said to her during the surprise proposal.
"I came in and he said, 'I know that God brought you into my life and I don't want to spend one moment of it without you,'" she said. "And he got down on one knee and he opened the ring box and he said, 'Will you marry me and spend the rest of our lives together?' Who can say no to that? It was wonderful."
Despite having just announced his engagement, Dog told the site that he plans to have the "biggest wedding there's ever been," and make the festivities open to fans.
"I'm sorry but that's just me," he said. "I hope I can talk Francie into it and open it to my fans, the 'Dog Pound,' to everybody. It would be one hell of a party and it's just what people need right now. I told Francie, people they need a little love after being locked down. I love the idea of that."
Francie lost her husband, Bob, to cancer just six months before the death of Dog's wife Beth. Dog reportedly met Francie after he left a voicemail for Francie's husband Bob, requesting to have some work done on his property. At the time, he was not aware that Bob had passed away. When Francie returned Dog's call to explain what happened to her husband, the two became friends and eventually started dating.
Although Dog knows some critics will say that he and Francie moved on too soon, Dog believes otherwise.
" … the truth is that both of us have spent three years walking alongside our spouses sick and we know that God brought us together and that's why we don't believe that it's too soon," he said. "And because we both have done our share of screaming and crying and asking why. Then for us to come together the way that we did and build the friendship because of what we've been through, that turned into a love story. We don't believe that it's too soon."
While Dog's relationship to Moon resulted in a lot of backlash from his own family — not to mention, confusion when Moon turned down an awkward marriage proposal from Dog on The Dr. Oz Show — Dog's children appear to fully support his engagement to Francie.
When one of Dog's followers criticized his engagement, claiming that Beth never wished for him to remarry, Dog's daughter Bonnie Chapman said the topic of her dad one day remarrying was discussed among the family prior to Beth's passing and that Beth only wanted Dog to be happy
"This is something we all talked about, her feelings changed as her condition worsened," Bonnie replied. "We all thought she'd have more time; she put her full faith in God, but her time with us wasn't as long as we expected. My mother wanted my dad to be happy at all costs. There will never be another Mrs. dog, but there can be a Mrs. Chapman."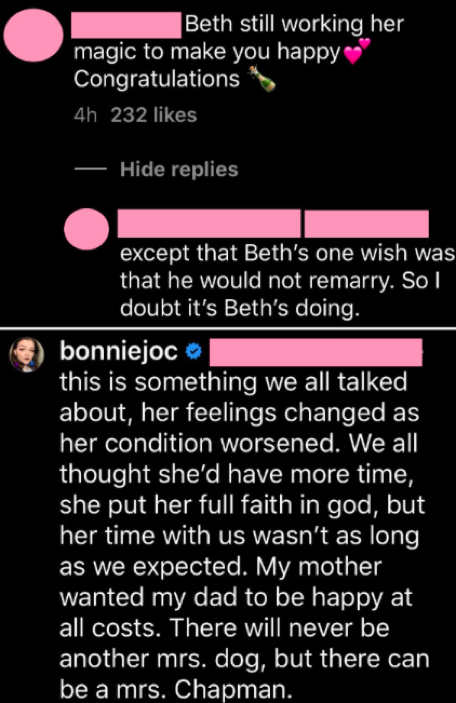 Lyssa Chapman— who was vehemently opposed and very outspoken against her dad being with Moon— showed her support on social media as well, sharing her dad's engagement announcement along with the message, "Welcome to the fam Fran!"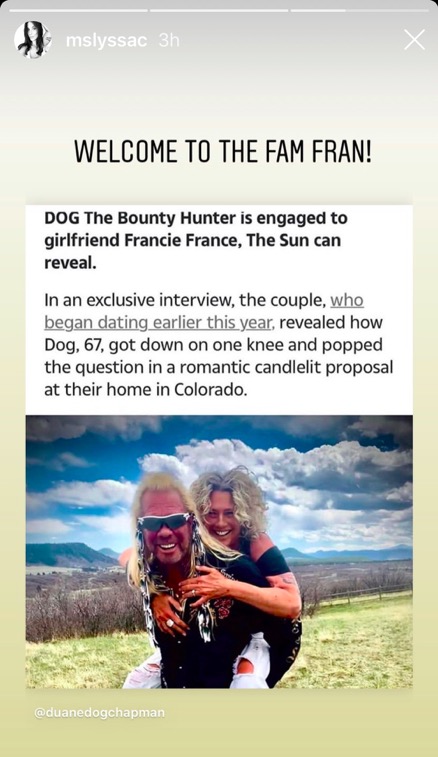 Last week, Lyssa told The Sun that her father and Francie are "adorable" together and that Francie fits in well with the Chapman clan. Still, though, she said it has been difficult for her and the family to see Dog with someone other than Beth.
"I think that it's really hard for people to see Dad move on," she said. "It's hard for us, it's hard for the world. Beth and Dog were always together for everything. So it's been an adjustment period…It's selfish to put your judgment on someone and say, 'You didn't wait long enough, or you should have waited more time or that it's disrespectful.' I think that's selfish… you don't know what someone's going through."
Lyssa, who was estranged from Dog during the "Moon period," said that his relationship with Francie is very different from the one he had with Moon.
"I only care about the quality of the woman that my dad is dating. And I do think that Francie is an amazing woman and I think that the circumstances are just so much different," Lyssa told The Sun. "And you know, where he is in his head space is different than where he was six months ago. And it was a really organic relationship. Like the way they came together is really sweet."
Dog and Francie have yet to announce when and where they plan to get married.
RELATED STORY: Dog the Bounty Hunter's Rumored Girlfriend Moon Angell Moves Out of His House; Decision was Reportedly Mutual After a "Deep Conversation"
(Photos: Instagram)