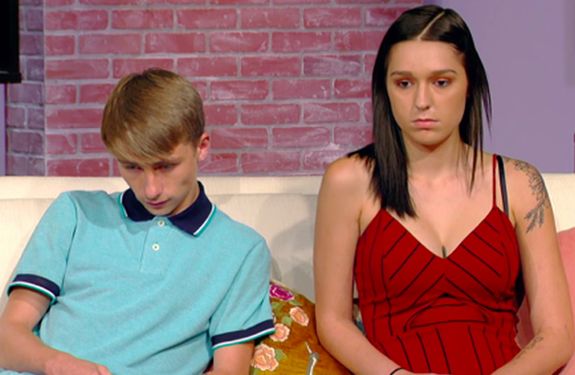 Hailey "Hailey 2" Tilford took to Instagram on Friday to answer Unexpected fans' questions about her newborn son, Levi, as well as her relationship (or lack thereof) with Levi's father, Matthew Blevins… and where her friendship with Hailey "Hailey 1" Tomlinson stands after their long estrangement.
As The Ashley previously reported, Hailey 2 gave birth to Levi last month, without the baby's father, Matthew in attendance. Following Levi's birth, Hailey 1 and Hailey 2— who were best friends before Hailey 2 cheated with Matthew, who was Hailey 1's then-boyfriend— made amends. (Got all that?) While her relationship with Hailey 1 is better, Hailey 2 revealed in her Instagram Stories Q&A sesh that her co-parenting relationship with Matthew is still non-existent.
"There is no situation with Matthew and Levi," Hailey told a fan. "He does not see him or ask about him. He is still denying him."
Hailey went on to say that, although Matthew seems to believe Levi is not his son, he has yet to take a DNA test to find out.
"He has not [taken the test]," she told a fan. "I'm not paying for it so if he wants one he can pay for it and I'll do it."
Hailey— who is now dating her former boyfriend Cole— says that Cole has stepped in and served as Levi's father figure.
"I'm not a single mommy," she said. "I'm blessed enough to have an amazing boyfriend who is an amazing daddy to Levi!"
Hailey confirmed that Matthew is not an all-around deadbeat dad, though, stating that he does provide for Kinsley— the daughter he shares with Hailey 1.
"He takes care of Kinsley and sees her and buys stuff for her. He just doesn't do anything for Levi… it hurts [seeing him deny Levi] but Cole is an amazing daddy so I'm okay."
As for her relationship status with Hailey 1, Hailey 2 stated that "we talk every now and then." (The girls did arrange for their Matthew spawn to meet recently, though.)
RELATED STORY: 'Unexpected' Star Hailey Tomlinson Congrats Former BFF Hailey "Hailey 2" Tilford on Son's Birth & Reveals Plans for Their Children to Meet
(Photos: TLC, Instagram)