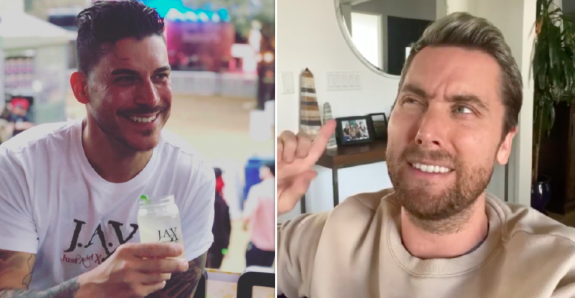 Jax Taylor may have dodged Bravo's recent Vanderpump Rules firing spree, but his controversial comments could still cause him to lose his job with the network.
In fact, Lance Bass –- a close friend of Lisa Vanderpump's and the officiant of Jax and Brittany Cartwright's wedding –- revealed on an episode of his The Daily Popcast with Lance Bass, that Jax "doesn't get it" regarding previous statements Jax made about race and sexuality, with Lance even agreeing with his co-hosts who called the SUR bartender "ignorant." Lance also predicted that Jax will soon lose his gig on 'Vanderpump Rules.'
On Tuesday, Jax's rep fired back at the former boy-bander and denied the claims that Jax is stepping down from their Just Add X drink mixer company.
"He will lose out," Lance said of Jax's tendency to make inappropriate comments. "Look, I do not see Bravo keeping him. I have a feeling soon it's going to be done, cause this will get bigger and bigger.
" … It's gonna cost him everything," he continued, revealing that Jax is "stepping down from Just Add X," the alcoholic mixer company in which the two are involved.
https://www.instagram.com/p/BmjtzFaBvV7/?utm_source=ig_web_copy_link
"We have to do the right thing," Lance said.
Though Lance seemed to confirm Jax is no longer going to be involved Just Add X , Jax's rep gave a different story to E! News, stating that there was an alleged hacking of the Just Add X website.
"Last week the Just Add X website had been hacked, showcasing some hateful slurs, which Jax felt horrible about," the statement reads. "In an emotional state, Jax had texted Lance and the Just Add X team offering to step down from the company if that's the direction they wanted to take. The team immediately followed up with a phone call with Lance and the team reassured and fully supported him.
"It was decided that Jax would continue to stay on the team and that they all had his back given these unpredictable times," the statement continues. "The statements from Lance on the podcast today are not only untrue but also extremely confusing and shocking to say the least. Jax is still very much a partner and founder of Just Add X and supports the team and the brand wholeheartedly. This has been a tough time for everyone involved, especially with the critical state of [Jax's wife] Brittany [Cartwright]'s mother in the ICU, their focus has been on that."
In addition to discussing Jax's future (or lack thereof) with Just Add X, Lance also revealed on his podcast that he confronted Jax "yesterday" about offensive comments he made about the size of Jay Smith's nose. (Jay is a Black man who appears on the 90 Day Fiancé franchise.)
"You know, I had a conversation with him about this yesterday and I feel like I'm the only person that he actually heard it from," Lance said. " … He's like, 'I don't understand this big nose thing?' He goes, 'Jewish people have big noses … .' Well yeah, you can't make fun of Jewish people or Black people for their nose."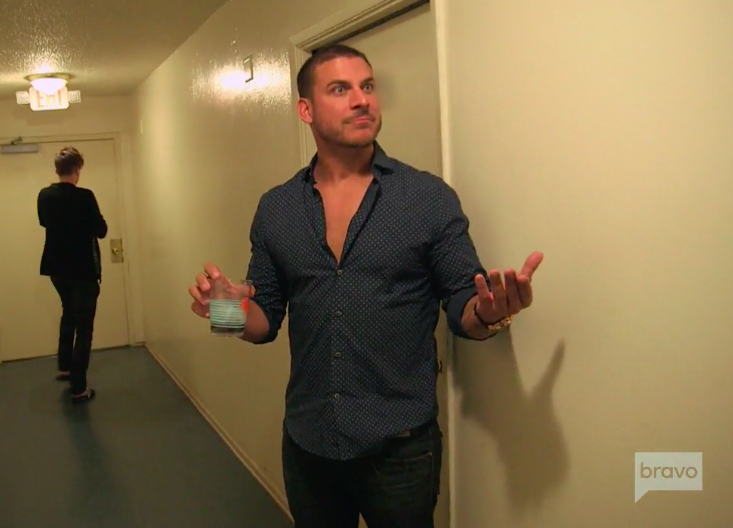 Jay's wife Ashley Martson also called for Jax's firing, giving more details about the nose comment Jax made on her Instagram account.
"Did y'all see bravo fired four cast members? Well @bravotv don't leave out old Jax Taylor who harassed us when our show first aired," Ashley wrote in the caption of a screenshot of Jax's comment, which Jax made in 2018. "If you don't understand why I find this racist please watch my story. Education is key."
According to Ashley, Jax wrote, "Your man's nose is the size of his head…"
Ashley explained in an Instagram Story last week why she and Jay were offended by Jax's comment.
"When your nose or my nose is referenced as large it's probably just a large nose," she explained. "Black people have been historically colored to an ape or monkey, meant to be derogatory."
In an interview with Celeb Magazine, Ashley gave more background on Jax's comment and argued that he's been making fun of people for years.
"When we began the show we faced serious race issues on national TV. Jay was super upset about it," Ashley told the site. "Right as the show started airing, Jax Taylor started coming at us hard. Calling me a horrible moth and then making fun of Jay and the size of his nose. It was very upsetting. We didn't even know who he was…
"Jax needs to be held accountable for constantly making fun of people," Ashley said, adding that Jax called her fat. "And the only way to hold him accountable is to fire him. If they [Bravo] are going to hold certain people accountable, then they should hold them all accountable."
Billie Lee— who appeared on 'Vanderpump Rules' with Jax— also called on Bravo to ax Jax.
"@BravoTV what about Jax Taylor?" she tweeted last week. "He refused to film with me because I was trans and called him out on his white cis privilege. Stop celebrating his disgusting actions. #canceljaxtaylor"
@BravoTV what about Jax Taylor? He refused to film with me because I was trans and called him out on his white cis privilege. Stop celebrating his disgusting actions. #canceljaxtaylor

— Billie Lee (@ItsMeBillieLee) June 10, 2020
While Jax and Brittany didn't get the Bravo boot with Stassi Schroeder, Kristen Doute, Max Boyens and Brett Caprioni last week, the couple has already had some partnerships part ways due to their controversial reputations – specifically Jax's. Multiple media outlets are reporting that DIFF Eyewear has cut ties with the pair in the last week. ( Jax and Brittany's social media accounts no longer show any trace of their DIFF partnerships.)
In addition, an online petition is working hard to see that more deals fall by the wayside… most notably, Jax's gig on 'Vanderpump Rules.'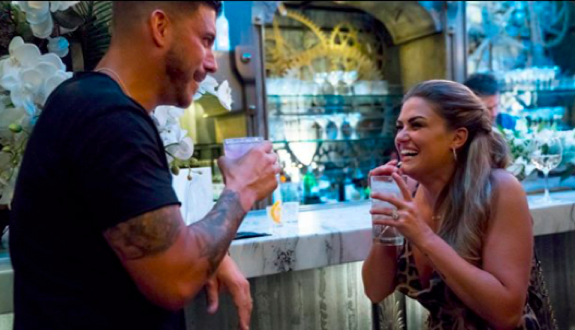 The Change.org petition currently has more than 6,000 signatures supporting Jax's departure from the Bravo series based on Jax's "long, public history of racism, misogyny, homophobia and trans-phobia."
"Enough is enough, Bravo," the petition continues. "Jax has crossed the line over and over and he does not need to be given a public platform any longer."
RELATED STORY: Former 'Vanderpump Rules' Star Stassi Schroeder is Reportedly Pregnant with Her First Child; Has Hired Crisis-Management Team Following Firing
(Photos:Instagram; Bravo; Twitter)