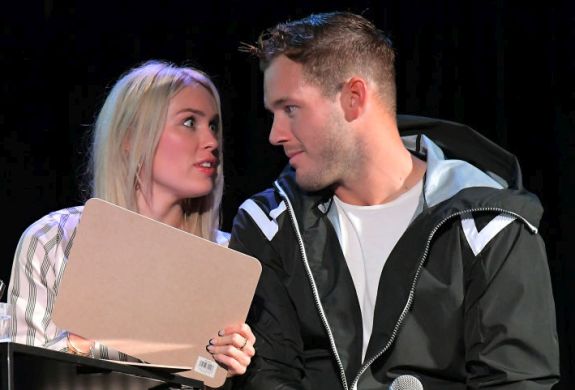 When they announced their split back in May, Bachelor couple Colton Underwood and Cassie Randolph vowed to remain friends….but this week their breakup became anything but friendly!
The couple— who got together during Colton's 2018 season of 'The Bachelor' but never became engaged— exchanged a series of nasty jabs on social media on Thursday, with Colton shading Cassie for doing an (admittedly very vague) interview about their breakup with 'Bachelor' host Chris Harrison on Monday. Cassie responded to Colton's shade via some Instagram messages addressed directly to her former beau.
Let's begin, shall we?
As The Ashley previously reported, Colton and Cassie announced their breakup at the end of May, releasing synchronized Instagram posts letting their fans know that, while their relationship was over, they were still great friends. Neither discussed the reasons behind their breakup and both seemed determined to keep things private moving forward…
…until Monday, that is…
Cassie appeared on Monday's episode of 'The Bachelor: Greatest of All Time' to do an interview with Chris Harrison. The interview was bland, with Cassie giving no details about their split, even telling Chris, "I don't know if I want to talk all about the breakup at all" at the very beginning of the interview.
She did say that she didn't want to discuss anything that would upset Colton and that the breakup "is kind of a sensitive subject, because we're still kind of going through it and it's still pretty emotional for both of us.
"We haven't really talked about it publicly yet," Cassie added. "And I don't know if either of us is ready."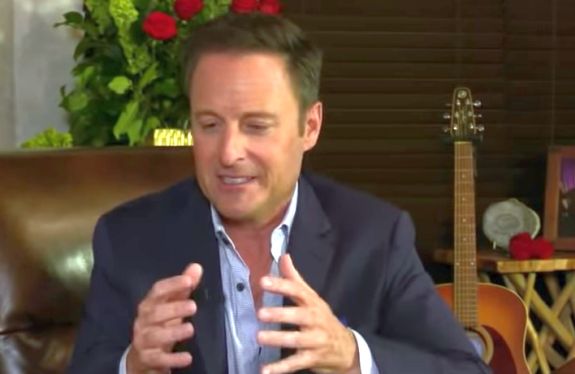 (Cassie later slammed the show's editors for editing down her interview so that it was only about her and Colton.)
Colton was apparently none-too-thrilled that Cassie did an interview about their breakup, so he took to Instagram to let his fans know that he was not happy, shading Cassie for not following their agreement of handling their breakup "as privately as possible."
"These last few weeks have been challenging because, by now, you all know I'm an open book and I enjoy sharing my life with y'all. When our relationship ended we agreed to handle things as privately as possible as we attempted to navigate our new relationship as friends. I chose to do that since we were living in this interim period, but obviously a lot changed this week," Colton wrote.
He went on to write about the clarity he's gained from both the relationship and the breakup and what he's looking for in the future.
Colton's shady social media-ing did not set well with Cassie. She then hit up Instagram, too, lashing out at Colton for his post.
"I would like to place on public record & ask you politely to refrain from discussing our relationship, as we agreed," Cassie wrote to Colton. "I would also like to ask that you don't cloud our great, 1.5 year relationship with a messy breakup. We both know that we had a great relationship and there are not many details to discuss."
Cassie also publicly revealed that Colton informed her this week that he will be adding a chapter to his recently released book, The First Time: Finding Myself and Looking for Love on Reality TV
, that will talk about his battle with COVID-19 (which Cassie and her family nursed him through), and his breakup with Cassie.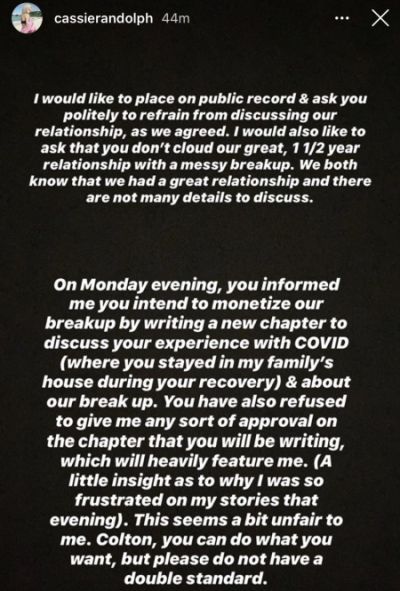 "On Monday evening, you informed me you intend to monetize our breakup by writing a new chapter to discuss your experience with COVID (where you stayed in my family's house during your recovery) & about our break up.
"You have also refused to give me any sort of approval on the chapter that you will be writing, which will heavily feature me," Cassie added. "(A little insight as to why I was so frustrated on my [Instagram] Stories this evening). This seems a bit unfair to me. Colton, you can do what you want, but please do not have a double standard."
Shortly after posting that message to Colton, Cassie again fired away on Instagram Stories, this time asking Colton not to drag her publicly, and to request that their public feud end here.
"I ask you again on public record to refrain from prolonging our breakup, or dragging me, when we both know it's unwarranted," Cassie wrote. "Neither of us, or anyone close to us, would have ever predicted that I would have to write this post."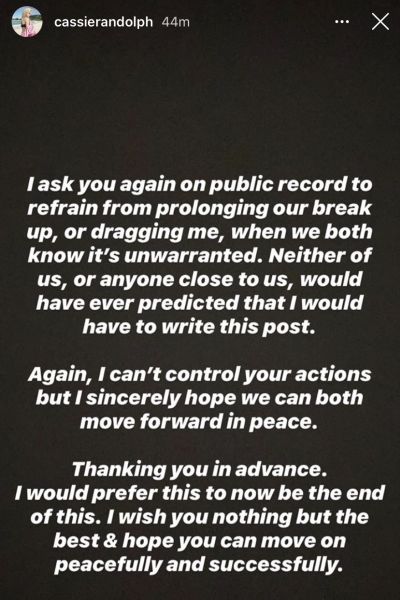 "Again, I can't control your actions, but I sincerely hope we can both move forward in peace," she continued. "Thanking you in advance. I would prefer this to now be the end of this. I wish you nothing but the best & hope you can move on peacefully and successfully."
Colton has yet to publicly respond to Cassie's last messages.
RELATED STORY: 'The Bachelor' Couple Colton Underwood & Cassie Randolph Have Split: "Sometimes People Are Just Meant to Be Friends"
(Photos: Charley Gallay/Getty Images; Instagram; ABC)