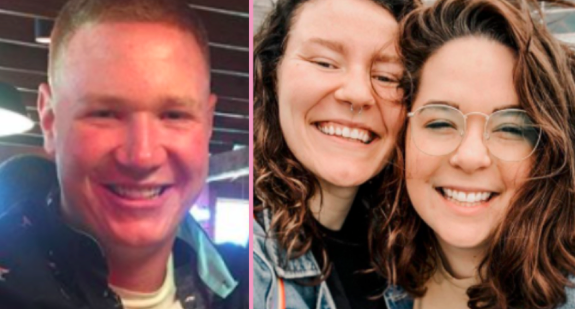 The friction among Kody Brown and his wives (Meri in particular) seen on Sister Wives, as well as the disagreements among the wives themselves, seems to have been passed on to the next generation.
According to The Sun, Meri's daughter Mariah and future daughter-in-law Audrey Kriss, recently got into a social media feud with Christine's son Paedon over politics and at this point, a resolution seems about as likely as Kody's Polygamist Barbie Dream House ever being built.
After Paedon posted a "Back the Blue" post to Instagram to show his support of the police, things got messy in the comment section, with Paedon even admitted that he and Mariah "can't stand each other."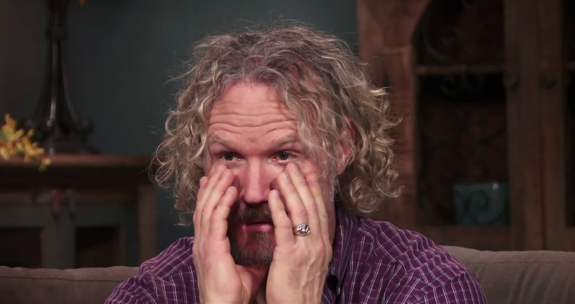 The sibling squabble kicked off when Paedon posted the "back the blue" image on Instagram, along with "#bluelivesmatter."
This didn't set well with Mariah and Audrey, who have been vocal in their support of the Black Lives Matter movement following the death of George Floyd, with each sharing that support on social media.
In the comment section of Paedon's post, a follower suggested that Paedon call Mariah "and have a conversation with her," to which Paedon revealed their sibling relationship is strained.
"I love Mariah very much but we can't stand each other," he said. (The screenshots below were taken before Paedon deleted and turned off the post's comments.)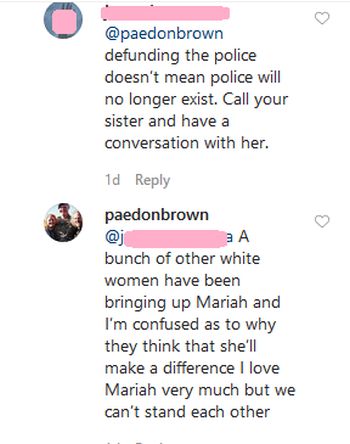 He also called Mariah out for being brought up by "a bunch of other white women" and doubting that she will be able to "make a difference."
At this point, Audrey stepped in to back her fiancé and their beliefs, as well as shade Paedon for allegedly lying about his feelings toward his sister.
"Black lives matter and I cannot BELIEVE some of the things you've said here," she commented. "'Mariah and I can't stand each other' that's not what you were thinking when you called her crying weeks ago."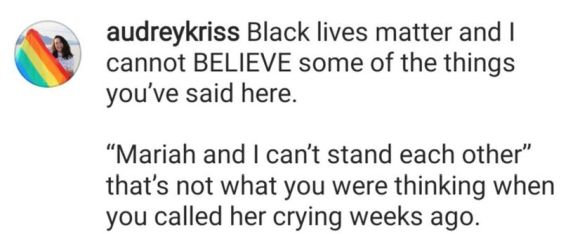 Mariah did share her political stance on her Instagram Story recently, announcing that she's no longer associating with supporters of President Donald Trump because she feels he has "taken away" her rights as a gay woman.
"I will no longer be associated with people who think that the money in their pockets or the political associations they [have] are more important than my life, than my rights … ," she wrote on social media recently. "Remember that if you make the choice to vote for Donald Trump, you are making the choice to no longer have me in your [life]."
Mariah isn't the first member of the Brown family to vocalize her support for the Black Lives Matter movement this year. Last month, Paedon's mom, Christine, received backlash online for using the movement to sell a LuLaRoe T-shirt.
In an Instagram post, Christine posed while wearing a "perfectly imperfect" T-shirt, commenting on how the "world is crazy right now" and how 2020 "has been SO HARD … from fires to looting to killing to shaming."
https://www.instagram.com/p/CBL3Y88h85g/?utm_source=ig_web_copy_link
In response to the backlash, Christine apologized; however, her original caption remains on the controversial post.
"Working out is hard," Christine said in her apology post. "Saying sorry is hard. Admitting you were wrong is hard. Saying #blacklivesmatter isn't hard!! Let's say it and LIVE IT! BLACK LIVES MATTER!!"
Currently Paedon and Mariah no longer follow each other on social media, although they are still friends on their personal Facebook pages.
RELATED STORY: 'Sister Wives' Kody Brown & Son Paedon Ordered to Pay $30,000 to Victims in 2017 Las Vegas Car Accident
(Photos: Instagram; TLC)