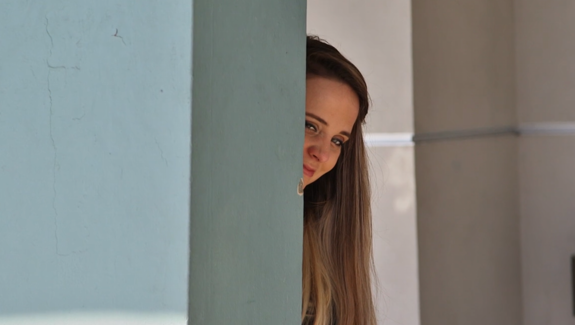 Wipe the pumpkin face-mask residue off your mug and take a break from all that pelvic rocking… it's time for another episode of Counting On!
While every episode of this show could be considered a catastrophe in its own right, this week's episode gives viewers an up-close look at an actual catastrophe in the form of Hurricane Dorian, the Category 5 storm that wreaked total havoc on the Bahamas last year.
Always down to help out (and even more down to fly his beloved airplane as often as possible) is John-David, who heads down to lend a hand along with some of the other Duggars.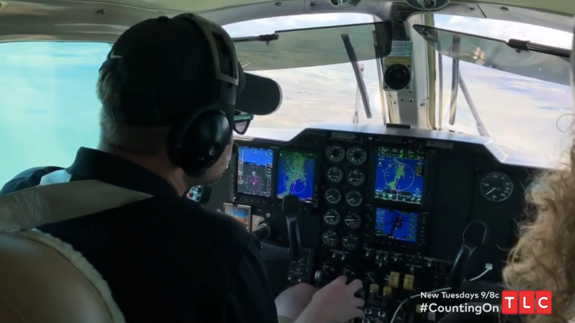 Duggar kids load up supplies to be transported to those in need and arrange for injured Bahamians to get medical assistance.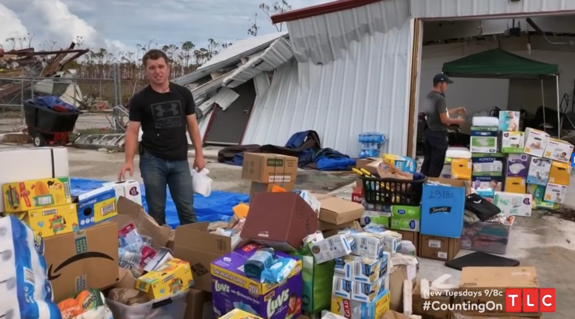 Inside, Abbie, Jana and some other Dug girls organize supplies and clean (of course), or as Jana puts it, they help "assist the guys who are working hard out on the ground."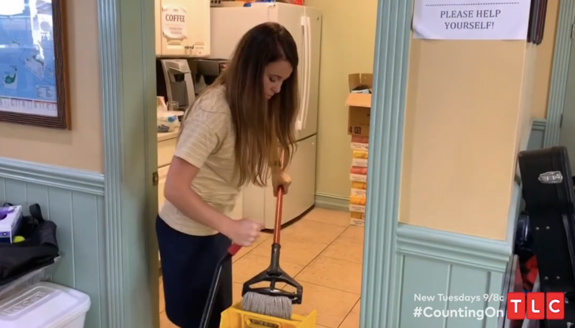 Back in Arkansas, we head to Ben and Jessa's house where we find Jessa lining up her trio of blessings to perform diaper checks, aka the best footage TLC could come up with for the Seewalds this week.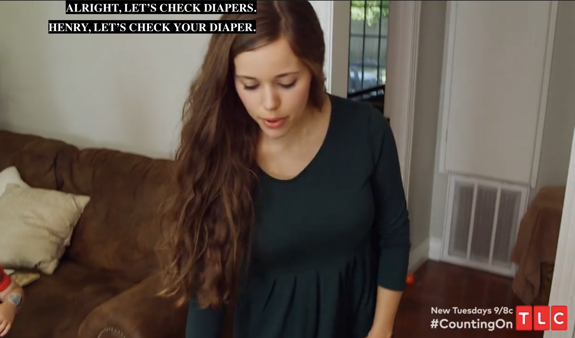 After the riveting diaper duty scene, Jessa and Ben (and Ben's bag of travel snacks/coloring books) load the kids up in the junior-sized Fundie mobile minivan and prepare for a road trip to Kansas City to visit friends. Jessa says the drive will take a little over three hours, but it's the first time the family is hitting the road with three kids, so she's uneasy.
Ben on the other hand, seems to have his mind focused on other things…shiny things…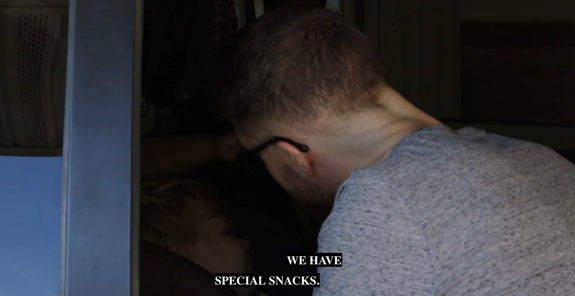 After keeping Henry and The Spurge occupied with sing-a-longs and toys, the Seewalds arrive at an apple orchard to meet their friends Brandon and Jenna Chapman.
Like Jessa and Ben, the Chapmans also have a gaggle of kids, though none of their spawn were blessed with a moniker as unique as 'Spurgeon.'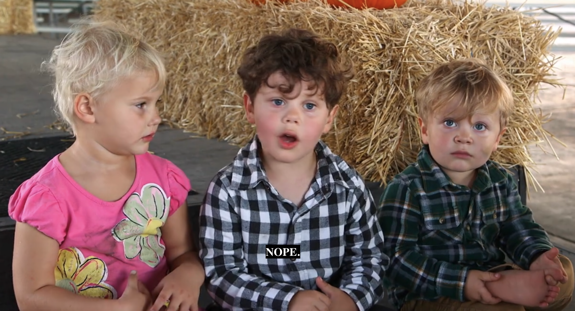 While the group stomps around the orchard noting how dirty the apples are — and making zero forbidden fruit jokes, much to our disappointment — homeschool-teacher Ben pats himself on the back for "discovering" that the best apples are located up high and not on the ground. He proceeds to use the kids' wagon, Henry, Brandon and what little athletic ability he possesses to snag some red apples… just don't ask him how many, because he later tells Jessa he can't count them.
No, really.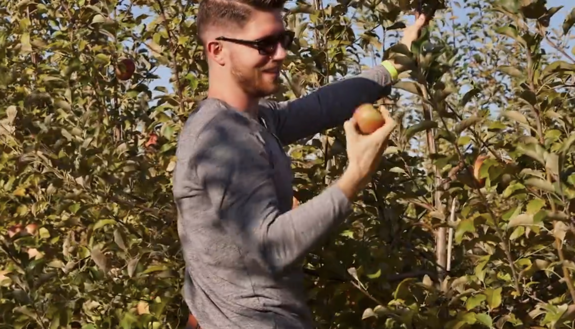 Next up we make like the lenses on Ben's glasses and transition over to Los Angeles where Jinger and Jeremy are taking Felicity to her first swimming lesson.
Jinger says it's important for Felicity to know how to swim because, now that they're living that Beverly Hills Life, a lot of their friends have pools. That "movie stars…swimmin' pools" living is sure different from the life Jinger grew up in. After all "swimming" basically meant piling as many yungins as possible into some sort of feeding trough and filling it with hose water until it was time to come inside and pray (and/or wash off the waterborne bacteria).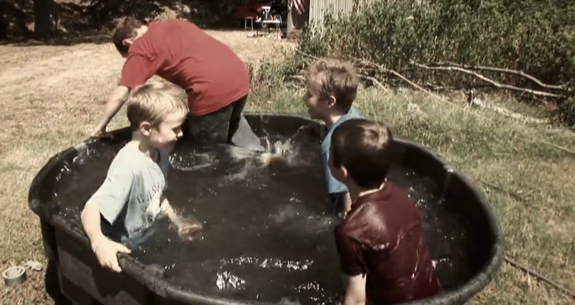 Jinger decides Jeremy is best suited to hop in the pool with Felicity and the swim instructor, because unlike Jinger, Jeremy doesn't require any swimming instruction himself. Jeremy, Felicity and the swim pro dive right in (not literally), first getting Felicity comfortable with the water and the idea of moving her arms and legs around. While she doesn't seem entirely chill during this activity, Felicity manages to keep it together.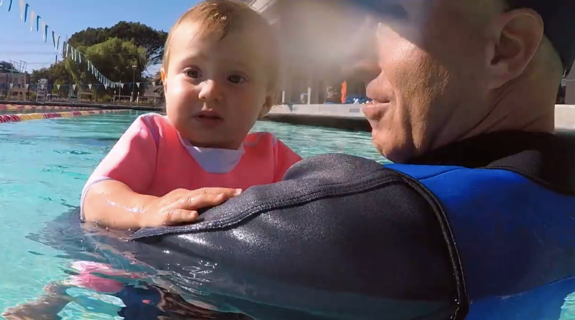 Unfortunately, when the instructor calls for Felicity to take a quick dip underwater, things take a turn…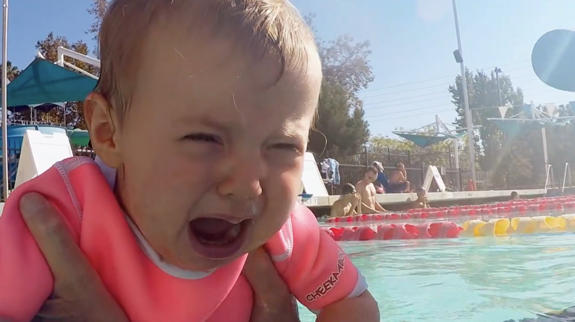 While hiding behind a pole, Jinger listens to her daughter scream in the pool until the swimming lesson is complete, while reminding viewers (and Felicity/Felicity's future trauma counselor) that they did this for her safety/a storyline for a reality TV show.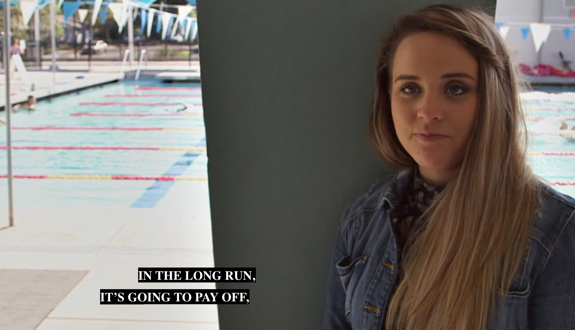 In other traumatic Duggar happenings, we check in with Jedidiah and Jeremiah next, who have just escaped The Compound and moved into their very own bro-chelor pad. What happens next may very well be one of the best gifts 'Counting On' editors have ever given viewers: a hilarious tour of Jed and Jer's new digs, complete with tunes, fades and cuts ripped straight from an early 2000s episode of MTV Cribs.
I mean, the tour kicks off with the boys' "ping pong room" …what more could you ask for?!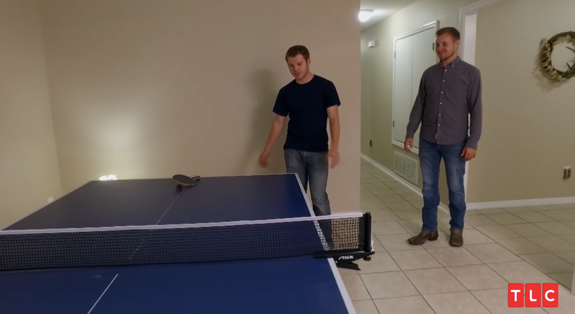 The real standout moment of this tour happens when Jed and Jer open a bedroom to reveal two twin beds. Yes, folks… these two grown men moved out of their parents' home just so they could live it up in a shared bedroom. (There's no word if each twin bed is made up with freshly washed–by Jana– cartoon Jesus sheets, though…)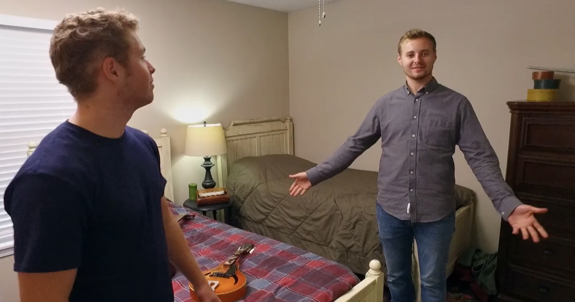 Oh, and if you're thinking these two bunked up due to lack of space, think again. These knuckleheads go on to reveal a home office — one that could have easily been used as a second bedroom.
But wait, there's more!
We then see a third room, directly across the hall from Jed and Jer's cave of co-dependence, complete with bunkbeds and random nightstand.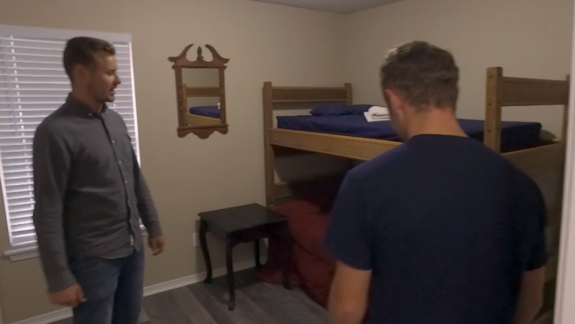 If this tomfoolery didn't get you heated like Michelle and Jim Bob's bedroom for the last three decades, we're then forced to hear said-Fundie fornicators lie claim that each of their children has a right to move out whenever they turn 18, but most choose not to (until marriage) because they're able to save money.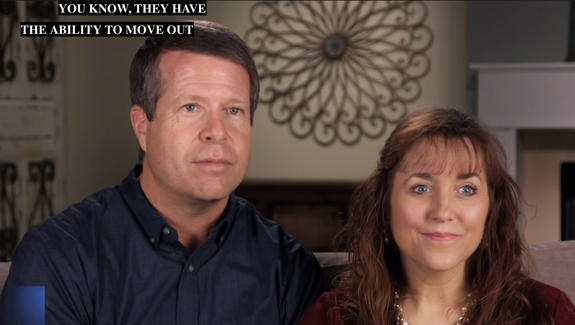 Sure, Jan Jim Bob.
Because Jed and Jer's house was furnished using assorted leftover Duggar finds, Joe and Josiah drop by with some gifts to make things even worse.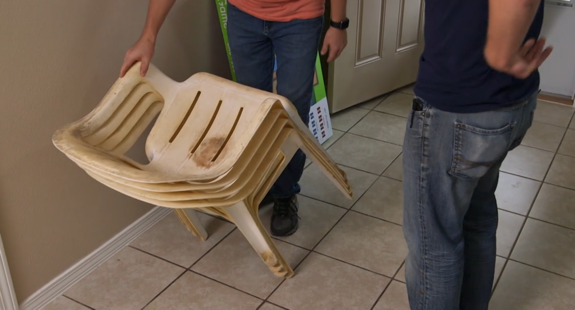 To thank their bros for the generous gifts, Jer and Jed throw together a meal of hamburgers, frozen fries, potato chips and pickles (always a Duggar must!). They then sit down at the ping-pong table in the still-dirty-as-hell chairs to shovel down their feast. (We can assume that each plate was completely licked clean because…Duggars.)
While the boys realize their cooking skills are seriously lacking, they both admit they won't have to worry about it once they're married because they'll have womenfolk to cook whatever they'll be licking off their plates.
I think that's nice…
When we check back in with Jessa and Ben, they're with the Chapmans again, but this time, the group is heading to the zoo. (No, not The Compound, an actual zoo.) Ben is particularly pumped for the lorikeet exhibit, despite his sketchy track record with birds.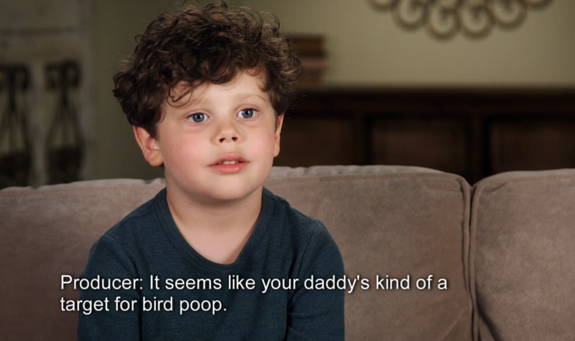 Unlike her father, Ivy seems to have a way with the feathered friends, but the feeling doesn't appear to be mutual. If you're keeping count, this is the second traumatized Duggar-spawn featured this episode…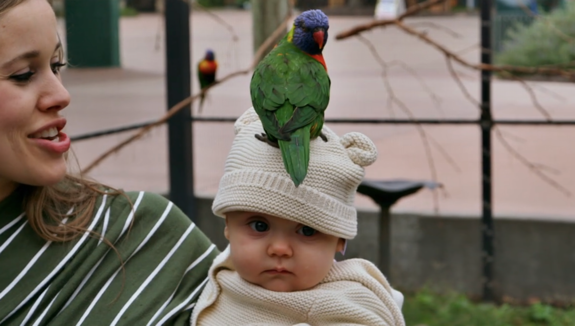 The group then heads inside where the toddlers proceed to dip their germy hands (and ultimately 40 percent of their bodies) into a stingray tank. Jessa marvels over the water being wet. (Um…girl? You've obviously been spending way too much time with Ben…)
During all the hubub over the wet water, the Seewalds manage to lose track of Henry. Oh, but don't worry! Ben soon finds him… wandering alone outside of the building, playing in a random sink.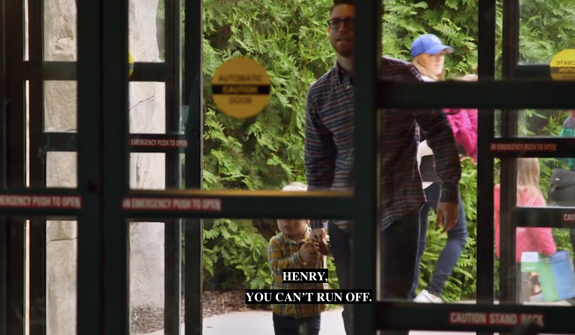 Back in Arkansas, it's Family Fundie Night for the Duggars and this time, the crew has bussed themselves to the nearest corn maze. As you do.
Jim Bob splits the group into six teams and each is instructed to keep track of how long it takes them to navigate through the corn maze. Joe and Kendra are salty from the jump due to their disadvantage of having a pregnant person on the team (Kendra). Anna, however, seems to somehow harvest the energy from her own unborn blessing as she runs through the finish line like a teen mom at a high school track meet.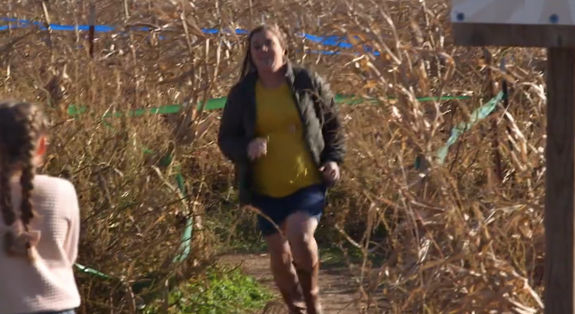 Joy and Austin are among the last of the teams to hit the maze and the first to get completely lost, while Jim Bob and Michelle struggled to stay on task.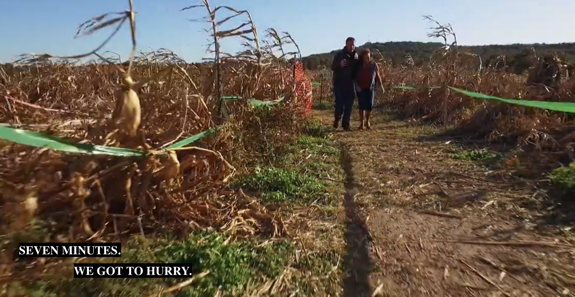 In the end, Ben and Jessa's team is named the winner but, as with all Duggar outings, there are no winners here…because you're Duggars…
That's all for this week!
On the next episode of 'Counting On,' it's time for the Duggar Dash… so get your team brackets ready and prepare for a throw down at The Compound. (Hot tip: whatever you're imagining as the Duggar Dash, we assure you it's even worse than that.)
To read The Ashley's previous 'Counting On' recap, click here!
(Photos: TLC)