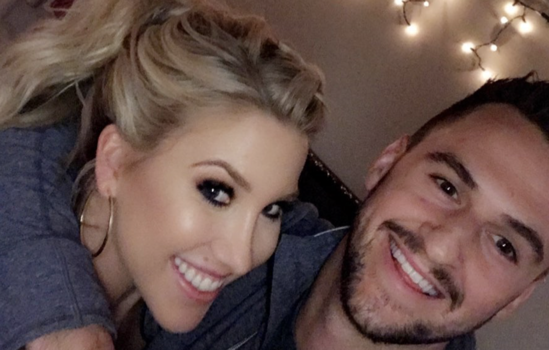 "It's over, y'all!"Nearly three months after Savannah Chrisley announced she and fiancé Nic Kerdiles were going "back to dating," the Chrisley Knows Best star has revealed she and Nic have ended their relationship.
In response to the growing speculation among her fans, Savannah took to Instagram on Tuesday, stating "Nic and I have decided to call it quits."
https://www.instagram.com/p/CFLM_lSnIXr/?utm_source=ig_web_copy_link
" … There's no hatred between the two of us…and in all honesty…that makes saying goodbye even harder," she wrote. "We have nothing but love, respect, and admiration for one another but it's time for us to move forward individually.
"These past 3 years have been some of the best years of my life…but I have to trust that God has a far greater purpose for my life…I believe that He will take this hardship and make something beautiful out of it. Now please be kind with this news that I am sharing… ."
Hours before Savannah confirmed what many has suspected, she hinted at a possible breakup with a series of quotes on her Instagram Story.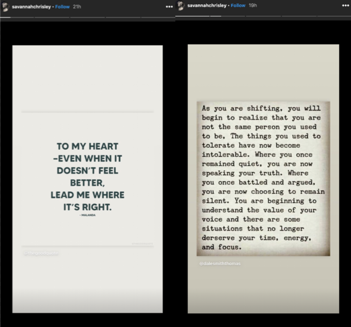 "To my heart – even when it doesn't feel better, lead me where it's right," one post read. In another, she referenced shifting and "speaking your truth."
Savannah's Instagram Stories continued after her announcement, as she shared a photo of junk food with the caption, "when mama tries to heal the heart." She followed that post with the quote, "you can't heal what you don't feel."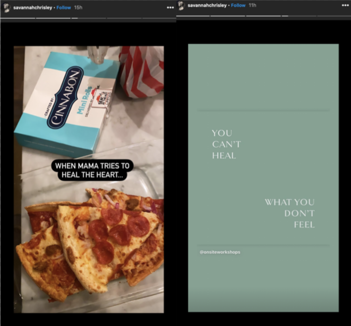 Nic posted his own breakup announcement on Instagram, in which he wrote a heartfelt dedication to his now-former fiancé, whom he called "the biggest blessing in my life."
"She has the purest heart out of anyone that I know. She has treated me with nothing but love and respect in our 3 years together," he continued. "No one other than our families know everything we've gone through in the last 3 years and for that, I ask to respect that privacy.
https://www.instagram.com/p/CFM1uLCnhUn/?utm_source=ig_web_copy_link
"There was so much genuine love in this relationship and I'm truly blessed to have been able to spend three years of my life with Savannah," he added. "I still look at her as the type of woman I want to spend the rest of my life with. She is everything one could want in a mother, daughter, wife and friend. I love you kid to the moon and back and God has a plan for us!"
As fans of the Chrisley family may recall, Savannah and Nic announced their engagement in April of last year, though Nic reportedly popped the question in December of 2018 after the couple had been dating for more than a year.
https://www.instagram.com/p/BvzGezOh2Yu/?utm_source=ig_web_copy_link
The two were initially planning to tie the knot in May of this year; however, Savannah explained in June during an episode of her family's podcast, Chrisley Confessionals, that instead, she and Nic had opted to postpone their nuptials and go back to being boyfriend and girlfriend. (She also pointed out that because of C0VID-19, their wedding would have been postponed anyway.)
"We both realized that things moved way too fast and we needed to go back to dating," she told her dad, Todd Chrisley. "I just knew we had to work on things on a different level. We had to dig deeper and it's hard."
https://www.instagram.com/p/B-vm-adn4L4/?utm_source=ig_web_copy_link
During the episode, Savannah also claimed to be under a lot of pressure because her engagement was public "and everyone expected a wedding." She added that she and Nic were "still working on things," both in therapy and "doing what we need to do."
RELATED STORY: Lindsie Chrisley Says She Will Probably Never Make Amends with Dad Todd Chrisley, Hints at Issues Caused By 'Chrisley Knows Best'
(Photos: Instagram)