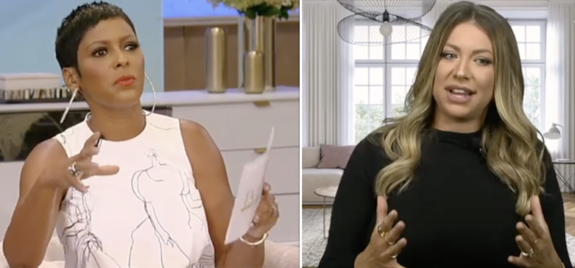 Tamron Hall is speaking out after it was reported that former Vanderpump Rules star Stassi Schroeder was ambushed during their recent interview.
Stassi kicked off her apology tour last week on the Tamron Hall Show for her first televised interview since getting fired from Bravo this summer for racist actions against her former co-star Faith Stowers. While the interview left many wondering if Stassi had actually learned from her mistakes, claims that Stassi was "ambushed" during the sit-down is what had people – including Tamron – talking again on Tuesday.
A source told Us Weekly that Stassi felt "unprepared" for her interview and that she "wasn't in a good mood afterward" because she felt as though she was put on the spot. The source went on to say that Stassi has "built her brand on being candid and funny" but is afraid to made any wrong comments or jokes, which contributed to making the interview "awkward."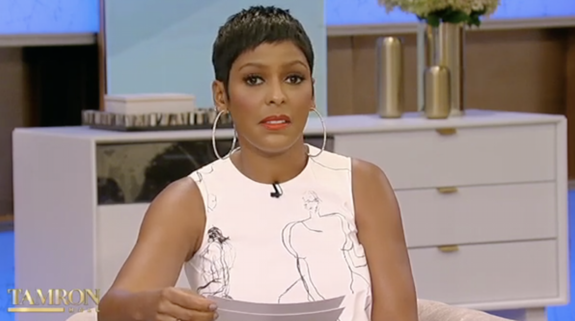 A second source claimed that while producers for Tamron's show "laid the segments out for Stassi and her team," Tamron "went rogue and took the interview in a completely different direction."
Tamron began Tuesday's episode of her show by addressing the claims, and explaining to viewers how things really work "behind the scenes."
After reports of Stassi feeling unprepared and ambushed by the Tamron Hall interview, Tamron puts her on blast and gives us a behind the scenes look at what really went down. The comeback tour is going great 💀! #pumprules pic.twitter.com/cwxxQQQFSw

— Queens of Bravo (@queensofbravo) September 22, 2020
"The other day I was told that there was a report that Stassi felt 'unprepared' and that it was 'awkward.' Even that I had gone rogue – whatever that means," Tamron said. "Let me just be open because I'm expecting everybody who's participating in this show today, I want them to be open, so I have to do the same. It's why I wanted this show, to be honest with you.
"So I'm going to take you behind the scenes of TV," she continued. "Now, I don't tell people the specific questions I'm going to ask them. How they answer, that's up to them. But the topic and everything that we discussed, Stassi knew. She knew the subject matter. She knew what I was going to ask her. Not the questions."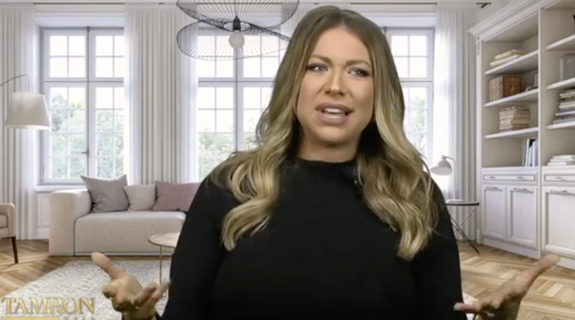 Tamron then revealed that the night before the interview, she was asked by Stassi's team to not discuss controversial comments Stassi made in 2017 about the #MeToo movement, to which Tamron obliged. Tamron, however, admitted that not asking Stassi about those particular comments "hit [her] to [her] gut."
Tamron said that she gave Stassi a pass on the "Me Too" comments because Stassi is pregnant, and because there was already so much to talk about regarding Stassi's racist comments and actions.
"But again, I want to be honest with you," she explained. "Given that she was five months pregnant, the issue of race was hard enough for her and for me and it was a lot to unpack, including that Nazi comment, so I said we were not going to go down that road but we would have this difficult conversation that we all should have to provide a better platform for our children."
For those unfamiliar with the controversial comments to which Tamron was referring, they took place during a 2017 episode of Stassi's (now canceled) podcast, Straight Up With Stassi. In the episode – titled, "Are we on a male witch hunt?" – the former waitress spoke about the victims of Hollywood's sexual misconduct scandal, Us Weekly reports, at one point making the comment, "no one can make me suck a d**k."
After receiving a lot of backlash (and eventually getting dropped by two of her podcast sponsors) for her comments, Stassi took to Twitter in an attempt to do some damage control, arguing that her comments had been taken out of context.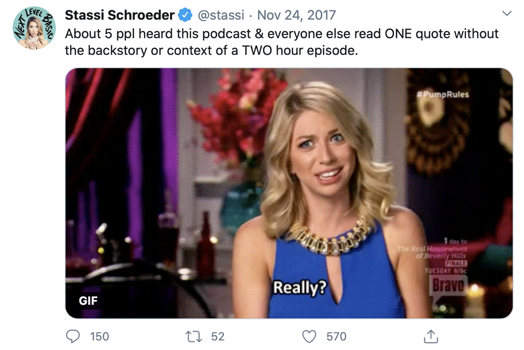 "About 5 ppl heard this podcast & everyone else read ONE quote without the backstory or context of a TWO hour episode," she tweeted.
Stassi later issued a formal apology for her comments and the podcast episode was eventually taken down.
She has yet to comment on Tamron's clapback.
RELATED STORY: 'Vanderpump Rules' Stars Jax Taylor & Brittany Cartwright Are Expecting Their First Child: See Their Baby Announcement
(Photos: Tamron Hall Show; Twitter)