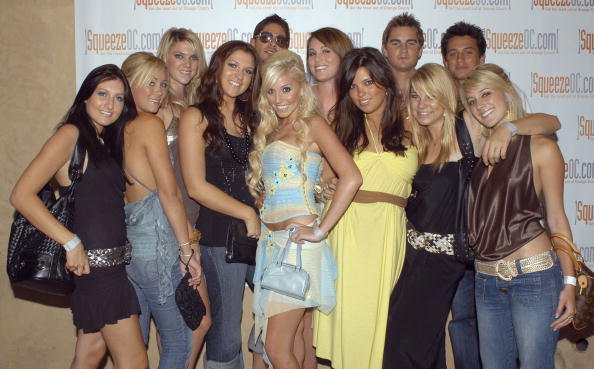 Six years ago, the cast of Laguna Beach came together to enjoy their 10-year high school reunion. Unlike that reunion, which was only open to former Laguna Beach High School attendees, the 'Laguna Beach' gang is staging another reunion that's open to everyone!
On Saturday, October 2, Lauren Conrad and Stephen Colletti announced that the cast of the early 2000s MTV reality show is going to be getting together…if they can achieve their goal of getting more people registered to vote in the upcoming election. The reunion will be held in partnership with #GoodToVote and HeadCount, People reports.
Over the weekend, Lauren and Stephen both shared a teaser video to their Instagram accounts.
The former duo was joined by friends (and former 'Laguna Beach' cast members) Trey Phillips and Deiter Schmitz for the blast-from-the-past announcement, which was formatted to look like a "casual conversation" where Lauren brings up "her" idea to entice 'Laguna Beach' fans to register to vote.
"We partnered with #GoodToVote! If we can get 500 of you to register to vote- or simply check your registration- we will host the first-ever 'Laguna Beach' cast reunion! It takes minutes to register, and even less to check! Even if you think you've already registered, please check just to make sure!" Lauren captioned the video.
People reports that the foursome will also be joined by former classmates Lo Bosworth, Talan Torriero, Morgan Olsen, Loren Polster, Christina Sinclair, and Kristin Cavallari.
The Reunion will be virtual and held at a later date.
'Laguna Beach' followed the teens as they navigated high school, drama and relationships from 2004-2006. After they graduated, Lauren, Lo and later Kristin starred in the spin-off series, The Hills, which ran until 2010.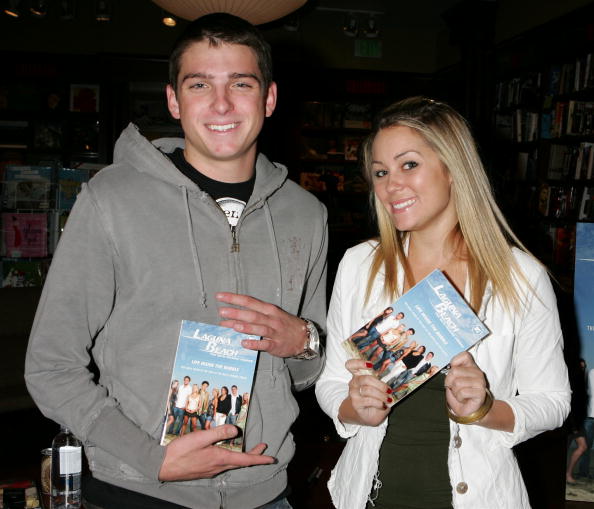 Back in 2018, Stephen hinted that MTV had been playing with the idea of reuniting the cast in some way. However, that never ended up happening.
"They've been talking about it," Stephen said. "MTV has been — they've been putting out some phone calls for it," he said in the July 2018 interview.
He also reminisced about the time the cast spent filming the show.
"We were just such young little kids," he said. "What I loved about being on that show was everyone that we were working with and shooting the show with, they made us feel kind of comfortable. Looking back, we were very comfortable hanging out with these people."
During the interview, he added that he occasionally sees some of his former classmates.
"We see each other at different times, back home in Laguna for the holidays or whatnot," he said. "It's not a constant conversation, we're not buds texting each other every day, but it's all cordial."
During a September appearance on Whitney Port's With Whit podcast, Lauren said she has kept in touch with some of her 'Laguna Beach' co-stars. She said she talks to Deiter "all the time," and that she recently saw Stephen and Christina.
"It's more seeing people that I grew up with, who I also did the show with," Lauren said.
After Kristin posted a photo of her and Stephen to her Instagram in August, she told People that there's no romantic connection between them.
View this post on Instagram
"Stephen and I have remained really good friends over the years. I love him to death, but no we're not dating," Kristin—who recently split from her husband Jay Cutler— said. "That's the last thing on my mind right now.
She also told People that the cast members have an unbreakable bond because of 'Laguna Beach' and 'The Hills.'
"It's just fun. We'll always have that connection, and we'll always have something that we can relate to each other on that no one else can," the mom of three said. "It's just a cool thing to be able to share with each other."
RELATED STORY: 'The Hills: New Beginnings' May Put Cast Under One Roof to Resume Filming of Season 2
(Photos: Stephen Shugerman/Getty Images; Instagram; David Livingston/Getty Images)