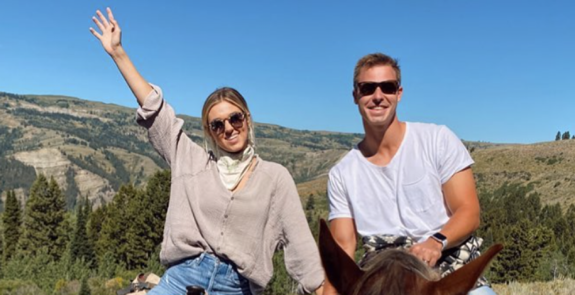 Sadie Robertson is pregnant and expecting her first child with husband Christian Huff.
The 23-year-old Duck Dynasty star revealed on social media she was "SCREAMING WITH EXCITEMENT" to share the news of her pregnancy. The announcement also included a message to her unborn child.
"Baby we already adore you," Sadie wrote. "What I've learned from you already – God has still been creating. God is still believing in us. God is still bringing forth LIFE. Hope is still to come. How we choose to live will affect your generation to come, so I want to live my life to the fullest and be loud for you.
"We are thankful to be carrying a miracle into the world," she continued. "Baby, you are already loved and already believed in. Can't wait to welcome you into the world with all the joy, hope and excitement you will bring into the life of so many by your miraculous incredible life."
Christian posted a similar photo on his Instagram page, captioned simply "mom & dad."
The couple tied the knot in November of last year.
Sadie, daughter of Willie Robertson, competed on Season 19 of Dancing with the Stars and recently spoke to Entertainment Tonight about body issues she developed as a result of being on the show.
"I had this body that I never thought I'd have," The Sun reports. "I had a six-pack for two weeks, but then Thanksgiving hit and it went away. People started commenting."
Sadie previously opened up in 2017 on Instagram about struggling with "an eating problem connected to a negative body image."
After announcing her pregnancy, Sadie posted a photo of herself, commenting that she is excited to see her body change through the pregnancy.
"The day we found out 🙂 can't wait to watch my baby / belly grow," she wrote.
Christian responded, "Woooohooo!"
Sadie and Christian got plenty of congratulatory messages from their family members.
"Can't wait to see the kid these two throw out!!" Sadie's father, Willie Robertson, wrote on Instagram. "Thank you Lord for this blessing."
"Big, crazy, awesome news!! My baby is having a baby," Sadie's mom, Korie Robertson posted on Instagram. "@legitsadierob and @christian_huff y'all are going to be the most amazing, fun, joyful parents. Baby Huff we adore you already, we promise to love you forever and always! Welcome to the fam little one! I'm going to love being your Kmama."
Sadie and Christian have not yet revealed when their baby is due.
RELATED STORY: Home of 'Duck Dynasty' Star Willie Robertson Targeted by Drive-By Shooter; Suspect Has Been Arrested
(Photos: Instagram)