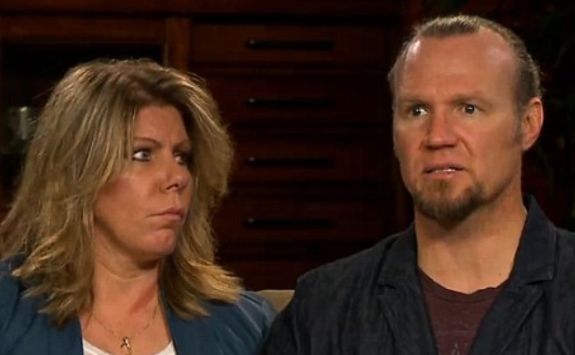 After dealing with months of speculation (mostly brought on by her own cryptic Instagram posts), Meri Brown is finally addressing the rumors saying she has broken up with her husband Kody.
The Sister Wives star— who shares Kody with his other three wives, Janelle, Robyn and Christine— took to Instagram to clarify that, despite how it may seem, she is still with Kody and she is happy with him. 'Sister Wives' fans have watched as Meri and Kody bicker and seem generally miserable on the show, so many doubted Meri's claims. Some questioned if Meri's feelings of love toward Kody were reciprocated.
In the caption of a photo of herself with Kody (the first photo she's posted of them together in two years, mind you), Meri told her followers not to expect a split any time soon.
"Let's just clarify something here. I love this man," Meri wrote. "I don't owe anyone an explanation but I'll do it anyway. I'm well aware that we, as a family, have chosen to put ourselves 'out there', which, in turn, brings about all kinds of speculation, commentary, and opinions.
"But it comes down to this. My relationship with him is MY relationship with him. Sure we've had ups and downs through the years (I mean, isn't that somewhat normal?) High highs and low lows. All of which, you get to see 'some' of, and speculate on. And that's ok. You do you, boo."
'Sister Wives' fans have speculated for years whether or not Meri will leave the Brown Family, with Meri even admitting in the past that she came close several times over the years. (Who could forget her never-ending Catfish Scandal?) In her Instagram post, Meri stated that, although she may not always get along with those in her family, she intends to stick with them.
"But here's my truth. I love him. I love my family. I'm committed. I have 30 years in this. We struggle. We communicate. We repair relationships as the parties involved are willing and able," she wrote. "I'm an independent person who does her own thing. I travel a lot. (Well, pre-covid that is.) I have multiple businesses. I have many friends. I have male friends, (Gasp! Shocker!) and I won't apologize for that. I'm human. I have feelings. I make mistakes. I rise when I've fallen.
"Sometimes it takes longer than other times to rise. I. Will. Always. Rise. I get angry. I feel peace. I feel pain. I feel joy. I forgive. I love. I'm HUMAN. I'm here. I'm committed. I'm not going anywhere. Don't get your hopes up on that."
Some of the people who left comments on the post seemed skeptical that Meri did, indeed, love Kody. Even more were skeptical that Kody loves Meri, given how he behaves toward her on the show.
"Yes ur relationship with that s**tty man is all you," one person wrote. "Now if you don't want public opinion turn comments off and quit your national TV show."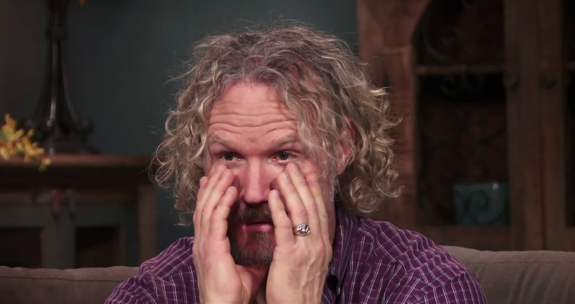 "Most people just want to see you happy and loved to bits. Heavy editing makes it look far from that," another person wrote.
Many of the negative comments appear to have been deleted by Meri. One person— whose comment was deleted— asked, "You love him Meri but do[es] he love you?"
Another deleted comment read, "Well try to look happy when you're on TV. Don't complain so much. You're just too sad. That's why people talk. You complain [an] awful lot but we're happy that you're happy…"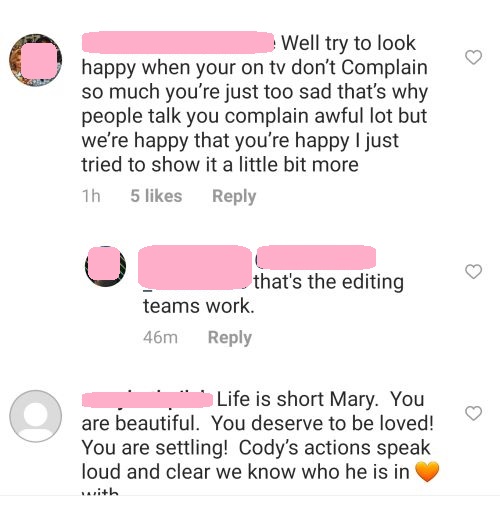 "You deserve to be loved!" another person whose comment was deleted wrote. "You are settling! Kody's actions speak loud and clear. We know who he is in love with."
Kody has yet to comment or like Meri's post on Instagram.
RELATED STORY: 'Sister Wives' Star Gwendlyn Brown Calls Brother Paedon Brown a "Racist" & an "Idiot" on Social Media
(Photos: TLC; Instagram)