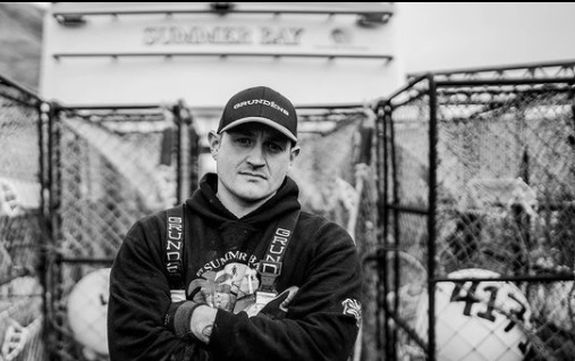 Nick McGlashan, who starred on Discovery Channel's Deadliest Catch since 2013, died Sunday in Nashville, TMZ first reported early Monday. He was 33.
Nick's death was confirmed by his sister Lydia Dirks, who posted on Twitter, "My brother Nick passed away. This is the hardest thing I've ever had to go through. Please hold your loved ones tight."
According to TMZ, Nick's family had a long history at sea, with a great uncle who worked on the first boat in the U.S. crab industry and two aunts who were crabbers, one of whom was lost at sea. Nick started crabbing at 13. He piloted the Cape Caution, featured on Seasons 9-12 of 'Deadliest Catch,' before upgrading to the Summer Bay, which was featured on Seasons 13-16.
Nick dealt with addictions to alcohol and drugs in the past. However, no cause of death had been given at press time, and his death is currently under investigation by the Davidson County Medical Examiner.
"It got so bad he said he was drinking a half-gallon of vodka and shooting up with one gram of meth and 2 grams of heroin in a single day," TMZ reported. "He tried hard to stay sober and said he was trying to inspire others to get clean."
He was suspended from part of Season 13 in 2017 and entered rehab.
Earlier this year, Nick wrote about his struggles with substance abuse in an article for Chosen Magazine, stating that he overdosed three times before going to rehab in September 2016.
"My life went from Bering Sea badass to full-blown junkie very rapidly. Hidden from me was that passion I had for life," he wrote. "Taken from me was my ability to live. I was at war with my addiction and it was winning."
In a statement, Discovery Channel offered its sympathy to Nick's family and friends.
"Our deepest sympathy goes out to Nick's loved ones during this difficult time," the statement read. "Nick came from a long line of crabbers and was known for his great depth of knowledge. He also had a sharp sense of humor even in the most difficult conditions. He will be deeply missed by all those who knew him."
Castmate Landon Cheney mourned the loss of his friend in two Instagram posts.
"He will wipe every tear from their eyes, and death shall be no more, neither shall there be mourning, nor crying, nor pain anymore, for the former things have passed away… 'Behold, I am making all things new." Rest easy my brother #gonebutnotforgotten #restinpeace #brothers"
Clayton Gore also remembered Nick in a post to Instagram.
"Sometimes in life things happen an we can never be fully prepared for them," he wrote. "I loved every pep talk every once of encouragement you gave me. We will fish this season in your honor. Rest easy my brother."
Another 'Deadliest Catch' co-star, David Scheetz Jr., commended Nick for his leadership and friendship.
"I know one thing… I don't wanna do this without you," David wrote on Instagram. "You gave me strength when I swore I didn't have anything left. You ARE the best leader, teacher and mentor I ever worked with. And this season is not gonna be the same AT ALL. I'll do it though. Like you taught me. "Move your ass Bird"… you got it Boss… I love you man.."
Nick's sister Lydia has asked for support for her family in a series of tweets.
"If any of you could donate money to my cash app, Venmo or PayPal, that would be greatly appreciated. These funds will go directly to my mom, June, to help her with anything she needs during this devastating time. REST IN PEACE @NickMcglashan"
If any of you could donate money to my cash app, Venmo or PayPal, that would be greatly appreciated. These funds will go directly to my mom, June, to help her with anything she needs during this devastating time. REST IN PEACE @NickMcglashan pic.twitter.com/9SYPGgJ3vi

— Lyd (@sweetsealyd) December 28, 2020
"Please send all your love to my momma June McGlashan. NO ONE should ever have to experience the death of their own child. We're absolutely devastated. There will never be anyone like Nick."
"Thank you so much for the love and the support from everyone. I can't express how difficult this has been and reading everyone's messages has made my family and I feel better"
In addition to family members including his mother and sister, The Sun reports that Nick left behind a girlfriend and two children.
This is the second 'Deadliest Catch' death this year. Deckhand Mahlon Reyes died of a heart attack at age 38 in August. In May 2018, Nick mourned the loss of co-star Blake Painter, who died from an accidental overdose.
A fellow fisherman has lost his life due to an overdose. Prayers to his family please 🙏

— Nick McGlashan (@NickMcglashan) May 26, 2018
Nick stated in Chosen Magazine that he was using a 12-step program, working with a sponsor and going to meetings in order to stay sober.
"The greatest thing about my recovery is that I can change someone's life just by talking about my addiction and recovery. Being sober used to feel uncomfortable, it felt weird," he writes. "I had been loaded for so long, sober scared me. I live a life that inspires. I don't live a life to inspire anymore."
Nick will appear in the upcoming season of 'Deadliest Catch,' which, according to tweets he posted before his death, will premiere in April 2021.
Coming to you April, 2021. #deadliestcatch pic.twitter.com/3bEDAhTz6U

— Nick McGlashan (@NickMcglashan) October 11, 2020
(Photos: Twitter, Instagram)