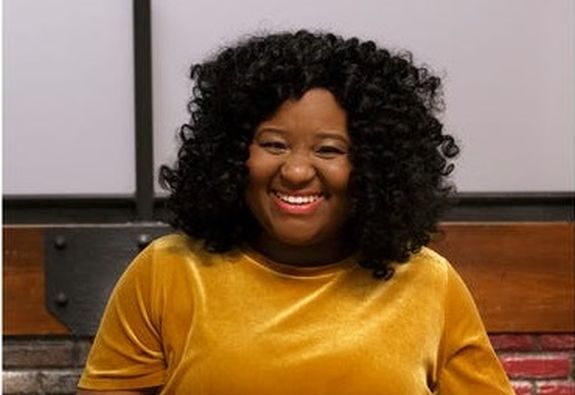 Ari Robinson was working to take the next step in her career, just weeks before she and her husband Jerry were arrested for the murder of their three-year-old adopted daughter Victoria.
The Worst Cooks in America Season 20 winner— who is currently sitting behind bars in South Carolina after being charged with "Homicide by Child Abuse" for Victoria's death earlier this month— had recently auditioned to be on America's Got Talent. That audition happened right before Victoria's death and the Robinsons' arrests, according to one of the last episodes of the couple's Double A Shenanigans podcast.
During that same podcast episode, Ari– who is an aspiring comic– and Jerry also discussed how their lives had changed since adopting Victoria and her two brothers.
"I auditioned for 'America's Got Talent,'" Ari said in the episode, which was posted last month. "I don't know how much I can tell y'all. I don't know if I got through, like all the way through yet. I don't know yet if I'm going to LA to audition in front of the judges. But it's going pretty well in the audition process right now…I've been talking to some producers and stuff…I'm allowed to tell people I auditioned but I think that's pretty much what I can tell y'all.
"That has been having me very, very busy because it is a process…that has been taking up some time, but [it's] definitely time worth it, because this is 'America's Got Talent,' people. And I want to be on 'America's Got Talent!' Like, literally, when I started with comic, my very first goal that I wrote down was to be on 'America's Got Talent.'"
At the time, Ari seemed confident that she would progress in the audition process.
"This is looking like the year that my dreams will come true!" she said.
Later in the episode, the couple talks about adopting Victoria and her siblings.
"We have three new babies. Last December we found out that we were approved and we were gonna be able to adopt all three of them," Ari said. "We were going to be able to bring them all back together because they were separated. The two boys were at one house and the girl [Victoria] was at another house."
The couple discuss how they created new Christmas traditions for the kids, and how the kids were thrilled to finally have a mother and a father.
We go together like ketchup & MUSTARD! 💛🖤🐆 #MiniMe

Being a girl mom is awesome! 😍😍😍#MondayThoughts pic.twitter.com/ZCYCdYAkb3

— Ari- People Lover 💗🌍🥰✊🏿✊🏾✊🏽✊🏻✊ (@arifunnycomedy) January 11, 2021
As The Ashley previously reported, Ari and Jerry were arrested in Simpsonville, South Carolina, on January 19 for the January 14 death of Victoria. The two are accused of "inflicting a series of blunt force injuries" which resulted in Victoria's death. She was pronounced dead after being transferred to the hospital.
Since her arrest, Ari's teaching certificate has been suspended by the South Carolina Board of Education.
"The SCDE has reason to believe that, due to the serious nature of this allegation of misconduct, Ms. Robinson may pose a threat to the health, safety and welfare of students who may be under her instruction and that emergency action is required," the suspension document read.
In the time since Ari's arrest was announced in the press, her YouTube channel— which contained videos featuring Victoria— has been shut down. Her Facebook page was also shut down, but her Twitter and Instagram accounts remained active at press time.
The Food Network recently yanked down Ari's season of 'Worst Cooks in America' from its streaming platforms, including Discovery+ and the Food Network website. Season 20 debuted June 21 and concluded August 2, with Ari winning the competition and taking home $25,000.
RELATED STORY: Food Network Removes 'Worst Cooks in America' Season 20 From All Platforms After Winner Ari Robinson is Charged with "Homicide By Child Abuse"
(Photos: Food Network, Twitter, Instagram)