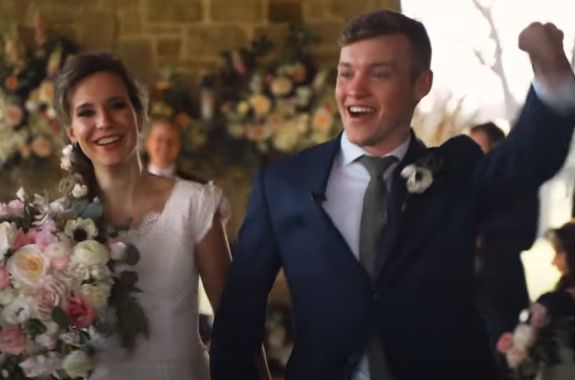 Justin Duggar got hitched last weekend, marrying his 19-year-old bride, Claire Spivey, in Texas. The 18-year-old Counting On star, like his siblings before him, waited until his wedding day to have his first kiss and, in a sneak peek teaser film put together by their videographer, we see Justin passionately grab his bride's face for a smooch after they became husband and wife!
We also get to see the newlyweds smiling at each other as they took their wedding portraits, with Claire's sleeved white gown blowing in the breeze.
In the video we also see several of Justin's brothers standing at the alter as his groomsmen. (Claire chose her mother, Hilary Spivey, as her matron of honor.)
Justin's many siblings also attended the festivities, even estranged Duggar Jill Dillard and her husband Derick. (The Dillards rolled up to the wedding wearing masks–unlike most of the other wedding guests.) As the show's fans know, Jill helped raise Justin and many of her younger siblings.
It is unknown if TLC was there to document Claire and Justin's big day for the upcoming season of 'Counting On,' as a TV film crew has not been shown in any of the photos. However, we know the Dugs love putting together a huge wedding episode whenever one of the kids ties the knot, so it's likely we'll see the wedding on the show at some point.
After the videographer, Gabriel Johnson, posted the teaser clip to YouTube, Justin reposted it on his Instagram. The videos were met with plenty of comments, many of which talked about how young Justin and Claire (who turned 20 the day after the wedding) are.
"What a beautiful prom video! Justin and Claire looked so lovely," one person joked.
While most of the Duggar kids have married young, Justin is currently the youngest, at barely 18. Previously, the youngest Duggar to say "I do" was Joy-Anna Duggar, who was 19 on the day she married Austin Forsyth.
Justin and Claire announced their courtship in September, stating that they had known each other for years through their families. They became engaged in November, one day after Justin turned 18.
Watch the wedding video teaser below!
RELATED STORY: 18-Year-Old 'Counting On' Star Justin Duggar Marries Claire Spivey: See the First Wedding Photos
(Photos: YouTube, Instagram)