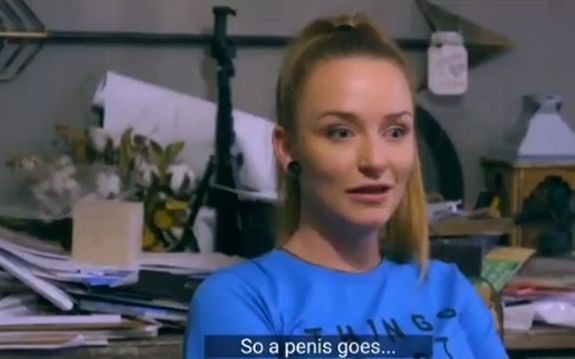 Hey y'all! It's once again time to head down into TeenMomVille, where the unplanned pregnancies are plentiful and the couches are well-worn!
We kick things off in Indiana this week, where Amber is feeling "empowered" because she stood up to a single Instagram troll who called her fat. You would think being in prison and having to worry about getting shanked for taking the last Jello cup would have toughened ol' Ambie up enough so that she wouldn't be concerned with some rando calling her a name, but here we are.
Since she's feeling so empowered about her body positivity message (and, frankly, she needs a storyline this week), Amber shovels herself off her couch and calls up her manager (who is surprisingly not Gary). She tells her manager that she wants to reboot her Forever Haute clothing boutique.
In case you actually had a life back in 2015-ish and weren't watching 'Teen Mom,' allow The Ashley to remind you about the wonderfulness that was "Forever Haute." Ambie "created" (aka ordered from China) a line of clothes that she sold online. Her then-fiancé, Matt Baier, helped her select models for her website. (Surprise, surprise…)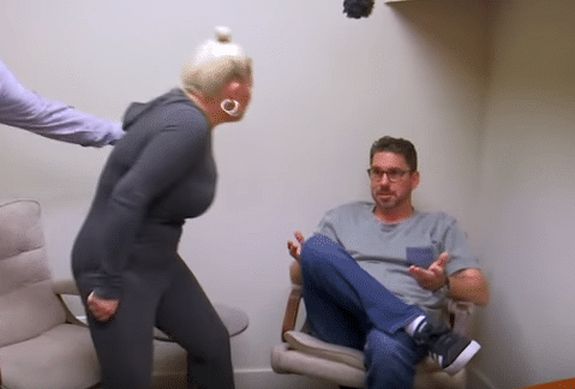 Anyway, Ambie tells us "life got complicated" (i.e. she found out her knight-in-oily-glasses, Matt, was trying to bang chicks on the side), and she had to shut the clothing line down.
Amber tells her manager that she feels like "she's able to" relaunch it now.
Wouldn't it be nice to just be able to decide randomly when you want to "work" and when you don't? And to still be able to afford the roof over your head, the food in your belly and the couch under your butt?
The manager says she thinks it's a great idea because, honestly, what the hell else does Amber have to do? She was literally just hawking peppers on the side of the road with Gary & Co. to pass the time.
Amber is even considering coming up with some "original designs."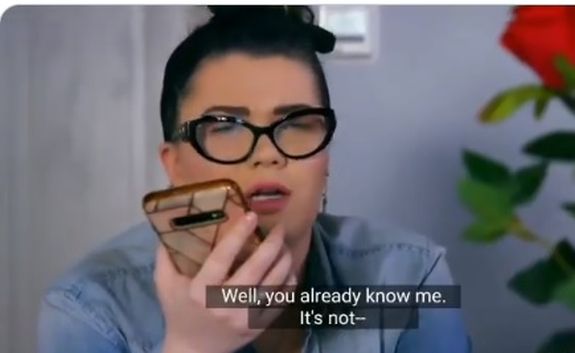 Amber says that sometimes she feels she can't achieve great things because she only has a GED, but her manager assures her that there are plenty of successful entrepreneurs who never went to college. (They do, however, actually get off their couch, so that will be a challenge for Ambie…)
Next we head to Tennessee, where Maci, too, is looking for a storyline. Since they've milked dry the cash cow that is her feud with Ryan, she goes to Plan 2— embarrassing Bentley.
This week, Maci has decided that she and Taylor will give poor Bentley the ol "birds and the bees" talk…on-camera. In front of the millions thousands of people watching.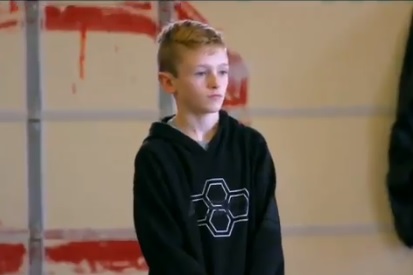 Maci and Taylor say that they'd rather tell Bentley about sex than have him learn about it from one of his middle school cronies. (Or, you know, by watching 'Teen Mom'…)
Maci even tells Taylor that, thanks to the magic that is crap reality TV, they'll have this embarrassing Kodak moment to watch forever.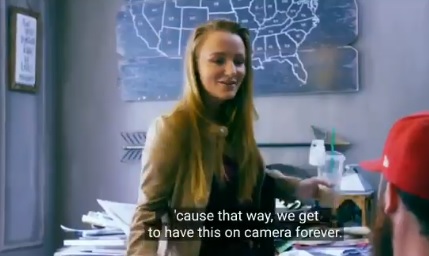 Meanwhile, it's the last night of Cheyenne's birthday trip and you just know this family has to have one more elaborate get together before they head back home. (Of course they will probably host a catered welcome home party for themselves, complete with giant floral arrangements, a live band and award-show quality gift bags.)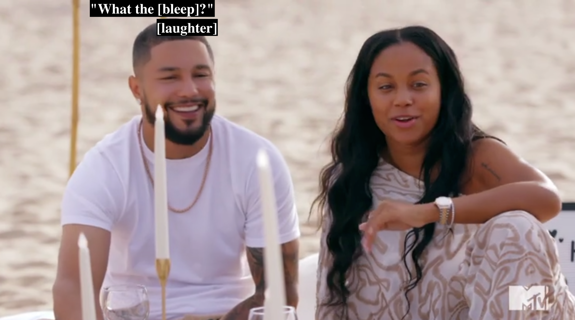 Cheyenne tells her family she's pumped that they all know about her pregnancy now (so they can start planning her supersized baby shower) even though this time around things are different because after dealing with Ryder's VLCAD diagnosis, she knows firsthand that there can be issues.
On top of the anxiety about her baby's health, Cheyenne (like other moms giving birth in the middle of a pandemic) will be forced to follow COVID protocols, which means Zach won't be able to join her for doctors appointments. Zach says he was initially "mad" about this, but he understands, just as long as he's able to be in the room when Cheyenne shoots out their future co-star.
Cheyenne says she will be allowed to have one person with her in the delivery room, but her mom wants to know if she can ask her doctor if he can make an exception so that she can be in the room as well. (I mean, they are on a reality show…)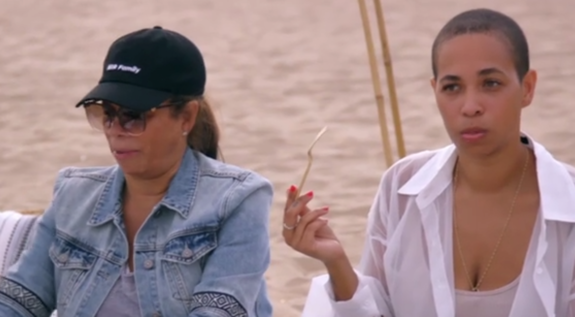 Next we head to Michigan. Since deciding to ditch yet another almost-career, Catelynn is refocusing her storyline attention to the news of a sex offender being married to the owner of Nova's daycare. While this is undoubtedly a scary situation, we have a feeling Cate is low-key thankful to have a legit reason to never send any of her daughters to daycare so she can justify never seeing one of her career goals to fruition.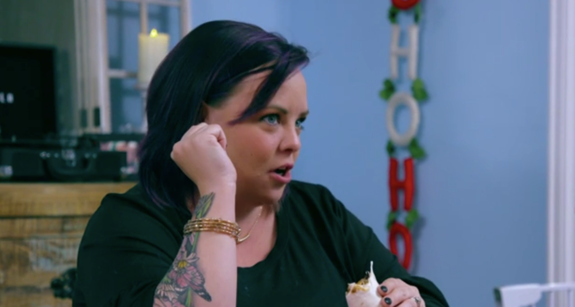 Given the sketchy daycare debacle, Cate and Tyler decide now is a good time to sit Nova down and talk to her about protecting herself. Cate says her mom April actually managed to have those conversations with her growing up – in between puffs of her menthols, blacking out and getting into screaming matches with her mullet-haired lovers, of course. Tyler says his parents never had these conversations with him growing up so he definitely wants to have them with his own daughters.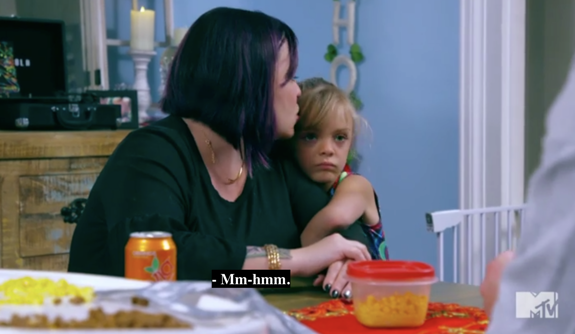 Down in Florida, Mackenzie is settling into her new job and says her kids are happier than ever. Unfortunately, they're also misbehaving more than usual and she believes it may have something to do with them missing their dad.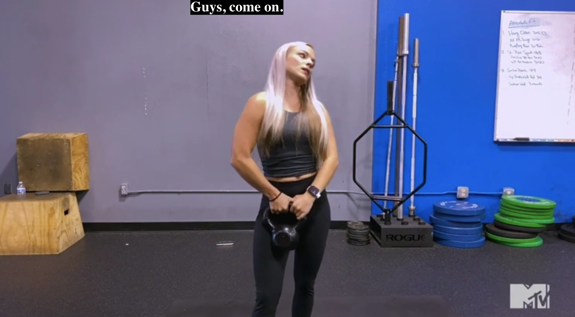 After a frustrating recording session for Body By Mac, Mackenzie calls her sister Whitney to talk about how annoying her children are and how much she's starting to miss her equally annoying husband Josh. Mackenzie says Josh is still talking about coming down to Florida and while she feels that he's a bad husband, she says he's not a bad dad.
In other words, she's starting to cave.
Back in Tennessee, Maci and Taylor have assembled their victim— Bentley— and prepare to tell him all about the horizontal mambo. Bentley informs them that his voice cracked in class that day while reading Bible verses.
Bless his little heart…
Suddenly, Bentley realizes this is not going to be a convo about his Peter Brady voice-cracking moment. He realizes that this is "the talk" and that his parents are going to make him hear about penises and vaginas and Oopsie Babies while a camera is four feet from his face.
I don't think that's nice…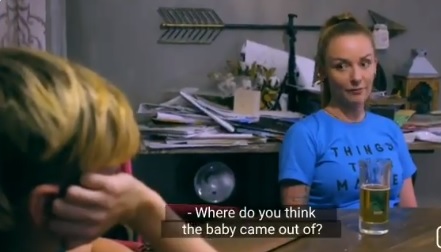 A very uncomfortable Bentley tells Maci that he thinks babies comes from a mother's belly.
Maci gives him the run-down on how an Oopsie Baby is really made, telling him all about sperms and eggs and whatnots. (She does skip over his question about how the sperm comes out of the pecker, though.)
Then, Maci mentions that Bentley will soon be liking girls (or boys).
Bentley looks like he wants the dirty floor of the Maci Mansion to swallow him up. The kid legit looks like he's wishing for death to take him.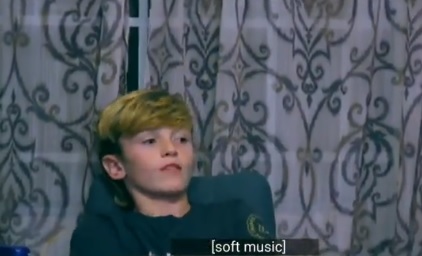 At Jen and Larry's house, Ryan brings up that he's hoping "Bentley don't have no 'bees talk' questions. His parents and Mackenzie think Bentley is still a bit young to be wondering about peckers and whatnot.
Ryan, always one we can count on to make things uncomfortable and creepy, asks his mom if she'll be purchasing Bentley some Trojans any time soon.
"Ya gonna buy him a box of condoms at 12, Mimi?" he asks.
Jen says she is not, but reminds Ryan that she did talk to him about condoms back in the days before he sperminated Maci's underage hoo-ha.
Back in LA, it's time for Cheyenne's first doctors appointment and she's feeling weird about having to "go alone." Naturally, she copes with these feelings by inviting her entire family to hang out in the parking lot with Zach until her appointment is over. They are literally tailgating Chey's ultrasound.
As you do…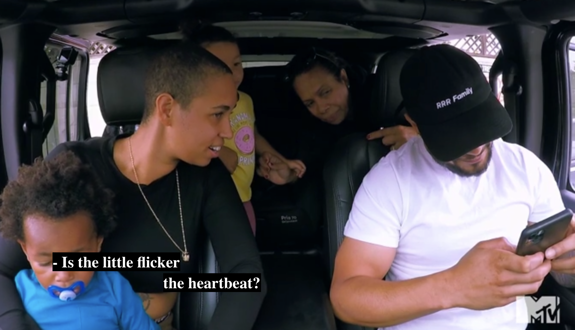 From inside the office, Cheyenne FaceTimes Zach (and the other five people crammed around his phone) so he can see their baby's ultrasound. Zach says he's so excited that his "body just got hot," which is a nice way of saying, "I know I knocked up your daughter/step-daughter/sister/mom/aunt, but I'm going to need you to back the hell up and stop breathing down my neck."
After her appointment, Cheyenne tells Zach and her family that she's doing a genetic screening so there won't be any surprises like she experienced with Ryder and for future appointments, they will have to continue sharing the experience with everyone over FaceTime.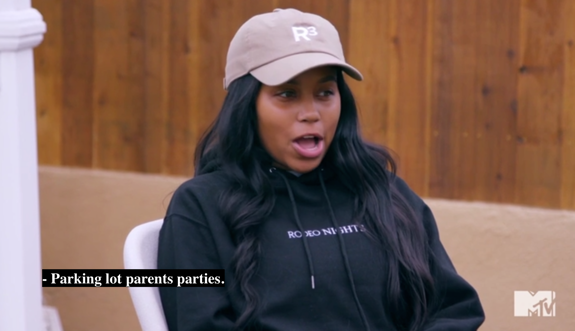 As for her delivery, Cheyenne tells everyone "the child's father is allowed in the room" as well as an additional "support person."
Chey's sister R perks up, because she thinks Cheyenne means "the person you support," which would clearly put R in the running.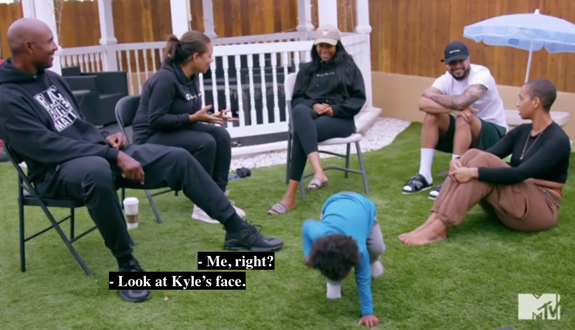 Back in Indiana, Amber has put on her best attempt at getting that "Grey Gardens" look so she can video chat with a marketing person who can relaunch her Forever Haute clothing line. She desperately wants to bring her neon Spandex frocks to the masses, so she's wasting no time in getting things in line.
Lubna, who is on the call and has known Amber for all of five seconds, tells her that with this relaunch, she can now "make better choices."
Oh, Lubna. You must be new here…If these girls start making better choices, we won't have a show.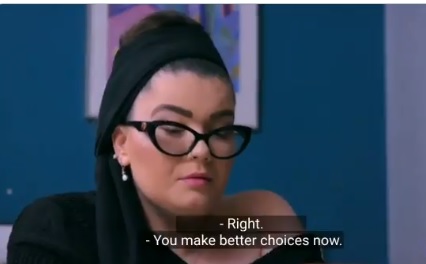 Amber tells everyone she wants her clothing line to be "comfortable but sexy" and for all sizes and shapes. She also proposes adding T-shirts and hoodies that say her signature catchphrase "I'm done!" "Sending love," as well as "Beautiful souls."
Lubna pretends to love everything Amber is saying. Hey, it's a pandemic and there aren't too many people eager to launch businesses right now, so she's gotta go where the dollars are.
Later, Amber excitedly calls up her mom Tonya and tells her she has some "exciting news" to share with her.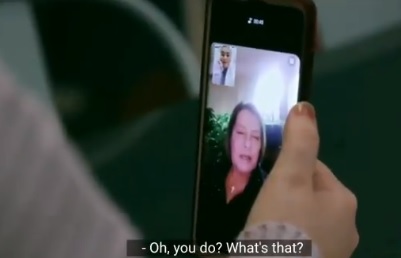 Tonya is thrilled that she will soon be able to cash in that Friends & Family discount to buy Amber's "Beautiful Souls" tees (as we all are…)
Back in Michigan, Cate and Tyler say they have "no idea" how to talk to Nova about protecting herself from dangerous people, so they enlist the help of an organization called Blue Sky Bridge for some tips. The two go on to have this conversation about how to talk to Nova while Nova is within earshot. Makes total sense.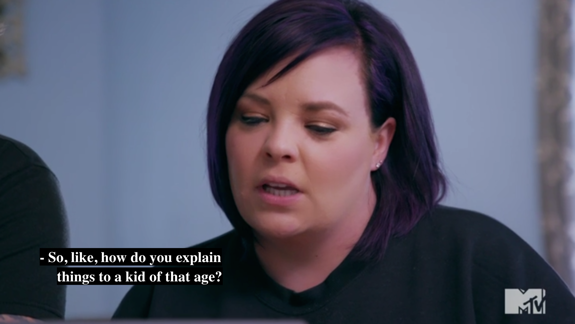 The social workers from the organization talk to Cate and Tyler about bubbles and how they can teach Nova to say no. Cate and Tyler are thoroughly impressed, but not enough for Cate to declare a new passion to become a social worker. At least not this episode, anyway.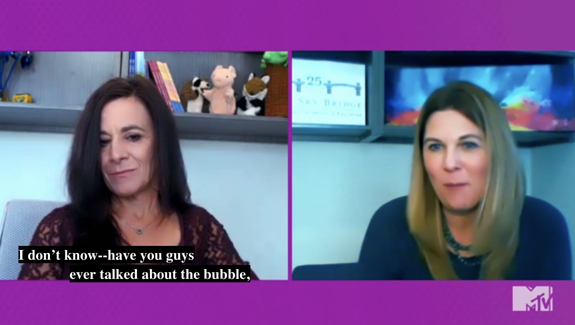 Back in Florida, Mackenzie calls Josh to tell him the kids miss him and that there are a lot of job opportunities in the state, even if the deer population isn't ideal. Josh says he misses the kids and Mackenzie, and while he never wanted to move to Florida, he wants to be with his family and he is willing to move for them. Mackenzie says if Josh moves to Florida, the two of them can't fight in front of the kids like they used to do.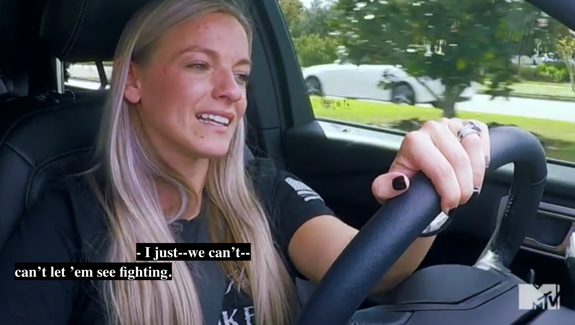 Mackenzie tells Josh he can come out and see how he likes Florida and if he finds himself missing his hunting buddies too much, he's welcome to pack up and head back home.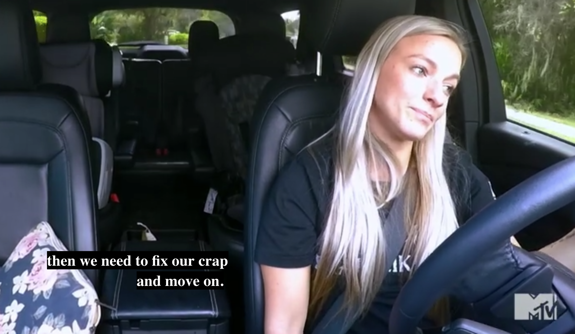 Back in Michigan, Cate tells Tyler about a boy in Nova's class that wants his 15 minutes of MTV fame said he wanted to marry Nova and also asked her for a kiss. Tyler uses this as the perfect opportunity to bust out the bubble talk.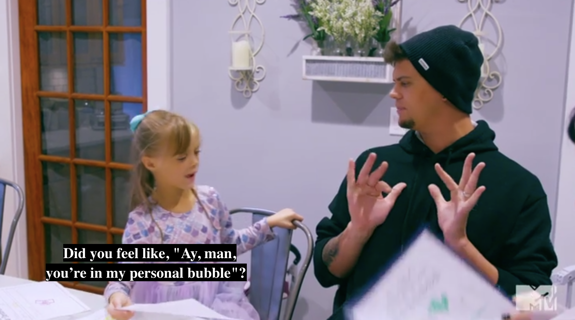 Tyler and Cate clumsily explain to Nova that everyone has a bubble and if you don't want someone in your bubble you can tell them to get out. Nova takes little to no interest in the bubble babbling her dad is doing and instead starts working on her spelling homework.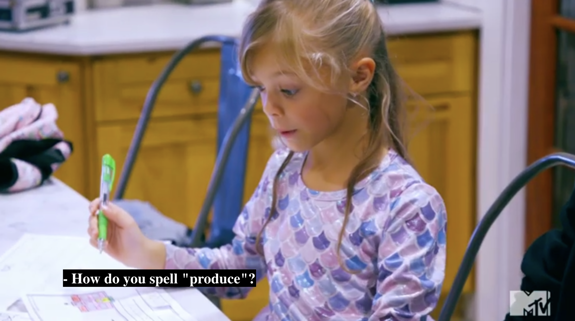 After Nova chose to do homework over taking part in the last "bubble" talk her parents attempted, Cate and Tyler try once again – this time, using a game of Simon Says.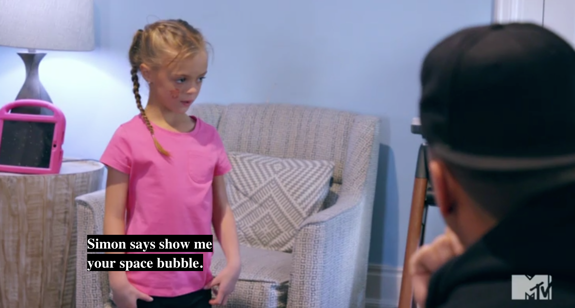 Nova finally starts to understand personal space and bubbles, while Cate still doesn't understand how to not do/encourage gross behavior on camera.
That's all for this episode of 'Teen Mom OG!' To read The Ashley's recap of the previous episode, click here!
(Photos: MTV)