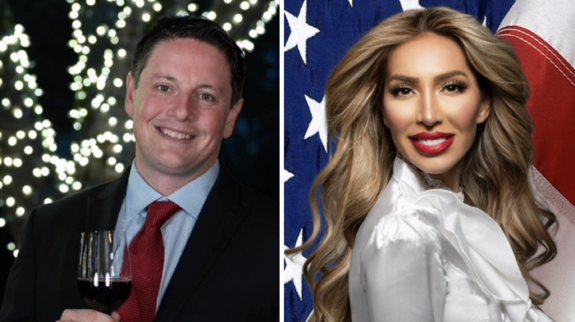 Embattled Windsor, California, Mayor Dominic Foppoli stepped down on Friday, following allegations of sexual assault, abuse and mistreatment by nine women, including Farrah Abraham. In court documents and a police reported obtained by the San Francisco Chronicle on Monday, Farrah accused Dominic of sexual battery using his "hands/feet/teeth" while at a house in Palm Beach, Florida.
After news broke over the weekend of Farrah's involvement in the allegations against the mayor, the former Teen Mom OG star announced that she plans to run for a "government position," as soon as she's legally old enough.
In the meantime, Farrah has been publicly speaking out against the former mayor. Dominic has denied all accusations of non-consensual sexual encounters, and on Friday released a statement announcing his resignation. The statement also seemed to call out Farrah for jumping on the accusation bandwagon, though he didn't name Farrah in his statement.
He insinuated that a woman (we can assume he's referring to Farrah) inserted herself into the accusations against him after reading about other women's claims against him in a newspaper article. However, The Press Democrat reports that Farrah went to the Palm Beach police on April 2 with her allegations against the former mayor— six days before The Chronicle released its article detailing multiple claims of sexual assault against him. (Those claims are also being investigated.)
Complete statement here: pic.twitter.com/AGauXYbQvZ

— Mike DeWald (@mike_dewald) May 21, 2021
The former mayor's statement declared his innocence, although he did not deny that he had sexual contact with Farrah or any of the other women accusing him of assault. He did, however, claim that all sexual acts were consensual.
"It is with a heavy heart that I am resigning, effective today," Dominic's statement reads. "I have always and will always maintain that I did not engage in any non-consensual sexual acts with any woman.
"I recently learned that a woman in Palm Beach, Florida is accusing me of non-consensual acts while I was visiting there in March of this year. She made her allegations after she learned of the April 8, 2021 San Francisco Chronicle story. I have no doubt she is making these allegations in an attempt to leverage the situation to her advantage."
In the police report obtained on Monday by The Chronicle, Farrah claimed that the alleged assault took place in March. She claims she was injured during the alleged assault and has turned over photos of her injuries to the police.
The Press-Democrat reports that Farrah was visiting Palm Beach to attend a charity event for an animal rescue organization called Big Dog Ranch Rescue. A look at Farrah's Instagram account shows her, along with her daughter Sophia, attending an event in Florida for the charity on March 14. It is unknown where Sophia was during the time of Farrah's alleged assault.
View this post on Instagram
"Farrah has turned over physical and digital evidence from the March Palm Beach incident and is cooperating with law enforcement, her attorney Spencer Kuvin told The Press Democrat. "I can't get into the specifics of what she is alleging, but it was of a sexual nature. It was a very serious issue. The issue, the details of any type of particular conduct that's alleged, I need to leave that up to the police to investigate."
Dominic has somewhat of a past in reality TV himself. He appeared on an episode of the reality show Meet My Folks in 2002. (The women he appeared with and was dating at the time, Shannon McCartney, has come forward as one of the other women accusing Dominic.) In 2012, was recruited by Bravo to appear on a dating show. He filmed a few episodes before quitting the project.
Farrah retweeted a post crediting her with forcing the former mayor to step down after many years of serious abuse allegations, including one from a Windsor city councilperson.
Farrah Abraham is really the woman who stopped Dominic….

— morgana (@ewmorgxn) May 22, 2021
"Farrah Abraham is really the woman who stopped Dominic…." the tweet read.
Farrah also retweeted and shared to her Instagram Story a post featuring an update on the investigation.
Make that 9 women…"[Farrah] Abraham provided police w photos, video, audio supporting her account…[filed days BEFORE Chron article] This is not a 'he said, she said' situ..She has physical proof," [her lawyer] Kuvin told The Chronicle. "We believe it is in felony territory.""

— Cat (@maxiesgal) May 21, 2021
She followed that with an Instagram Story of an "Empowered Women Empower Women" GIF, listing some of what she's experienced lately, likely referring to the accusations against Dominic, as well as her recent battle with Chrissy Teigen – the latter of whom is currently under fire for past comments made on social media about Farrah, Lindsay Lohan and former teen bride Courtney Stodden.
Farrah's "statement" came as one big helping of "Farrah Speak" posted to Instagram.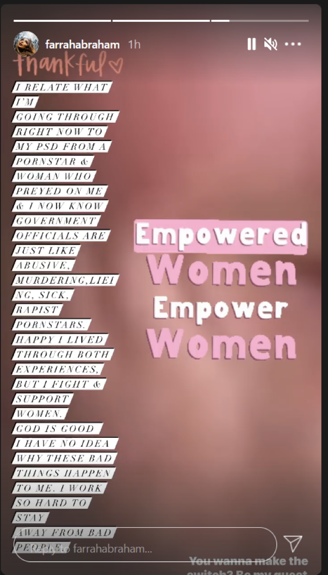 (All grammatical and spelling errors have been left intact to preserve the "Farrah Speak.")
"I relate what I'm going through right now to my PTSD from a p0rnstar & women who preyed on me & I now know government officials are just like abusing, murdering, lieing, sick, rapist p0rnstars," she wrote. "Happy I lived through both experiences, but I fight & support women. God is good I have no idea why these bad things happen to me. I work so hard to stay away from bad people."
Farrah's desire to support women may have something to do with her big announcement this afternoon, that she plans to go from being the "top female celebrity in our nation" to (one of) the top female politicians.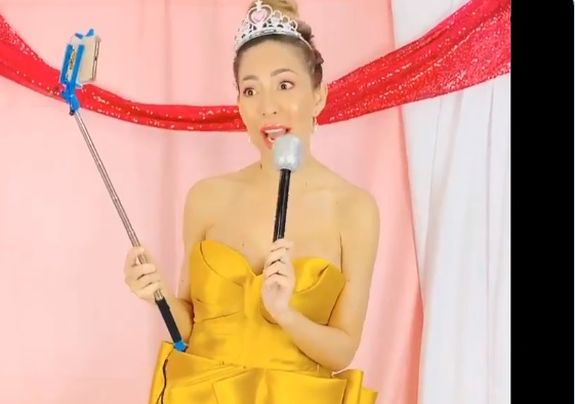 Farrah is planning to run for office, an announcement timed to her upcoming 30th birthday on May 31.
I WILL BE RUNNING FOR A GOVERNMENT POSITION AS SOON AS I TURN 30… COUNT DOWN 😍& THANK YOU IN ADVANCE FOR SUPPORTING ME SUPPORTING YOU 🇺🇸🇺🇸🇺🇸 My experiences have lead me to this valuable place that I do not take for granted . pic.twitter.com/1tWZXBcNIz

— FARRAH ABRAHAM (@F1abraham) May 23, 2021
"I will be running for a government position as soon as I turn 30… count down & thank you in advance for supporting me supporting you My experiences have lead me to this valuable place that I do not take for granted."
The Ashley reached out to Farrah's often-outspoken father, Michael Abraham, who stated, "Our family only asks that people respect our privately during this difficult time and because of the ongoing investigation we can't comment."
Stay tuned…
RELATED STORY: Former 'Teen Mom OG' Star Farrah Abraham Slammed for Cultural Appropriation: "You Are Not Muslim! Our Religion Is Not A Performance For You!"
(Photos: FoppoliForMayor.com; Twitter; Instagram)