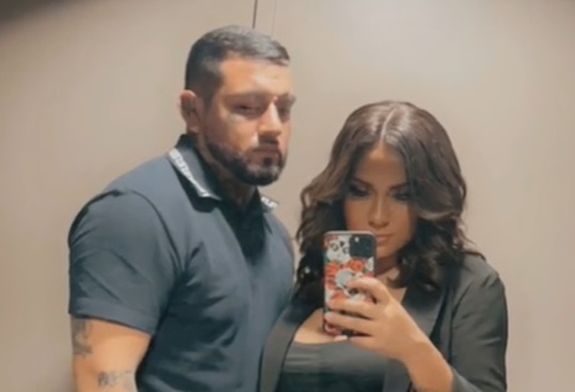 Teen Mom 2 star Briana DeJesus still has a wedding to plan, despite recent actions suggesting otherwise.
Shortly after Briana shared the news of her engagement to Javi Gonzalez last month, fans began to speculate that the couple had already called it quits, as Briana seemed to delete all traces of Javi II from social media – including the proposal montage she had posted to TikTok. The supposed lovebirds also unfollowed each other on The 'Gram.
However, Briana insisted (in a #LinkInBio article, naturally) that everything is fine in her relationship.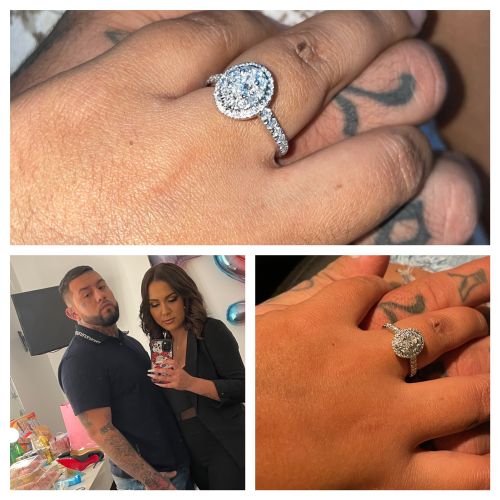 "I was going to stay silent on this… and I even ignored this when it first popped up last week as I laughed it off," she told Celebuzz. "But since it's coming up again that Javi and I are no longer together, with reports even aiming to investigate 'what went wrong,' I feel compelled to speak up."
Briana said not only are she and Javi II still planning to walk down the aisle, but the tattoo artist has already made an upgrade to Briana's bridal bling.
"First off, Javi and I are 100 percent together and we are happy," she said.
"In fact, he went to the store to upgrade my ring today. You can see in the text [shown to Celebuzz] where he says that he loves me and 'the wedding bands that go with it for after we're married are so fire.' So yes, we're together, very much in love, and engaged."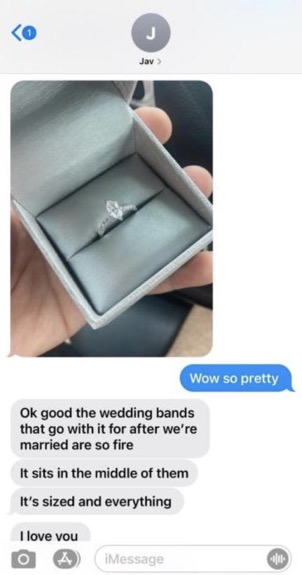 As for the lack of Javi II photos on her social media, Briana claims there were never photos of him on her page.
" … There NEVER were," she said. "They were only on my IG Story. All of these 'social media stalkers' who claim to 'know so much' should've been able to pick up on that and, in addition, should know that an Instagram Story post expires in 24 hours (thus they would be deleted after the 24 hour period)."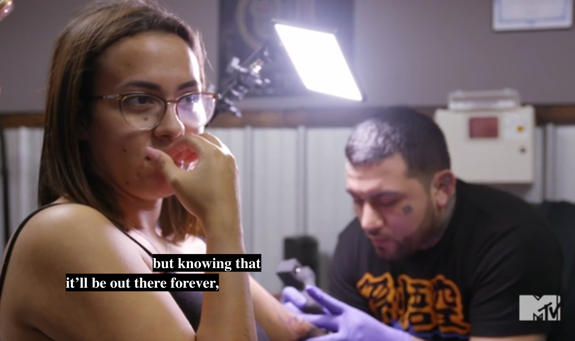 Briana also explained that she doesn't follow her fiancé on Instagram because she doesn't follow anyone on the social media platform, but even if she did, "that would never be indicative of my relationship status."
(For the record, Javi II isn't following Briana on Instagram either.)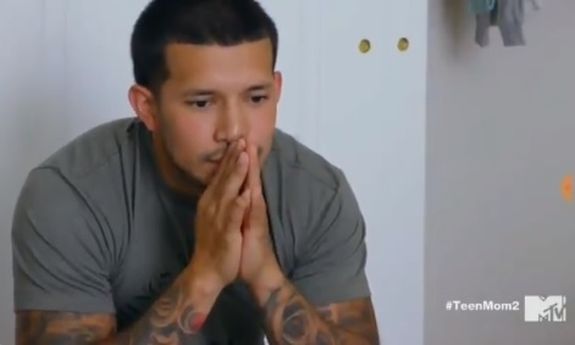 "That's just stupid," she said. "This is SOCIAL MEDIA – it's not someone's real, 24/7 life. People really need to get their facts straight and come correct before continuing to perpetuate completely false allegations and rumors.
"So to reiterate – yes, I'm with Javi," she continued. "Yes, we're engaged. Yes, we're in love. And yes, we are planning on getting married. Sorry to the haters, and likely some of my co-stars, who tried to get a good laugh, but this time the joke's on you."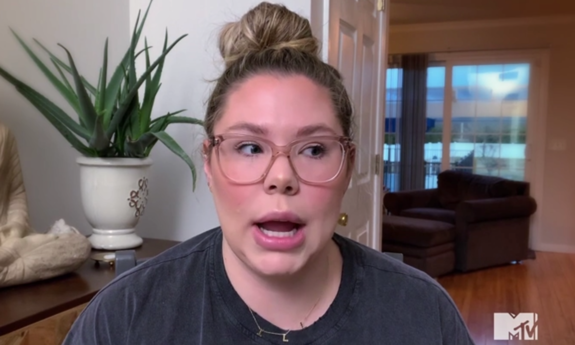 "To my supporters, I thank you from the bottom of my heart and look forward to continuing to share my progress towards marriage with Javi with you all," Bri continued.
When Bri and Jav II do finally make it down the aisle, it likely won't be a fancy affair. During an Instagram Q&A session on Tuesday, Briana stated that she may just have a "quickie" wedding.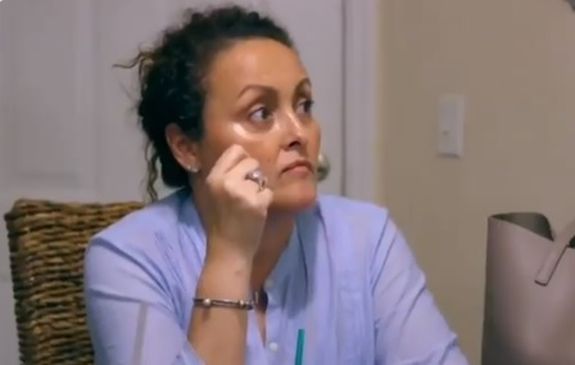 When asked if she would prefer a small or big wedding, Briana replied that she wants her nuptials to be "very small, [we may] even elope.
"I don't like big weddings. And no I'm not getting married [right now]," she added.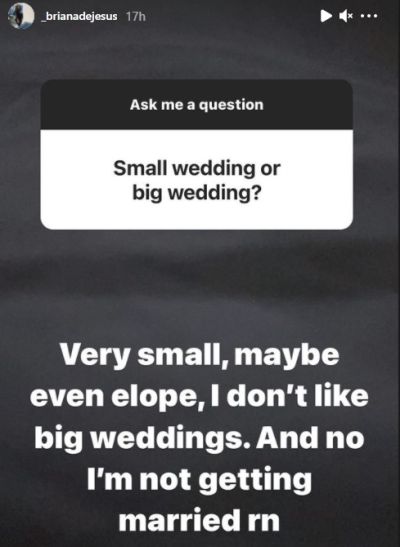 RELATED STORY: 'Teen Mom 2' Season 10B Ratings Continue to Sink Despite Addition of Ashley Jones: A Look at the Latest Numbers
(Photos: Instagram; Briana DeJesus/Celebuzz; MTV)