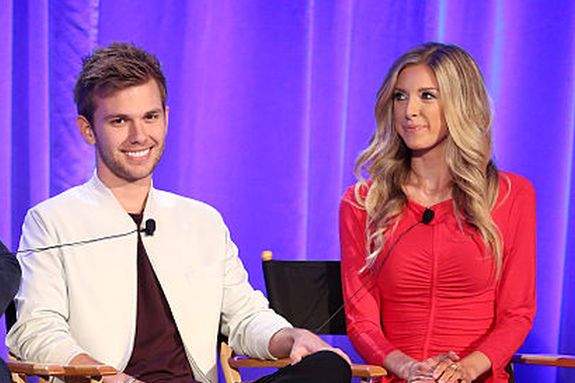 Cocktails were allegedly flying around an Atlanta bar over the weekend!
Austin Duriez, a close friend of Chrisley Knows Best star Chase Chrisley, happened upon Lindsie— who does not speak to Chase or the rest of their famous family—at a bar on Saturday night. According to the police report obtained by TMZ, Austin claims Lindsie saw him and chucked a full glass at him, which ended up hitting him in the head. Austin told police that, although he doesn't really know Lindsie, "she hates her brother, so my association with him is causing her to lash out at me."
"She's kind of like the outcast of the family," Austin told the police, adding that Chase was encouraging him to report the incident to the cops.
It is unknown if Chase was also at the bar; however, it appears that he was in Florida on the night of the alleged incident.
View this post on Instagram
Lindsie's version of events reads differently, though. According Lindsie's attorney, Lindsie "may have" gestured like she was going to throw her drink at Austin, and that a tiny bit of liquid may have splashed him, but she did not throw a glass at his head.
Lindsie's attorney also told TMZ that Austin was bothering Lindsie and her friends at the bar, trying to harass and intimidate them. He also claimed that Austin had to be pushed off of Lindsie at one point, and that he kept trying to take their photos.
Lindsie's attorney says he will face Austin in court, if necessary, and that he's "confident Lindsie will prevail."
As The Ashley has previously reported, Lindsie— who hosts the Coffee Convos podcast with Teen Mom 2 star Kail Lowry— has been at odds with Chase, as well as their father Todd Chrisley and other family members for years. Back in 2019, Lindsie filed a police report claiming that Todd and Chase had threatened to expose her sex tape with former Bachelorette contestant Robby Hayes if she didn't lie about a certain incident. The alleged "incident" had to do with Todd and his wife Julie's tax evasion situation.
(Although the family–including Lindsie's brother Kyle— accused Lindsie of helping the feds to build a case against Todd and Julie— it recently came out via court documents that it was actually Kyle and his ex-wife who helped the feds. Lindsie has always denied any involvement.)
View this post on Instagram
The Chrisley Family Feud stems back even farther than the 2019 incidents. Back in 2012, Kyle was arrested for battery in 2012 for allegedly hitting Lindsie in the face.Lindsie has stated that she began "distancing" herself from her entire family back in 2017. She no longer appears on 'Chrisley Knows Best.'
Anyway, no Chrisleys have been arrested or charged with any crime as of press time. You can watch a body cam video showing Austin speaking to the cops below!
(Photos: Frederick M. Brown/Getty Images; Instagram)