"Third time's a charm!"
Christina Haack is taking yet another trip down the aisle.
The Flip or Flop and Christina on the Coast star announced her engagement to Austin-based realtor Josh Hall on Monday, just a year after her split from ex-husband Ant Anstead.
Christina shared the news on social media with a series of photos taken in Los Cabos, Mexico, where the couple is currently celebrating Josh's birthday.
In September 2020, Christina and ex-husband Ant called it quits after less than two years of marriage. Ant– who is currently dating actress Renee Zellweger– and Christina share one child together. Christina also shares two children with her 'Flip or Flop' costar Tarek El Moussa. The HGTV stars were married from 2009 to 2018. In July 2020, Tarek revealed he and Selling Sunset star Heather Rae Young were engaged to be married.
Got all that?
A day before announcing her engagement to Josh, Christina took to her Instagram Story to share some vacation photos, including one in particular in which a heart emoji was suspiciously covering her ring finger.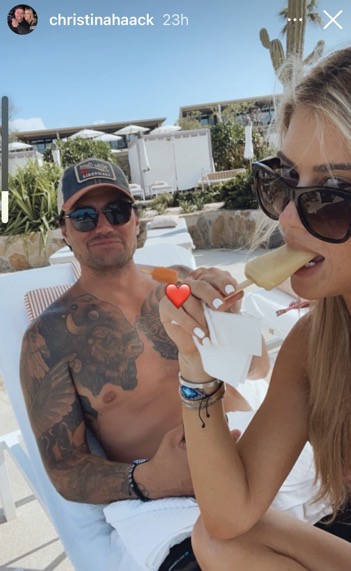 After confirming her engagement, Christina posted a close-up of her ring along with a shoutout to "great friend and best jeweler" Benny and the Gems. (Coincidently, jeweler Benny Hayoun is also responsible for designing Heather's engagement ring from Tarek.)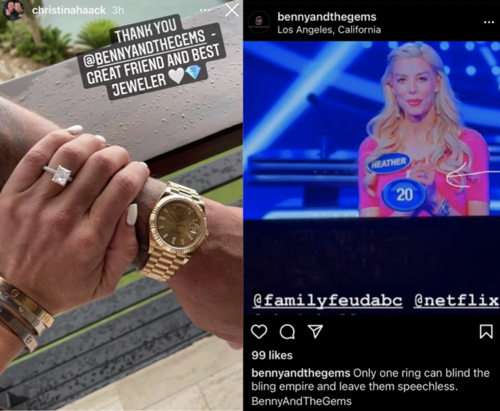 Christina previously revealed on Instagram in that she and Josh met in the spring and had been together for a few months. She has also fired back (more than once) at those who have criticized her new relationship.
"I normally turn off comments with Josh and will continue to do so if people are rude," she captioned a photo of her and Josh in August.
"People are way too concerned about other people's lives," she continued. "They spend so much time judging others to avoid working on their own shit. … What I've seen in my life so far is when people spew hatred at me or anyone else for that matter those people are always the ones who have the most self hatred and the ones who truly need healing and self love.
"Life is short. Do what you love with the ones you love. For me, that's Josh, my kids and a few close friends and co-workers."
RELATED STORY: Tarek El Moussa Reportedly Had Crew Members Removed From His HGTV Show Set for Allegedly Leaking the Story About His On-Set Outburst At Ex Christina Haack
(Photos: Instagram)