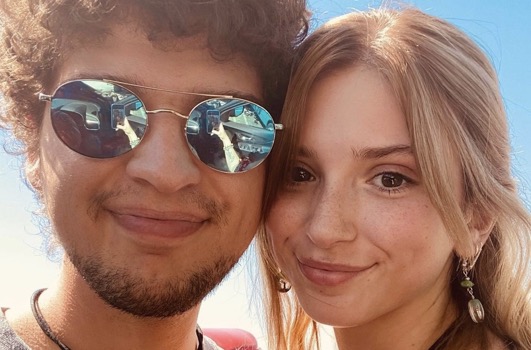 McKayla Adkins is pregnant again!
The former Unexpected star announced on social media that she and husband Ethan Tenney are expecting a baby boy due in May of 2022. This will be McKayla's third child, as she already has two kids with her ex, Caelan Morrison, who appeared on the TLC reality show with her.
"We're back and we're expecting!!!" McKayla on Instagram. "Excited to announce we'll be having a baby boy, May 6, 2022 #13weekspregnant."
McKayla revealed in May that she was five weeks pregnant, just after announcing she and Ethan were engaged to be married. The couple went on to tie the knot that month in a small ceremony at McKayla's step-grandfather's home, Starcasm reported. Unfortunately, McKayla miscarried shortly after.
McKayla answered a series of questions about her pregnancy on her Instagram Story, revealing she became pregnant within the first month of her and Ethan trying for a baby. She also stated after this baby, she "never wants to be pregnant again."
The 21-year-old said she will likely "get fixed"–- aka have her tubes tied–- after this baby, though she's in favor of Ethan having a vasectomy as well.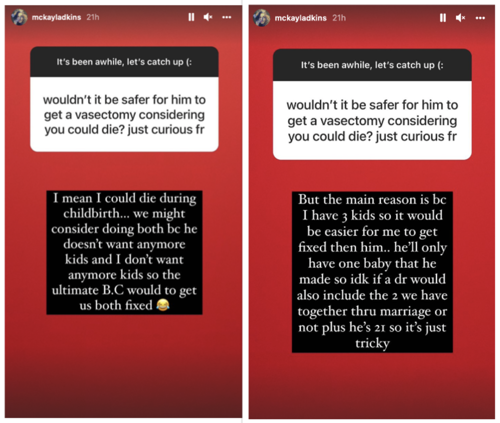 " … we might consider doing both bc he doesn't want anymore kids and I don't want anymore kids so the ultimate [birth control] would to get us both fixed," she wrote.
If she and Ethan decide later on that they want a fourth child, McKayla said they will adopt.
Though McKayla is no longer a cast member on 'Unexpected,' she said she plans to film her labor and delivery for her YouTube channel and "might go live [on Instagram], too." However, McKayla said she "will not" show her baby's face on social media.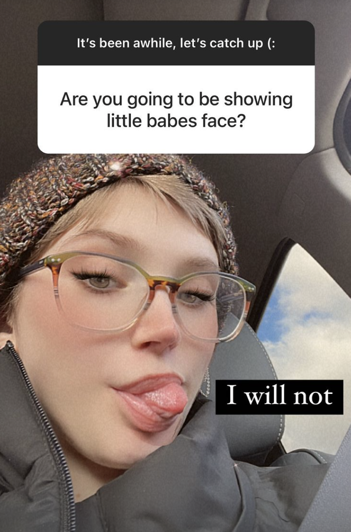 As for those criticizing her for having another child, McKayla argued that she is married and has been living on her own without any support from her grandparents since 2018, "other than babysitting."
"I'm not a teen anymore, stop treating me like one lol," she added. "It's so funny y'all have a problem with me having kids, like it's your life or something? So weird lol."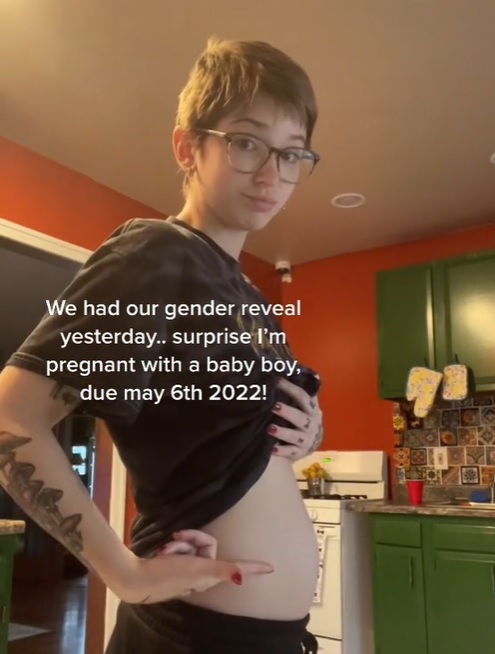 McKayla— who earlier this year called out the producers behind 'Unexpected' for allegedly sexualizing her and other cast members when they were minors— is very active on OnlyFans. It appears that she plans to continue posting content to the site during her pregnancy.
RELATED STORY: 'Unexpected' Cast & Former Show Producer Respond to McKayla Adkins' Accusations of Inappropriate Treatment of Minor Cast Members
(Photos: Instagram)