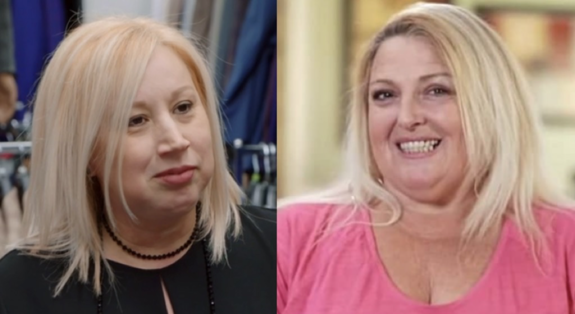 Angela Deem's former BFF has revealed the reason she and the 90 Day Fiancé star are no longer friends, and strangely, it involves another member of the "90 Day" family.
Fans may recall Jojo– whom Angela once lovingly referred to as "sissy"– traveling to Nigeria during Season 5 of 90 Day Fiancé: Happily Ever After? to serve as the witness for Angela's wedding to husband Michael Ilesanmi. Jojo also stood by her BFF's side the following season as she recovered from weight loss surgery (and a breast reduction and liposuction).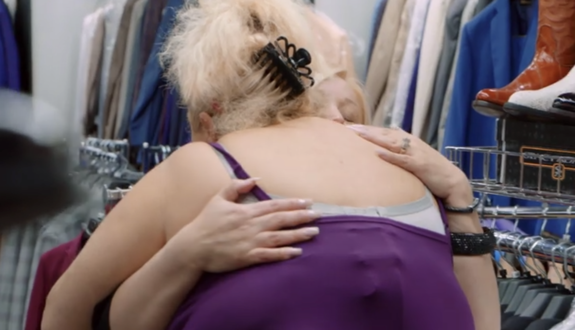 Things between the former besties have certainly changed since then and the demise of their friendship involved Debbie Johnson, another star of the "90 Day" franchise.
Jojo took to Instagram Live to explain what went down between her and Angela. (A video of the Live was reposted by the Instagram account @KikiandKibbitz.) During the Live, JoJo claimed that their friendship went sour in July when she and Angela traveled to Las Vegas to visit Debbie. During the trip, someone allegedly asked Jojo how she knew Debbie, and when Jojo confirmed they knew each other through the TLC show, Angela became angry.
"She turns around and starts yelling, 'You lying b*tch, you would've never met Debbie if it wasn't [because] of me, b*tch,'" Jojo said in the video. "And she told me I was irrelevant. She cussed me out in front of everybody. That's what happened. And then she pulled some crap that was even worse … and because of her telling me what she told me, I will never speak to her again."
Jojo went on to claim that Angela kicked her out of the hotel room they were sharing and called her the following day to "cuss her out" and threaten her. (Jojo said she saved the conversations that occurred between them in the event that Angela tried to dispute her account of what went on in Las Vegas.)
Debbie seemed to confirm Jojo's story back in October when she was asked about her friendship with Angela. At the time, Screen Rant reports, Debbie said she isn't friends with people who "treat their friends like s**t."
Debbie showed her allegiance to Jojo again just this week after Jojo posted a message on Instagram seemingly aimed at Angela, telling followers "Obviously I have an [admirer]! You all know who it is!" and "Trust me, no one is jealous of you! Facts! If there is something you [would] like to tell me go ahead!"
Debbie commented on the post, telling Jojo that Angela "screwed up" by ending their friendship.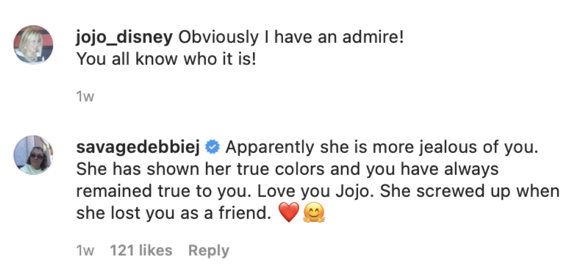 "Apparently she is more jealous of you," Debbie wrote. "She has shown her true colors and you have always remained true to you. Love you Jojo. She screwed up when she lost you as a friend."
Fortunately for Angela, she appears to have found a replacement Jojo…
RELATED STORY: Debbie Johnson Reveals Her Shocking New Makeover Leading Up to Season 2 of "90 Day: The Single Life"
(Photos: TLC; Instagram)