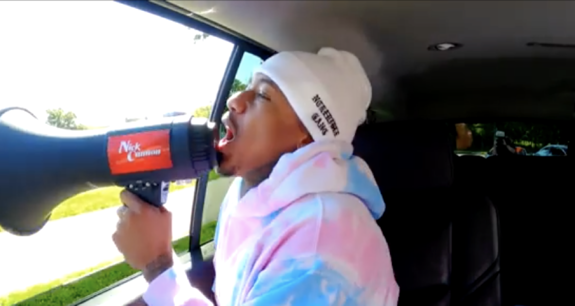 Despite welcoming four children within a year, Nick Cannon has reported that his newly proclaimed celibacy journey is going well.
The Wild 'N Out host, who is a father to seven children, announced earlier this year that he planned to abstain from sex until 2022 at the advice of his therapist. Despite his friends having doubts that Nick would be able to keep it in his pants until the new year, Nick claims that, so far, he's done just that!
According to The Blast, Nick has practiced celibacy in the past as a way to prove he's not addicted to certain things, claiming "too much of anything can ruin the process."
Nick's "process" is what led to him becoming a father to seven children.
On June 23, Nick welcomed Baby No. 7, a son named Zen, with his fourth baby mama, Alyssa Scott. Zen arrived just two weeks after his half-brothers, twins Zion Mixolydian and Zillion Heir, whom Nick welcomed with Abby De La Rosa. Six months before that, Nick welcomed daughter Powerful Queen with Brittany Bell. (Nick and Brittany also share a son, Golden.)
Nick first became a father back in 2011 to twins Monroe and Moroccan, whom he shares with ex-wife Mariah Carey.
The topic of Nick's sex life– or lack thereof– came up during a recent episode of Entertainment Tonight, as he was asked about comments made on his daytime show, The Nick Cannon Show, while playing a game of "Plead the Fifth" with guest Andy Cohen.
During the game, Nick joked with Andy that his "favorite baby mama is the next one"– a comment he went on to clear up on Entertainment Tonight.
"Everyone knows I'm crazy, everyone knows I say things that will get me in trouble," he said. "At this point, if you're in my life and don't know that every day I'm going to say something out of pocket, you really don't know me."
Nick went on to say that he was only trying to be funny and that the whole point of the game "is to not plead the fifth and say something that makes people go, 'Wait, what?' and I play the game very well."
As for his motivation to be celibate, Nick said it is mainly to allow him to take time to focus on work and focus on the children he already has.
RELATED STORY: Nick Cannon, Who Recently Welcomed His Seventh Child, Claims He's Not Having Kids on Accident: "Trust Me, There's A Lot of People I Could've Got Pregnant That I Didn't"
(Photos: Instagram)