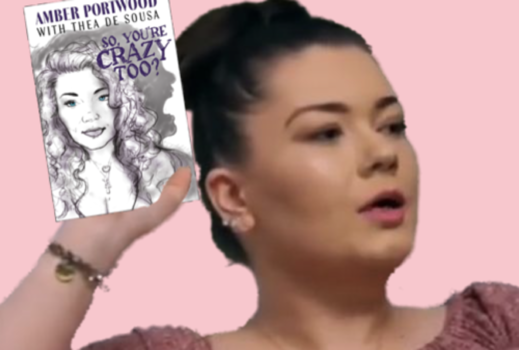 Amber Portwood may not be getting along with her daughter Leah, but she does have someone who has her back— the co-author of her new book!
After Amber and her co-author, Thea de Sousa, announced that they are releasing a new book in February that focuses on Amber's mental health struggles, Thea defended the Teen Mom OG star after critics called Amber an "abuser." Thea also revealed that Amber's mental health issues prevent her from seeing her three-year-old son, James, more than once every other weekend.
In Instagram comments discovered by the @TeenMomShadeRoom Instagram account, Thea goes to bat for Amber, claiming that there was no machete involved in the July 2019 fight Amber had with her then-boyfriend Andrew Glennon that led to her being arrested for domestic battery. (Thea has since made her Instagram private.)
"Um that never happened," Thea wrote in response to a comment from an Instagram user who stated Amber tried to attack Andrew with a machete while he was holding their son.
"There was no machete. It was a flip flop on a door after he got home at 2:30 a.m. with their two year old son. You really shouldn't believe everything you read in the press.
"She is one of the most misunderstood celebrities out there," she continued. "I promise you I would be one of the first to condemn anyone who actually did that. It didn't happen," Thea added.
"It was a shoe not a machete. It was a flip flop with a small heel and the heel made tiny marks [on the door to the room Andrew and James were in]…any parent would have tried to knock that door down– he had her son. It was the middle of the night. He was–not in a normal state of mind…she was not trying to hurt anyone."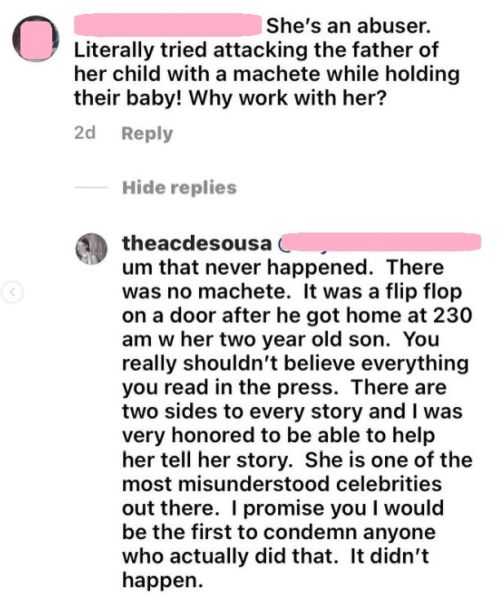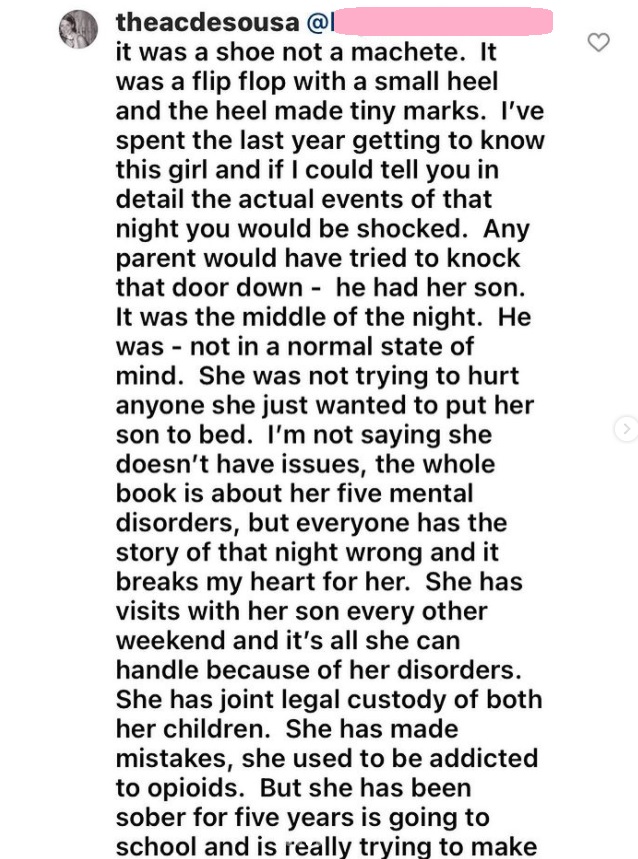 As you may remember, The Ashley broke the story about the machete back in July 2019, after obtaining the Affidavit for Probable Cause which absolutely did mention a machete (as well as a flip flop) being used in the attack.
As The Ashley exclusively reported in July 2019 (using info straight from the Affidavit filed in court), Andrew told Indiana Detective Linda White that on the night of the incident, "Amber picked up up a sandal with about a 1-inch chunky heel and hit him in the shoulder, causing him pain and redness and a light abrasion."
He told the Detective about the machete as well.
"She keeps a machete with a sheath on it," the affidavit states. "Amber picked up the machete, took the sheath off and looked at Andrew with a look so as she was moving around the bed, he took [the baby] into the office and closed the door and put his foot on it to hold it close."
Andrew said Amber kicked the door allowing the top to pop open from the kick but he kept his foot at the bottom…Amber then used the machete and began using it to put slashes on the door. Amber was arrested that morning, booked into Marion County Jail,
(Andrew told police that Amber had the machete for protection, since she is unable to own a firearm because she is a convicted felon.)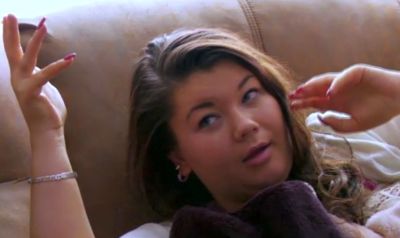 Thea also discussed how Amber's mental illnesses prevent her from spending more time with James, who lives primarily with Andrew.
"She has visits with her son every other weekend and it's all she can handle because of her disorders," Thea wrote. (She did note that Amber is attempting to have the court grant her one overnight visit with James every other weekend.)
"She has joint legal custody of both her children… [she is] really trying to make a good life for herself and her kids. Nobody is perfect, and she is far from it, but you have her all wrong."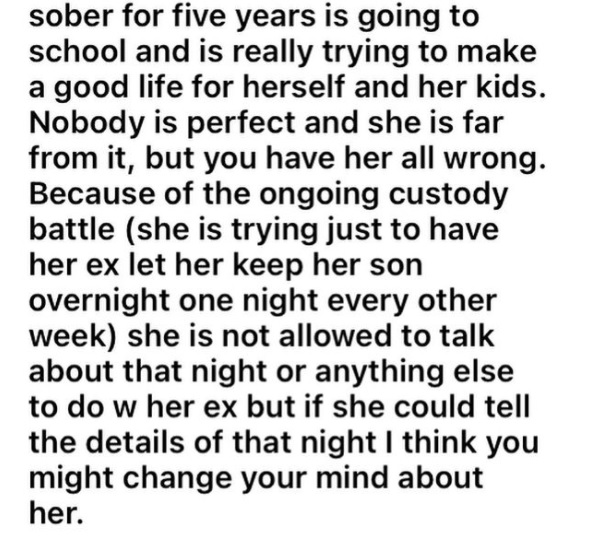 Thea noted that Amber is not allowed to discuss the night in question or Andrew (per their custody agreement) but "if she could tell the details of that night I think you might change your mind about her."
Back in May 2020, Amber's brother, Shawn "Bubby" Portwood, also claimed that the weapon used in the attack on Andrew was a flip flop. He tweeted that Amber is guilty of "nothing more than throwing a flip flop at him."
When a Twitter user tweeted a photo of a door in Amber's home with marks from the attack embedded into it, Shawn claimed that there is no proof a machete was used to do the damage.
Absolutely zero proof that this is a result of what was claimed. All the cameras and audio in the house and no proof at all of the alleged attack with a "machete" taking place. Zero. In the USA that means you are not guilty.

— Shawn Portwood 🇺🇸👮‍♂️ (@ShawnPortwood) May 11, 2020
"Absolutely zero proof that this is a result of what was claimed," Shawn wrote. "All the cameras and audio in the house and no proof at all of the alleged attack with a 'machete' taking place. Zero. In the USA that means you are not guilty."
RELATED STORY: 'Teen Mom OG' Star Amber Portwood Announces New Book "So, You're Crazy Too?"; Says It "Lets All the Skeletons Out of the Closet" About Her Mental Illnesses
(Photos: MTV; Twitter; Instagram)